STRATEGIC PLAN
BART's Strategic Plan Framework was adopted by the Board of Directors in 2015. BART is currently working on developing supporting materials such as work plans and performance measures.
---
STATION ACCESS POLICY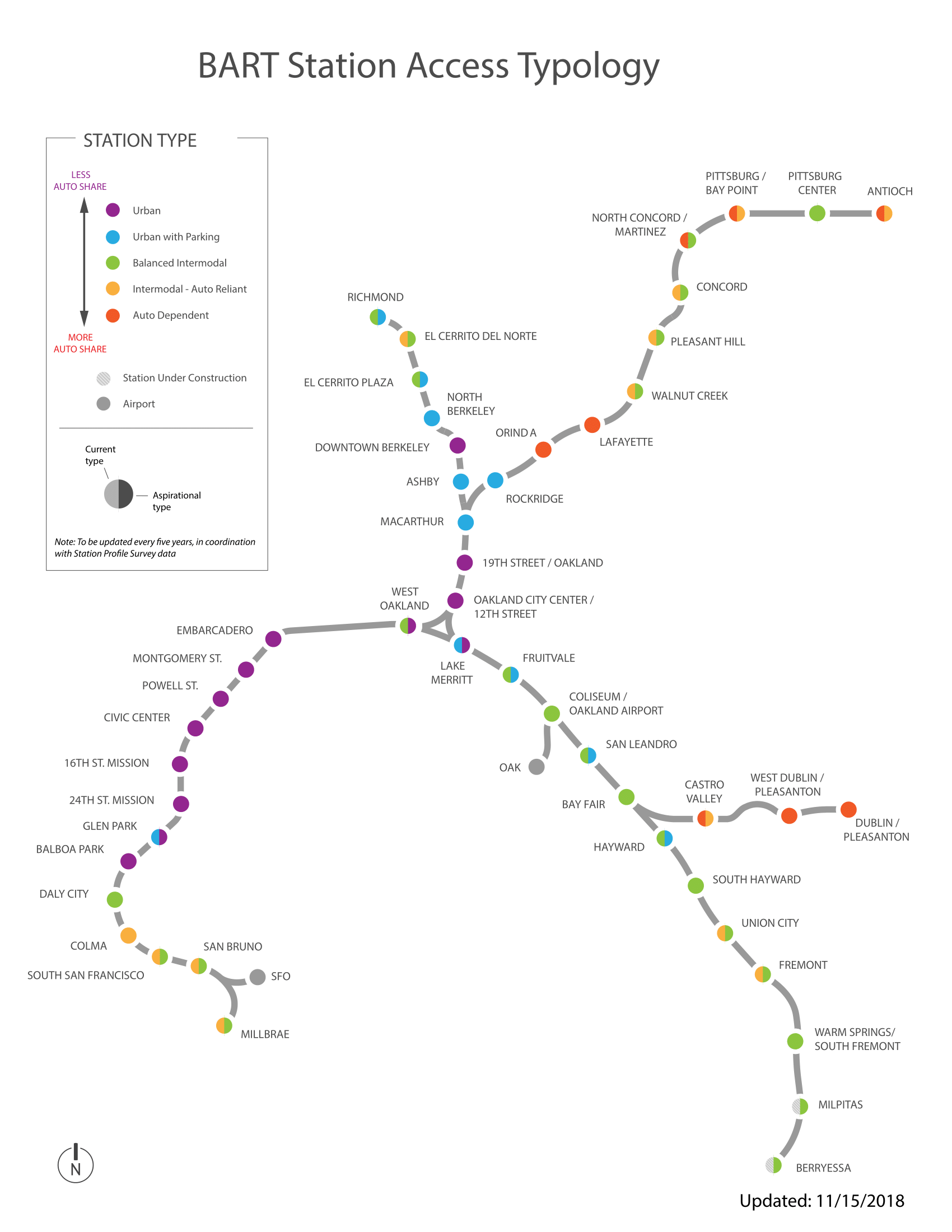 In June 2016, the BART Board adopted a new Station Access Policy to guide access practices and investments through 2025. Access investment priorities at each station are guided by the station's assigned access type, shown above. To inform development of a new policy, BART prepared a background report that identifies the current policy context, discusses recent trends, and examines selected best practices from other transit agencies. Read more about our efforts to updated the policy and view all of BART's previous access policies and practices at www.bart.gov/AccessPolicy.
---
MULTIMODAL ACCESS DESIGN GUIDELINES
Following the Board's adoption of the Station Access Policy in 2016, design guidelines were developed to improve pedestrian, bicycle, and transit access at BART stations.
BART's Multimodal Access Design Guidelines provide easy-to-use guidance and minimum/maximum and recommended standards for planning access within BART's station areas. This guide covers the area from the station faregates to the edge of BART's property, and applies to connecting intersections.
---
TRANSIT-ORIENTED DEVELOPMENT (TOD) AND AFFORDABLE HOUSING POLICIES
BART's Transit-Oriented Development (TOD) program aims to help create great communities near stations through development of BART property and partnerships with cities. Read our policy and get information about TOD related projects and our the development of a 4-Year Work Plan at www.bart.gov/TOD
The TOD Policy also incorporates the Affordable Housing Policy, adopted by the BART Board in January 2016.
Related Reports:
Transit-Oriented Development (TOD) Guidelines (.pdf) emphasize key BART goals and priorities for all who have a stake in the planning a BART station area. This document is currently being updated to reflect the new TOD Policy.
BART Parking Management Toolkit report (.pdf)
Travel characteristics of transit-oriented development in California (.pdf)
BART has completed studies evaluating the property value premium created by proximity to BART stations. These studies are:
Property Value and Fiscal Benefits of BART (Single Family and Condominium - August 2014)
The Benefits of BART to Single Family and Condominium Property Values by County (July 2015)
The Benefits of BART for Office and Apartment Properties (July 2015)
The Benefits of BART for the Downtown San Francisco Office Market (July 2015)
---
SUSTAINABILITY
BART's Sustainability Policy (pdf) - BART is committed to advancing regional sustainability by providing safe, affordable, equitable, and environmentally-friendly transit to move people to jobs, recreation and services. BART incorporates cost-effective sustainability through fulfillment of the following goals:
Advance smart land use, livable neighborhoods and sustainable access to transit.
Choose sustainable materials, construction methods, and operations practices.
Use energy, water, and other resources efficiently.
Reduce harmful emissions and waste generation.
Respond to risks from extreme weather, earthquakes, and other potential disruptions.
Improve patron and employee health and experience.
Serve as a leader in sustainability for transit agencies and the communities that BART serves.
Read more about BART's sustainability efforts here.
---
ART IN TRANSIT POLICY
In 2015, the BART Board adopted its first Art in Transit Policy, which was updated by the Board in June 2018 to include a funding strategy for the Art Program. More information on BART's art program can be found at www.bart.gov/art.
---
LOCAL HAZARD MITIGATION PLAN
Hazard mitigation is any sustained action taken to reduce or eliminate the long-term risk to human life and property from hazards. A hazard mitigation plan identifies the hazards a community or region faces, assesses their vulnerability to the hazards and identifies specific actions that can be taken to reduce the risk from the hazards. Read more about BART's Local Hazard Mitigation Plan and about the upcoming public comment period for the draft update of the plan.