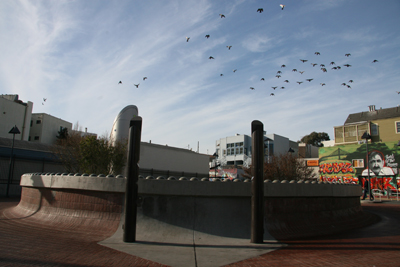 The 24th / Mission Street Station BART plazas are not only critical public spaces, they are the cultural and commercial center for the neighborhood, while serving their primary function as a major transit hub where the Mission District, Bernal Heights and Noe Valley come together. The 24th / Mission Street Station Southwest Plaza Improvements Renovation project is intended to account for the needs of the many users of the plazas, and develop solutions that would improve the plazas function as well as their aesthetic contribution as the central public space of the neighborhood.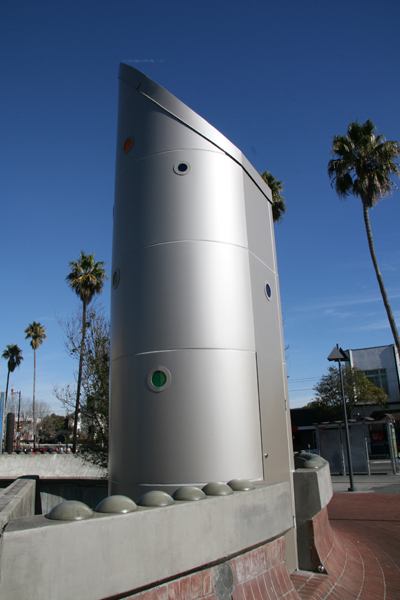 Project History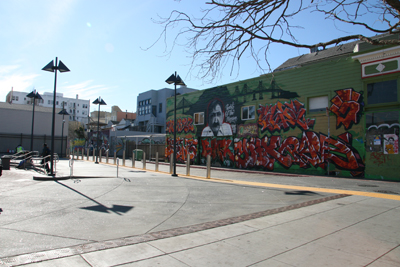 The community around the 24th / Mission Street BART Station initiated a community design process in 2001. In partnership with the Mission Economic Development Agency (MEDA), and facilitated by Urban Ecology, a number of workshops were held to develop a plaza plan that would draw what was learned at the 16th Street Mission Plaza remodel while differentiating the 24th Street Plaza. The idea was that some similar design themes would be kept, tying together the Mission Street Corridor, but taking into account the two BART stations would have distinct features and personalities. Community goals were developed through a series of community meetings and a preliminary design created, albeit with an unconstrained budget. The design included paving, seating, metalwork (railings), trees, lighting, structures, and accommodated the potential for the adjacent property to someday open directly onto the plaza.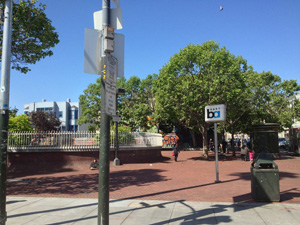 24th / Mission Street Station Plaza Southwest Side Prior to Renovation
(Click image to enlarge.)

Renovated 24th / Mission Street Station Plaza
(Click image to enlarge.)
Special Thanks to The Dance Brigade's
Dance Mission Theater for Photo Opportunity
In 2005, BART partnered with Mission Community Council and Asian Neighborhood Design to update the design so that funding for the improvements might be secured in phases. Many lessons were learned in the construction of the plazas from the 16th / Mission Street Station work, which mandated revisions to the final design for the 24th / Mission Street Station. For instance, the cost of shrinking the circular opening in the center of the plaza was prohibitive because of the excavation and construction of retaining walls that would be needed. Acknowledging that most public agencies are cutting back on maintenance staff and operating budgets, the design needed to minimize maintenance to be successful. A Plaza 24 Plan Update community workshop was held June 15, 2006. The workshop provided a forum for community input; participants discussed community goals, made design decisions about the plazas, and created an overall vision for the plazas. The participants were residents, local business owners, and representatives of community organizations. Presentations were translated into Spanish, and two of the eight breakout groups were conducted in Spanish. Additional outreach was made to business and other local organizations.
The design process identified five community goals, which were incorporated into the final design of the project:
Reserve the feeling of the concentric design, brick paving,
and landscape.
Restore a sense of openness, visibility, flow of circulation, lighting, and safety.
Support informal gathering, music, vending, family friendly activities, and spillover from adjacent businesses.
Reflect the diversity of the Mission/Latino community and history, including work by local artists and craftsmen, and
events by local performers.
Emphasize the plazas' role as a symbolic gateway to the Mission District.
For more information, get the project factsheet.
Construction Update
Design & Engineering 2010 – 2012
Construction Contract Awarded - Feb 2013
Temporary Relocation of Plaza Vendors - April 2013
Plaza Renovation Construction Start April - 2013
Osage Alley Temporary Closure September – October 2013
Plaza Renovation Construction End - January 2014
Vendors Return to Plaza - January 2014
Public Notices
BART Opens Renovated 24th Street / Mission Street Station Southwest Plaza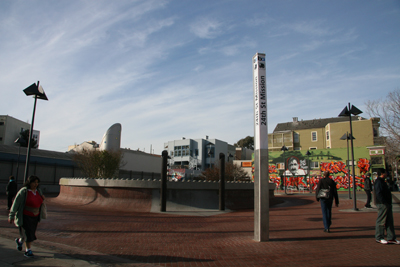 On Saturday, January 18th BART completed renovations to the southwest street-level plaza at its 24th Street/Mission Station. "Thanks to a partnership between BART, the City of San Francisco, the Metropolitan Transportation Commission (MTC) and the Mission community—locals and visitors can now enjoy a clean, well-lit and spacious plaza at BART's 24th Street/Mission Station," BART Board Member Tom Radulovich said. "BART collaborated with Mission businesses, non-profits and residents to design an open space where a variety of community-oriented activities can take place." Radulovich represents BART District 9, which includes San Francisco's Mission District.
Plaza Renovation to Begin in Late April 2013
Starting in late April 2013, BART crews will begin renovation of the southwest plaza at the 24th Street BART Station. During construction, the station entrance/stairway and escalator will remain open during BART operational hours. The neighborhood can expect minimal impacts of noise, dust and dirt during this contract. All work is scheduled to occur on weekdays, however there may be occasions when night or weekend work may be necessary. The contract will take approximately 10 months to complete.
Download full pdf version of this notice
Aviso para el vecindario de 24th Street en español.
24th Street 简体中文版周边社区通知。
Temporary Closure of Osage Alley September - October 2013
As part of the 24th Street BART Plaza renovation project, BART will close off the entrance of Osage Alley at 24th Street to all vehicular and pedestrian traffic beginning the first week of September 2013. The street closure is necessary to complete manhole installation work at the corner of Osage and 24th Street.
Download full pdf version of this notice
ENGLISH:

If you need language assistance services, please call BART's Transit Information Center at (510) 465-2278.


CHINESE:

如果需要语言帮助服务,请拨打

BART Transit(快速交通)信息中心,电话号码为 (510) 465-2278。




KOREAN:

통역이 필요하시면

, BART 수송 정보 센터 (510) 465-2278로 전화해 주십시오.




SPANISH:

Si necesita servicios de asistencia de idioma, llame al centro de información de tránsito del BART al (510) 465-2278.



VIETNAMESE:
Nếu quý vị cần các dịch vụ trợ giúp ngôn ngữ, xin gọi cho Trung Tâm Thông Tin Chuyên Chở Công Cộng của BART tại số (510) 465-2278.