On This Page:
---
About the Art Program
In keeping with the Federal Transit Administration (FTA) guidelines to incorporate art into mass transit projects, BART has procured art for the Oakland Airport Connector (OAC) project's new Oakland Coliseum Connector and Oakland International Airport stations. Among the goals of the art program are to provide a strong visual identity for each station, and to attract new riders by creating a more personalized and welcoming station. Both station platforms are surrounded by eight-foot high glass windscreens that allow air and light to enter the stations and protect travelers from the elements. Large portions of each station's windscreen system will include art treatments applied directly to the panels that accentuate the system's role in regional, national and international transportation.
---
Airport Connector Station
The Airport Connector Station will be located at Oakland International Airport, in the parking area directly across Airport Drive from Terminals 1 and 2. OAC riders will traverse Airport Drive using the existing crosswalks to enter or exit the elevated station and travel to or from the airport via OAC.
"Periodic Motion" by Artist Tom Patti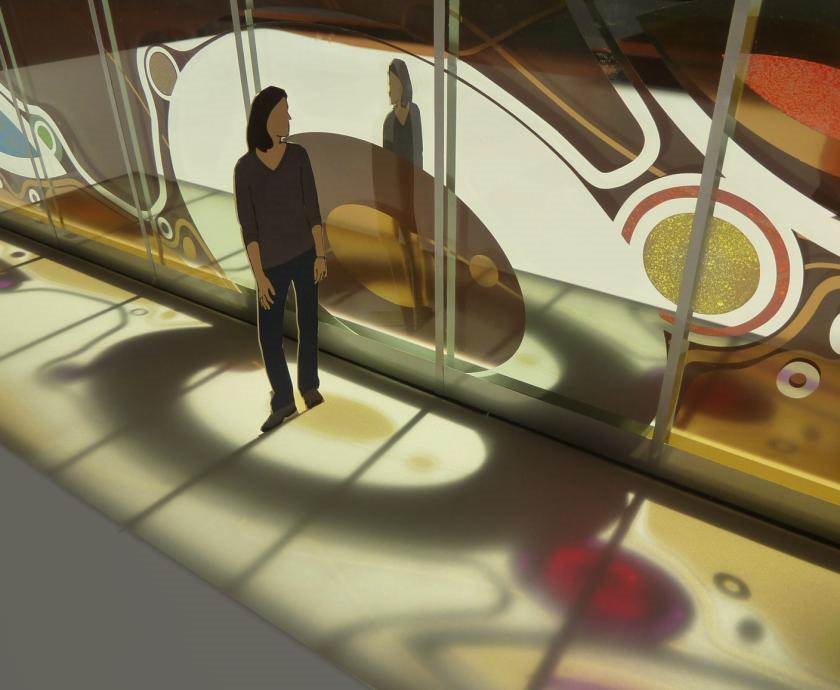 OAC Airport Station art glass installation rendering by artist Tom Patii (Click the image to enlarge it.)

Tom Patti, a leader in the field of innovative art, design and technology, has created "Periodic Motion" for the airport station. The installation will feature heat and pressure treated laminated glass panels with colorful, organic, motion-projected shapes that are connected linearly as a single gesture. "Periodic Motion" is specific to OAC, representing it as a zone of transition. The artwork's appearance retains the aesthetic integrity of the open air environment and the building materials that represent the technologies of our time.
---
Coliseum Connector Station
The Coliseum Connector Station will be located across San Leandro Street from the southern end of the Coliseum/Oakland Airport BART Station. The elevated structure will offer smooth transition between the two stations, via elevators and escalators to and from the existing BART platform, and an elevated pedestrian walkway across San Leandro Street.
"Bouncing In and Out of Oakland" by Artist Gordon Huether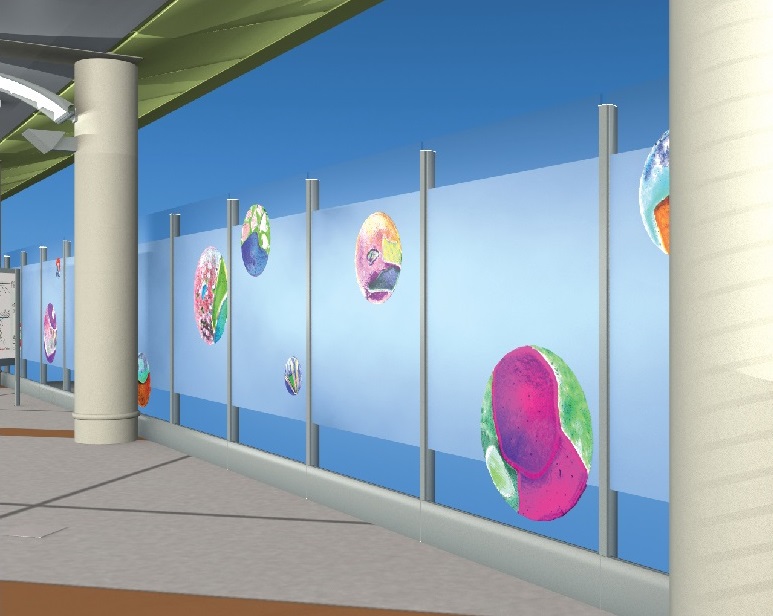 OAC Coliseum Station art glass installation rendering by artist Gordon Huether (Click the image to enlarge it.)

Gordon Huether calls his installment at the Coliseum Connector Station "Bouncing In and Out of Oakland," for its playful, colorful roundels (discs) that will follow passengers along the station platform as they travel to or from the airport. Each roundel is a unique, hand-made element and fused to the glass panels, creating an inviting, three-dimensional piece.
Read more about Gordon Huether.
---
Contact
For more information about the OAC Art Program please call the Project Information Line at (510) 464-6463 or email oaklandairportconnector@bart.gov.
Last Updated: June 11, 2013