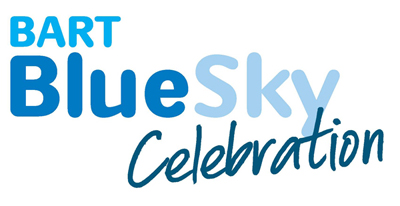 Bay Area residents have been thinking about the environment since before the first passenger stepped aboard a BART train in 1972 and BART riders are still helping keep emissions down and keep our sky blue today. When you choose BART, you're riding the lightest subway cars in the world, so they use less energy. You're riding on trains that are 100% electric and get two-thirds of that power from clean hydro and renewable energy sources. When BART trains brake, 80% of braking energy is used to power other trains. Read more about BART's environmental credentials.
2013 BART Blue Sky Partner Facebook Poll Winners
These great non-profit organizations participated in the 2013 BART Blue Sky Festival and were voted the top fan favorites in our Facebook poll. You'll see them featured in our BART stations and on BART trains in September 2013:
Food Shift
Save The Bay
Factory Farming Awareness Coalition
Thanks to all that cast their votes! The lucky winners of our sweepstakes are:
$500 Clipper Card Grand Prize Winner: June H., San Anselmo
$100 Clipper Card Winner: Helena C., San Francisco
$100 Clipper Card Winner: Donna S., North Bay
$100 Clipper Card Winner: Elise T., Richmond
$100 Clipper Card Winner: Jason Y., San Francisco
$100 Clipper Card Winner: Judith M., Oakland
BART Blue Sky Festival
BART hosted the 2013 Blue Sky Festival at Justin Herman Plaza on Friday, April 19, 2013. Attendees enjoyed free live music, environmental exhibits from over 50 organizations, eco-conscious carnival games and more. Stay tuned for details on our 2014 Blue Sky Festival.
Are you a local business or organization that is working hard to make a difference here in the Bay Area and interested in participating in the 2014 BART Blue Sky Festival? Email us at marketingpromotions@bart.gov for consideration.
Congratulations to the winners of two folding bikes, raffled off at this year's Blue Sky Festival:
Heidi B., Palo Alto
Olga B., Newark