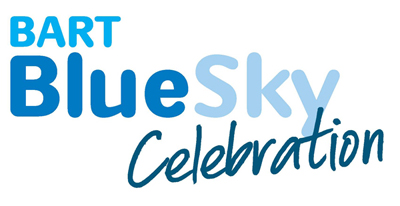 Bay Area residents have been thinking about the environment since before the first passenger stepped aboard a BART train in 1972 and BART riders are still helping keep emissions down and our sky blue today.
When you choose BART, you're riding the lightest subway cars in the world, so they use less energy. You're riding on trains that are 100% electric and get two-thirds of that power from clean hydro and renewable energy sources. When BART trains brake, 80% of braking energy is used to power other trains. Read more about BART's environmental credentials.
Join us at the 4th annual BART Blue Sky Festival
On Wednesday, April 16, 2014 BART will celebrate the visionary mindset of the Bay Area with its fourth annual Blue Sky Festival from 11 a.m. to 2 p.m. at Justin Herman Plaza in San Francisco.
It's BART's way of way of thanking those who ride BART and recognizing the numerous eco-friendly and innovative companies and agencies that work to preserve our quality of life in the Bay Area.
More than 50 commercial companies, nonprofit organizations and public agencies that provide green products and services will participate in this year's festival and more than 4,000 people are expected to attend. Enjoy live music, carnival games with an eco-twist, and view a model train car from BART's Fleet of the Future. The event is free and so is the valet bike parking.
Get your BART Blue Sky Passport stamped by six of our festival partners and you'll receive a $6 BART ticket (while supplies last, first 5,000 stamped passports will receive a $6 BART ticket). Turn in your passport for a chance to win a folding bike (drawing will take place at 1:45, need not be present to win).
We look forward to seeing you on Wednesday, April 16. Please note: this is an outdoor festival; rain cancels.
For a complete listing of festival partners, visit the BART Blue Sky Festival page.
Vote for your favorite BART Blue Sky non-profit partner for your chance to win a $500 Clipper card!
Which of our BART Blue Sky Non-Profit partners' current initiatives do you like best? Vote for your favorite!
The three non-profits that get the most votes will win valuable exposure in front of BART's 400,000-plus daily weekday riders, and YOU have a chance to win a $500 Clipper Card just for voting. You can vote only once, so make it count!
Voting begins Monday, April 7 and you have until Monday, May 12, 2014, 11:59 p.m. Pacific Time to vote.
Winners will be chosen at random from the votes we collect.
Grand Prize -- One winner will receive a $500 Clipper card
Runners-up -- Three winners will each receive a $100 Clipper card
You must be age 18 or older and a resident of California to vote and enter this contest.
Visit the BART Blue Sky Facebook page to vote.
--
Thank you to our BART Blue Sky Festival partner, the San Francisco Recreation and Parks Department.