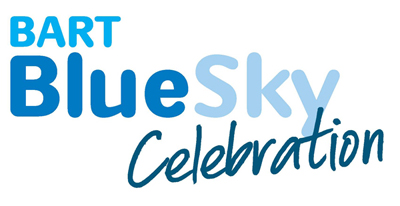 April 22 marks the 45th anniversary of Earth Day, and it also happens to be the date of BART's fifth annual Blue Sky Festival.
Join us from 11am to 1:30pm at Justin Herman Plaza in San Francisco for a lunch-time eco celebration. There will be environmental info and giveaways from more than 50 environmental exhibitors, plus valet bicycle parking, a Segway obstacle course and carnival games with an eco-twist. Get a BART Blue Sky Passport at the festival, fill it with stamps from six exhibitors and redeem it for a free $6 BART ticket.
The first 5,000 people who turn in a completed passport will get a free $6 BART ticket right at the festival! Stamped passports will be entered in a drawing to win a folding bike.
Official rules will be available at the festival.
You can also win a $100 Clipper card. Take a photo at the festival and upload it to Instagram or Twitter with the hashtag #BARTBlueSky. Five winners will be selected at random on April 24, 2015.
Visit the Festival page for an updated list of environmental partners attending the festival. This is an outdoor festival – rain cancels.
Win prizes all of April
Can't make it to the festival? BART will be celebrating Earth Day all month long! Every Wednesday in April BARTable will be giving away eco-themed prizes! Win a folding bike, $100 Clipper card, City CarShare membership, a Segway tour of Golden Gate Park, tickets to the San Francisco Green Film Festival, fresh organic juice from Juicey Lucy's and more! To enter, visit http://bartable.bart.gov/contests.