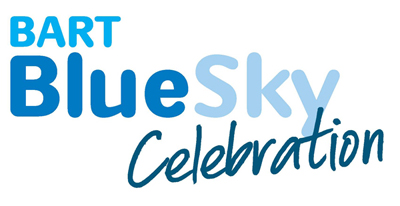 Bay Area residents have been thinking about the environment since before the first passenger stepped aboard a BART train in 1972 and BART riders are still helping keep emissions down and our sky blue today.
Check out the ads our non-profit Blue Sky partner Facebook Poll winners are posting in the BART system here.
Thanks for joining us at the 4th annual BART Blue Sky Festival
On Wednesday, April 16, 2014 BART celebrated the visionary mindset of the Bay Area with its fourth annual Blue Sky Festival from 11 a.m. to 2 p.m. at Justin Herman Plaza in San Francisco.
More than 50 commercial companies, nonprofit organizations and public agencies that provide green products and services participated in this year's festival and more than 4,000 people enjoyed the beautiful weather and blue skies.
For a complete listing of festival partners, visit the BART Blue Sky Festival page.
BART Blue Sky Festival winners
Congratulations to our BART Blue Sky Festival winners!
Congrats to Christa D., the grand prize winner of the BART Blue Sky Festival raffle. She won a folding bicycle by having her BART Blue Sky Passport stamped by six of our festival partners.
Runner-ups Linda S. and Nadine J. each received a $25 Clipper card.
Congrats to our photo contest winners! Each winner received a $50 Clipper card for taking a photo at the BART Blue Sky Festival and sharing it on Twitter or Instagram with the hashtag #bartbluesky.
Arlene T.
Greg S.
Joe G.
Cary C.
--
Thank you to our BART Blue Sky Festival partner, the San Francisco Recreation and Parks Department.