New Bike Station at Downtown Berkeley BART Station will feature lots of amenities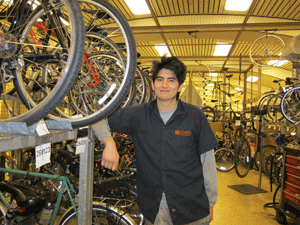 Employee Felipe Morales at the old bike station
By Xuan Lam
BART Website Intern
If you bike around Berkeley, you're probably familiar with the bike "cage" on the concourse level of the Downtown Berkeley BART Station. This free bike storage area was started in 1999 and has become more and more popular over time – outgrowing its original space needs and, at times, becoming cramped and overcrowded.
That's changing now – as a new and improved bike station celebrates its grand opening on Tuesday, July 13. The new bike station will be located above ground at 2208 Shattuck Ave., a few seconds away from the BART entrance at Allston Way and Shattuck Avenue.

This exciting new 4,000-square-foot facility is the result of a partnership between BART, the City of Berkeley and the bicycle community. The construction was largely funded through a Safe Routes to Transit Regoinal Measure 2 grant.
The station is well-equipped with many perks: It's more spacious, can accommodate more bikes and will offer full-service bike repairs. The Berkeley Bike Station, operated by BART's contractor, Alameda Bicycles, will offer other amenities such as a rent-to-own program, free safety-check inspections and retail items for sale. More details will be provided on opening day.
"It'll be less congested for not only downtown but for other stations," because more bicyclists will be able to store their bikes, said Felipe Morales, an employee at the bike station. He said customers enjoy the convenience and peace of mind from being able to leave their bike in a secure location when they want to take BART.
Alameda Bicycle, under contract for BART, also operates valet-staffed bike stations at the Fruitvale and /Downtown Berkeley BART Stations. Daily parking is free during regular hours.
So how do the valet bike stations work, exactly? It's easy as 1-2-3:
1) Bring your bike to the Berkeley or Fruitvale BART bike station.
2) Fill out a log with your name, the type of bike of you have, and phone number.
3) Get a valet ticket and a small tag goes with you. Please note: Bikes left after the second night will be charged $5 per day. Bikes that are left more than one week may be donated or given to the police.
Alameda Bicycle also operates a self-service model bike station with an electronic smart-card BikeLink card access at both the new Berkeley Bike Station and at the BART Embarcadero Bike Station. BART offers electronic smart-card access lockers at many other stations as well. You can get all the details on which stations have bike storage, and how to use electronic BikeLink card access or keyed bike lockers, in the Bikes on BART section.
Bike storage options are just one of the ways BART works to accommodate riders who want to use a combination of bikes and BART in their travels. Providing bike stations, as well as electronic lockers, helps bikers abide by the bike "blackout periods" BART has in place to prevent overcrowding on trains during peak commute hours. (Folding bikes are allowed at any time.)
"The idea of of using bike parking facilities to reduce the number of bikes on BART trains is a very good idea," said Gene Oh, owner of Alameda Bicycles.
On a visit to Berkeley BART Station last week, bicyclists interviewed were generally excited about the prospect of the new station, which will give them more options.
Brenda Bertram, who rides BART four to five times a week for work, said that timing one's trip is important in figuring out whether you will need storage, or can bring your bike aboard.
"When the trains are empty, BART provides a lot of space" for bicycles on board," she said. "It's definitely about timing."
One good reason to consider storage is that – no matter what the posted schedule lists for bike blackouts – the BART bike rules state that bikes should not be brought on board very crowded trains, at any point. And bikes are not allowed in the first car of the train.
"Passengers aren't very happy when there's a crowded train and you show up with your bike," said Ariel Klein of San Francisco. "You don't feel welcomed."
Phillip Greenleaf of Oakland rides BART five days a week all over the East Bay and San Francisco. He says, "BART seems to be friendly to bikers because apart from the very first car, you can put your bike anywhere on the train," he said. As for working around timing restrictions, he said, "You deal with it."
Oh also mentions the upside of riding a bike to BART, noting that it "creates a positive attitude for the rest of the day." He adds, "People are starting to understand that if they use their bikes to commute to BART not only is it more time-efficient but you also get your exercise in at the same time."
His advice for newcomers: "Just try it."
A ribbon-cutting event to mark the grand opening of the new bike station will be held at 11 a.m. on Tuesday, July 13. Special guests will include City of Berkeley Mayor Tom Bates and BART Director Bob Franklin.
See related story about the author's personal experience taking her bike on BART for the first time.