A cleaner, more comfortable ride: Taking a look at BART's seat replacement project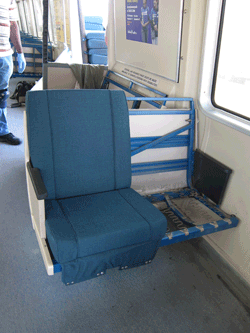 Photo of BART seat, mid-replacement
By Xuan Lam
BART Website Intern
On an empty railcar, with the intense focus of a surgeon taking out an appendix, a BART worker pokes and pries to remove a saggy, dingy seat cushion from its frame.
For a few moments the empty frame looks skeletal, coiled springs exposed at the bottom, metal bars outlining the rest of the seat structure. Then the worker pops in new seat cushions. Firm and sturdy, the cobalt blue seats are completely free of any wear or tear – a joy to sit upon.
Now on BART TV
:

Seat replacement video
With the recent allocation of $750,000 in projected FY11 surplus funds to train cleaning and seat replacement, this scene is taking place over and over again as 51 railcars out of BART's 669-car fleet get outfitted with new seats. It's a welcome sign to many customers that BART is using part of its extra funds for this kind of maintenance.
"I think it's good they've decided to do this,"' said rider Jit Patel of Fremont, who thinks BART seats are generally OK but that there's room for improvement. "They're reasonable as far as sanitation goes," Patel added.
The money goes not only for replacement of the seats themselves,such as buying new cushions and covers, but also for other costs associated with the project, such as dumpster rental, cleaning materials, and dry cleaning. On a recent visit to BART's Hayward maintenance facility, where the seat replacement is taking place, a waste bin looked like a makeshift seat graveyard. Some of the once-blue seats had faded to appear tan or gray. Some were marred with chewing gum and stains.
The new seats, in contrast, are plump and inviting. They have "new fabric with more comfortable cushions," said Jeff Baker, BART assistant maintenance superintendent for car appearance.
The condition of railcar interiors is a major concern for customers, who have given declining marks for cleanliness each of the past four quarters, according to passenger survey data contained in BART's Quarterly Performance Report. For the most recent quarter (Q4 2010, April – June 2010), customers rated cleanliness at 2.67 on a scale where 4 is "excellent", 3 is "good", 2 is "only fair", and 1 is "poor".
BART has an extensive process for car cleaning, as described by Randy LaBeske, assistant shop superintendent at the Hayward maintenance yard. "The cars are cleaned every day," he said. "At the end of the night, the cars come into the yard, and there are car cleaners that work from 9 at night to 5 in the morning. And they go through every single car and clean them."
Riders can do their part to help keep BART cars cleaner by following the rules and using common courtesy – such as not eating or drinking on the train, not putting their feet on seats, and not leaving behind waste such as old newspapers or used tissues.
Seat replacement and deep-cleaning are just one part of the many ways in which BART is trying to improve the customer environment. A floor replacement project, in which carpets are replaced with a composite flooring material, is also underway.
In the long term over the next decade, BART has a plan to replace the entire fleet of railcars. Once the design phase begins for that project, BART will seek customer input on features such as flooring and seating materials.
In the meantime, keep an eye out for new seats coming soon to a train near you. You might have the rare opportunity to be one of the first to sink into the cozy comfort of a pristine public transportation seat. Enjoy the ride!
Xuan Lam is a BART website intern who will be attending Smith College in the fall. You can contact her at xlam@bart.gov