BART installs new bike racks inside 19th St./Oakland Station, offering more storage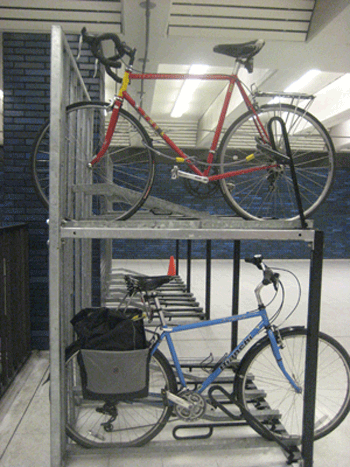 New double-deck bike racks inside the station
The latest step in BART's efforts to improve facilities for bicyclists is a set of spiffy double-deck racks that can hold 64 bikes inside the 19th St./Oakland Station.
Previously, the only option for bicyclists who wanted to store bikes near the station were the city-owned racks located outside on the street level, which were often filled beyond capacity.
NEW RACKS OFFER MORE STORAGE
The new racks are located on the concourse level (the same level as the faregates) outside the paid area near the 19th Street entrance to the station. There are two lightly used stairways near 19th Street and Broadway that provide direct, easy access to the new in-station racks. Or, bicyclists can use the station elevator. Bikes are not allowed on escalators; visit the bike rules section for more info. Since bikes are not allowed inside the paid area of the station during peak commute hours, these racks provide a convenient alternative to taking bikes on the train (folding bikes are allowed at all times). Although inside the station and within sight of the station agent booth, always lock bikes securely to racks and remove possessions.

"GREEN" RACKS RECYCLED FROM BERKELEY
These racks have an extra "green" touch - they are recycled from a previous life at the Downtown Berkeley Station where they were used in an attended parking facility. They have been retrofitted (so bikes can be locked to them) and refurbished for use at 19th Street. The facility at Downtown Berkeley has been relocated to a street level retail space in partnership with the City of Berkeley.
BART provides bike parking at all but two stations (Powell Street and San Francisco International Airport) has has a total of about 4,500 bike parking spots available, in three general types: racks (about 3,000 spaces), lockers (about 1,000 spaces) and bike stations (about 500 spaces).
"We are continuously expanding bike parking as demand requires and funding is available," said Steve Beroldo of BART's Customer Access Department, and the staff liaison to the BART Bicycle Task Force. "We also partner with a number of cities who provide bike parking directly adjacent to stations."
GET INVOLVED WITH BART BICYCLE TASK FORCE
BART recently added bike directions to its website trip planning functions and added bike info to digital destination signs. If you would like to be more involved with issues of bike policy at BART, you are welcome to attend meetings of the BART Bicycle Task Force. If you have any questions about the Task Force contact Steve Beroldo at sberold@bart.gov.