World Series parade boosts BART ridership to highest day ever - past half-million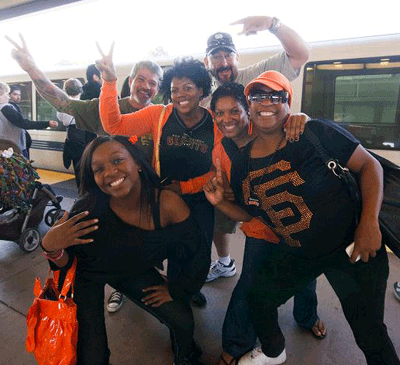 Giants fans at BART/Photo by Margot Duane
BART carried the most riders of any day in its 38-year history on Wednesday -- 522,200 -- many of them going to cheer the San Francisco Giants in a World Series victory parade. The highest previous single day of BART ridership was Oct. 29, 2009, during an emergency closure of the Bay Bridge, with 442,100 riders.
The World Series parade day easily smashed that record by nearly 20% and -- while there were some issues with long lines and crowd control to be expected when moving a half-million people -- the day on BART was a relatively smooth one. In fact, BART's customer on-time performance figures for the morning commute, when the largest crush of people were heading to the 11 a.m. parade, showed a customer on-time rate of better than 90 percent.
"We are truly thankful for all the Bay Area residents who chose to take public transportation to this historic event, and are humbled to have played a part in this celebration," said BART Chief Communications Officer Linton Johnson. Visit our blog for a gallery with more photos of fans at BART, or check out this BARTtv video riding along with the fans.
BART had urged riders to get to stations early and buy roundtrip tickets in advance, or, better yet, get an electronic Clipper card (www.clippercard.com) so they could move quickly through faregates without having to wait in ticket-machine lines. BART planned ahead and put additional resources in place to handle the crowds, such as extending train lengths, beefing up security and adding station personnel. The extra revenue generated by the surge in ridership helps offset those expenses.
BART's highest daily ridership on a sustained basis, without special circumstances or events, occurred in September 2008 when BART averaged about 380,000 riders per day. Since that time, ridership dipped, largely attributed to the economic slump and high unemployment that followed. But it has begun to rebound this year and is approaching around 350,000 riders per average weekday.

Before Wednesday, the previous Top 10 BART ridership days were:

1. Oct. 29, 2009; 442,100; Emergency Bay Bridge closure
2. Oct. 30, 2009; 437,700; Emergency Bay Bridge closure
3. Oct. 28, 2009; 437,200; Emergency Bay Bridge closure
4. Sept. 8, 2008; 405,400; Oakland Raiders, San Francisco Giants games
5. Sept. 4, 2009; 395,300; Scheduled Bay Bridge closure; A's game
6. June 19, 2008; 394,400; Spare The Air Day
7. Nov. 2, 2009; 393,200; Bay Bridge reopened at 9 a.m. after closure
8. April 9, 2008: 391,900; San Francisco Giants game; Olympic Torch run
9. sept. 25, 2008; 390,600; Oracle Open World; San Francisco Giants game
10. Aug. 31, 2007; 389,400; Oakland A's; Beyonce concert; Bay Bridge closure