Lone Texas Rangers fan makes good on his BART bet by serenading riders
Dallas' Top transit exec serenades BART riders during the morning commute to promote transit use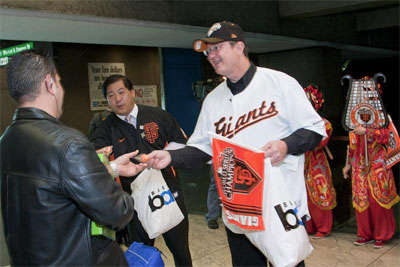 BART Board President James Fang (center) with Gary Thomas, President and
Executive Director of DART (right), at Embarcadero Station. Photo: Margot Duane.
Shortly after the San Francisco Giants won the World Series, Texas Rangers fans knew they'd have to pay up on all the big bets they made before the series started.
The day of reckoning came all too soon for Gary Thomas, President and Executive Director of Dallas Area Rapid Transit (DART). As a result of his bet with BART Board President James Fang, Thomas flew to the Bay Area, courtesy of Southwest Airlines, donned Giants gear and serenaded BART riders during the morning commute today.
I think this is really great for promoting public transit. That's the key," Fang said. "I'm very happy to have people from Dallas here, and it's all in good fun." He added, "You know there's a saying that goes, 'Don't mess with Texas. Well DART, don't mess with BART."
"There's always next year," Thomas said.
Thomas sang a selection of local favorites including, "I left my heart in San Francisco," and handed out the "Texas Gem," a special cookie made right here in the Bay Area. He was accompanied by a group of Chinese school girls who make up the St. Mary's Drum and Bugle Corp. Peet's Coffee also provided coffee and other treats.
All in all it was a good-natured Rangers ribbing. "Today we're celebrating the Giants' win of the World Series, and we're celebrating all the people who ride BART and DART everyday." Thomas said. 'Everybody here's been a great sport about it."
Bet to promote public transit use
This was a first-of-its-kind World Series bet between two major transit systems is designed to promote transit use. BART ran longer trains and special announcements for all Giants World Series home games as well as Game 5 which was broadcast live on a big screen at San Francisco's Civic Center Plaza.
During the Giants World Series Parade on November 3, BART carried 522,200 riders, the most of any day in its 38-year history.