BART to give away free tickets to encourage holiday shopping and travel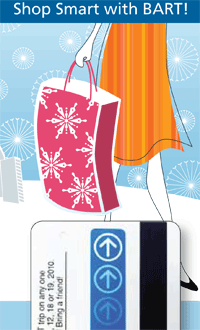 On Thursday, December 2, from 6:00 a.m. - 9:00 a.m., BART will give free tickets to 60,000 commuters at the Downtown Berkeley, 12th St./Oakland City Center, Embarcadero, Montgomery, Powell and Civic Center stations (while supplies last).
These 60,000 commuters will receive two tickets (perfect for taking a friend shopping), each good for one, one-way BART trip on any of the following Saturdays or Sundays: December 4, 5, 11, 12, 18 or 19, 2010.

The free tickets will help Bay Area residents ease into the holidays by taking BART on their shopping trips. BART helps shoppers avoid traffic, city parking and arrived relaxed and ready to hit the stores. BART has plenty of free weekend parking to make the trip even more convenient.
The tickets are promotional and non-refundable. After use, the tickets will be returned but will have no value and may be discarded. After using the free tickets, recipients can visit bart.gov/shop, answer a few quick questions and be entered to win a Clipper card loaded with $300 worth of value. Clipper is the Bay Area's all-in-one transit card, now accepted at all BART stations.

If shopping's not your bag, don't forget BART is a great way to get to holiday shows, take the kids to see the decorations and lights or meet up with friends and family to celebrate the season.

Happy Holidays from BART!