Play BART's Dump the Pump Adventure for chance to win $500 Clipper Card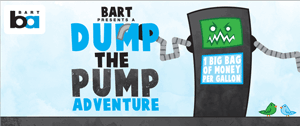 BART's "Dump the Pump Adventure" is a fun, interactive story about the perils of driving a car.
First - draw yourself! Then watch your hand-drawn character navigate through the crowded rush hour traffic in downtown San Francisco, and come up with creative solutions to get yourself out of it. Of course, it isn't as easy as it sounds - between air pollution, gas guzzlers and over-run highways, you'll have your share of car-related dangers to battle.
The game is fun for people of all ages to learn the merits of getting out of the car, dumping the pump, and taking public transit instead.
Play it now!

Also Available in the App Store

iPhone or iPad users can download our free Dump the Pump app in the App store.
http://itunes.apple.com/us/app/bart-dump-the-pump/id534319594?mt=8

Play to Win a $500 Clipper Card

Play and share the "BART Dump the Pump Adventure" before September 21, 2012, to be eligible to win a $500, $250 or $100 Clipper card.

Alternate Methods of Entry:

To skip the game and get straight to entering the sweepstakes, you can visit www.bart.gov/dtpcontest.
Entrants may also submit their Dump the Pump sweepstakes entry via email or mail. All entries received in this manner will be entered in the BART Dump the Pump sweepstakes. All entries must be received by 11:59 p.m. PT on September 22, 2012.
To submit by email, send an email with the subject line "BART Dump the Pump Sweepstakes, Attn: Email Submission" containing your full name and email address and/or phone number to youwin2@bart.gov.
To submit by mail, include your full name and either a telephone number or email address, and mail your entry to BART Dump the Pump Sweepstakes, Attn: Mail Submission, Marketing Dept., P.O. Box 12688 (LKS-18) Oakland CA 94604-2688.