Earthquake safety construction to begin October 26 at Ashby Station
As part of our systemwide Earthquake Safety Program, construction will begin Friday, October 26 to reinforce systems and equipment at Ashby Station to withstand future earthquakes.
Work will begin on the station's Concourse level. Construction crews will install temporary scaffolding and lighting in order to access the work areas. The work will include installing structural supports in and around the station. Work will occur in the daytime between the hours of 7 am and 4 pm, Monday through Friday, with periodic night work as necessary. The work will continue for approximately one month. Please watch for signs with safety information and other notices. We appreciate your patience during this work, and will attempt to minimize construction-related noise, dust and inconvenience.
To contact the Earthquake Safety Program or obtain additional information, please visit our website at www.bart.gov/earthquakesafety or call our Program Information Line at (510) 476-3876.
Thank you for your patience and cooperation.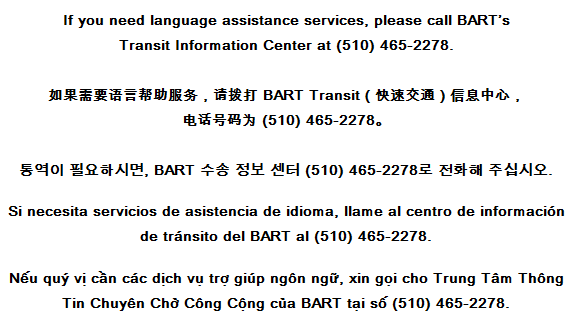 Updated: October 15, 2012 with corrected date