BART Board Signs-Off on Sister Agency Agreement with Shanghai Metro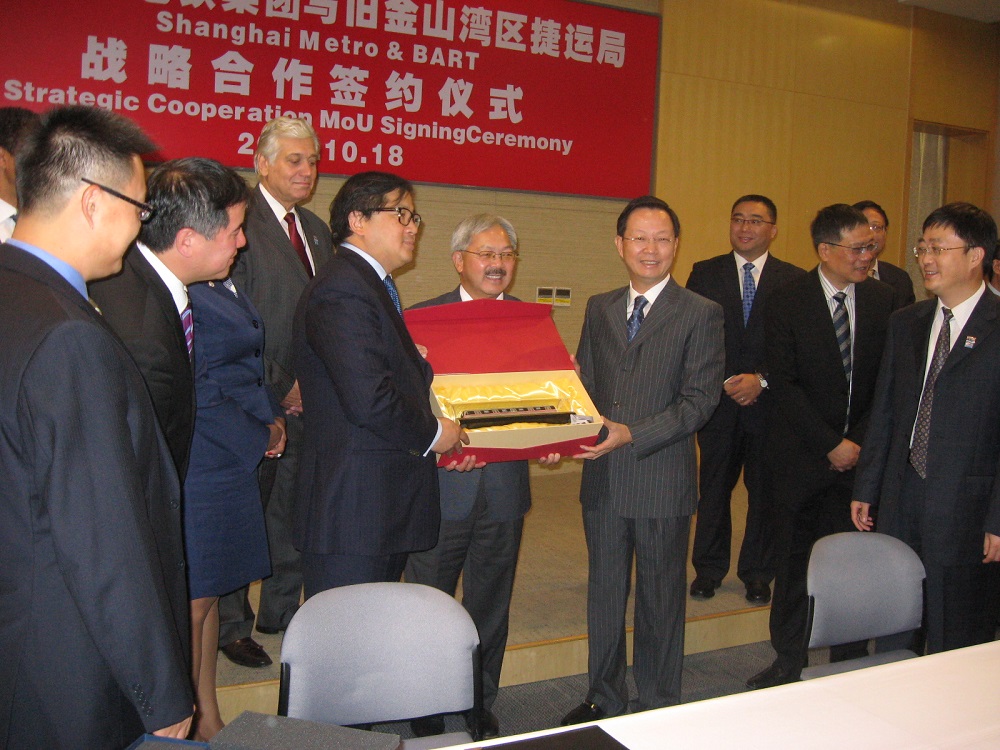 Director James Fang, SF Mayor Ed Lee with Shanghai Metro CEO Yu Guangyao
Today, the BART Board of Directors approved a Memorandum of Understanding (MOU) aimed to develop a Sister Transit Agency affiliation with Shanghai Metro, the subway system in Shanghai, China. Such an affiliation will benefit both urban rapid transit systems and their customers by the mutual sharing of experiences, challenges and solutions.
"As urban centers across the world continue to grow and become denser, the fundamental challenge of how to transport these populations become more global in nature," said Director Fang. "When you combine BART's wealth of transit knowledge with Shanghai Metro's technology and vast service reach, this cooperative agreement truly represents the nexus between experience and innovation which I believe can serve as a world model on how to address public transit issues."
Fang serves as the District's liaison to Shanghai Metro.
BART has 40 years of vast operational knowledge that could perhaps be advantageous for the much newer Shanghai Metro system. Shanghai Metro is one of the fastest growing rapid transit networks in the world. They operate 11 metro lines with 267 stations, and 270 miles of track, making them the longest system in passenger route length in the world. Both are currently expanding their systems and face the challenge of a growing ridership.
The MOU identifies five areas to mutually explore. These include:
· Smart Card Technology - Both systems have distance based fares. The two entities agree to swap experiences on new electronic payment technologies, emerging business trends and anti-fraud measures.
· Communications Based Train Control System – Because the availability of experienced engineers in this field is relatively limited, both agencies agree to share experiences in vendor products, design and manufacture especially related to security, reliability and performance.
· Station Retail Shop Management – The two systems agree to share property management experience with a focus on emerging market demand, station capacity, safety and practical demand.
· Passenger Information System – This topic includes design standards, content management, communication technology and real-time information.
· High Volume Passenger Flow Management –Shanghai Metro and BART will share effective passenger flow management as both strive to improve operational efficiency and manage the overall passenger flow at stations during peak hours.
Last fall, Director Fang joined the San Francisco Shanghai Sister City Committee to explore this opportunity with Shanghai Metro. No BART funds were used to pay for Fang's expenses to Shanghai. His trip was provided by the Committee.
BART-Shanghai Metro Sister Transit Agency Affiliation MOU.pdf