How BART Works: Day in the life of a Station Agent meeting range of rider needs
By MELISSA JORDAN
BART Senior Web Producer
BART is working hard to focus on rider needs, investing in priorities such as cleaner stations and new trains. With record ridership, no one sees rider needs closer than the frontline workers who deal most directly with riders every day. For this feature -- "How BART Works: A Day in the Life of a Station Agent" -- we spent time with a station agent to answer some of the most frequently asked questions we get at BART, while offering a glimpse at some of the issues we are faced with every day as a transit system. We want to show you up-close some of the ways these workers are helping to implement BART's priorities and give you a few tips on how to make your ride safer and easier.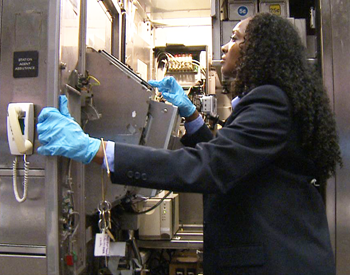 "Hi, how may I help you?" is a phrase station agent Perrissa Young-Flagg uses dozens of times each hour of her night shift at Embarcadero Station. "I'm just trying to buy a BART ticket," a man says, frustrated with a ticket vending machine that wasn't working. Young-Flagg showed him to a machine and helped him through the process of buying a ticket.
Ticket problems are probably the single most frequent issue she deals with in helping customers, and there are many factors involved. The BART system is more than 40 years old, and many of its parts are showing their age, something BART is working to address with increased focus on efforts to maintain a state of good repair.
RIDER TIP: AVOID UNAUTHORIZED TICKET-SELLERS
One thing that jams ticket machines is altered tickets, the work of scammers who try to con victims into buying fake tickets with lines like, "I'm leaving town and I need to get rid of this $20 ticket; I'll let you have it for $5." Sometimes the scammers try their cons right in front of the machines as customers are trying to buy legitimate tickets – prompting agents to call in BART Police and make warning announcements over their public address systems.
"Attention BART customers; always purchase your tickets from the machines. Do not purchase tickets from unauthorized ticket-sellers," Young-Flagg announces. If the deal sounds too good to be true – it probably is.
"This is an altered ticket; it jams up our machines. Nine times out of 10 if a machine is out of service it's because we have these in here," Young-Flagg says, fishing a ticket out of a gummed-up machine.
Besides ticket issues, she helps customers needing to find elevators, gives directions, explains the difference between BART and Muni, tells kids not to skateboard in the station, and – a very important duty for customer needs – makes regular checks of elevators to ensure they are free of waste and debris.
"The elevators are really important, especially to people with disabilities or people with young children in strollers, they really need to use elevators, and I do my best to make sure they stay as clean as possible," she says. "We check the elevators every two hours … that's for safety and to be courteous to our customers. If there is waste or debris, we call our system service workers and they try to come and clean it right away."
RIDER TIP: STATION AGENTS CAN'T GIVE REFUNDS ON THE SPOT
Some things you might not know about station agents are -- the agent cannot give you a refund on the spot or fix a demagnetized ticket. They can help you fill out paperwork for a refund, or you can find more info to do it yourself on the BART website.
You might also not realize that when the agent is away from their booth, it may be for an elevator cleanliness check; to put up a gate for safety if an escalator must be taken out of service; or to handle an emergency situation.
"We got a call that there's an unattended backpack in the middle of the station…. Are the BART Police by your booth? There's an unattended backpack on the platform."
In that case, it was just a bag of gym clothes left behind, but every suspicious situation must be checked out. Riders can help, with the common advice, "If you see something, say something." Police checked it out and in this case it was a false alarm.
RIDER TIP: IF YOU SEE SOMETHING, SAY SOMETHING
For agents who close stations, at the end of the night there are particular tasks to be done, like emptying faregates of paper tickets so they won't be stolen and reused by scammers. "We have to empty the gates so the capture bin doesn't overflow. This is the brain of the machine down there." And there is the unfortunate but necessary task, not unique to BART but common across all transit systems in large cities, of moving along people who may be sleeping in a station for warmth or lack of another place to go.
Young-Flagg handles the task with firmness, yet respect for the dignity of the individuals. "Gentlemen, it's time to get up, time to get up… come on, sir, let's get up. All the exits are open. Do you need BART Police tonight? You've got to get up, it's time to go." "Thank you."
When the last train of the night leaves, there are more checks, then the gates come down. Another day is over for one station agent.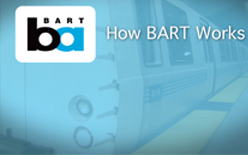 RIDER TIP: HOW YOU CAN SUBMIT COMPLIMENTS OR CONCERNS
Young-Flagg and hundreds of other BART workers on the front lines are there to serve you, the riders. If you have questions about how things work or want to pass on a complaint or a compliment -- there is a comment form on bart.gov where you can share your feedback. If you have a favorite "regular" train operator, station agent or other employee whom you think would make an interesting day-in-the-life profile for "How BART Works," you can email your suggestion to webadmin@bart.gov