Senior citizens learn how to ride BART with confidence on group field trips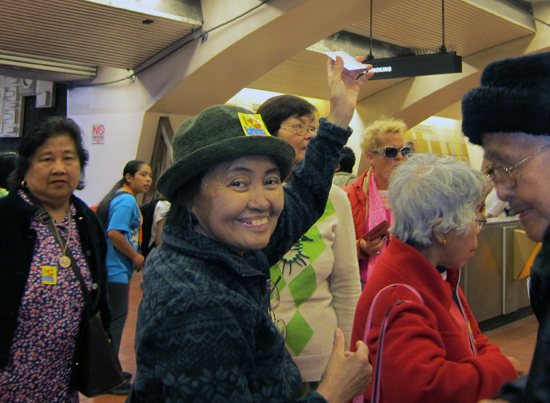 By MELISSA JORDAN
Senior Web Producer
The senior citizens of Bernal Heights Neighborhood Center heard BART was offering senior field trips and wasted no time in getting on the list.

"I asked them, "Where would you like to go?" said Roland Soriano, senior program coordinator for the center. "They got really excited and said, ' How about the airport?' "
BART offers the program to teach riders how to obtain a Senior Clipper Card, to educate them about safety and other issues to keep in mind while riding BART, and to increase their comfort level to ride BART independently. The latest field trip started at 24th St./Mission BART, went to San Francisco International Airport, then back to the BART station.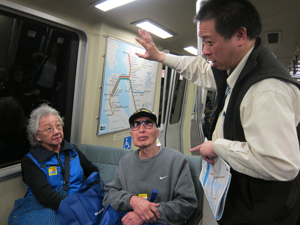 "We ask them where they would like to go," said Samson Wong of BART Customer Services. "They have a desire to be able to travel independently, and we respect that very much. If they learn to use the system as a group on a field trip, they tell us they are much more comfortable being able to take it on their own."
A field trip earlier in the year went from Powell Street Station to The Shops at Tanforan near San Bruno Station to show the ease of going to a shopping mall.
"Being able to use BART to get somewhere on their own empowers them," said Soriano of the neighborhood center. "Whether they want to just go shopping or hop on a plane to go see the grandkids in Texas."
Jennifer McLeod uses BART to visit friends in Castro Valley and Fremont, to meet relatives who come in from Colorado and Wisconsin, and to visit grandchildren who live near Colma Station. "I don't drive," she said. "So BART is important to me."
"It's just fantastic," she said. "And a great bargain."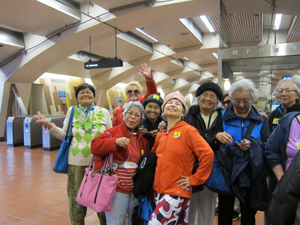 Seniors over 65 years old are eligible for a Senior Clipper card that entitles them to 62.5% discounted fares. Find more details at www.clippercard.com
Angela Ferrufino, one of the seniors on the recent trip, used to be a daily BART commuter to her job at Bank of America in Concord. "Now I don't ride it as much, but I'm very glad it's there," she said.
As the seniors started their day at 24th Street, they gathered around Wong and his colleague, Farnoush Ansari, who were busily filling out the paperwork to make sure everyone met the requirements to get their senior Clipper Cards. They showed the seniors how to use the fare machine to calculate their fares to different locations and then showed them how to go through the faregates. BART staff have taken about five groups of seniors on field trips since starting the program in April.
It was a big social event for the seniors from Bernal Heights; some even gave up their midday tap dancing class to attend.
They posed for photographs, sang songs, shared stories of how they use BART and talked about how they stay active – and how public transit helps, holding their Clipper cards high in the air and smiling broadly.
"I use BART to visit my daughter in San Ramon," said Alma Animo.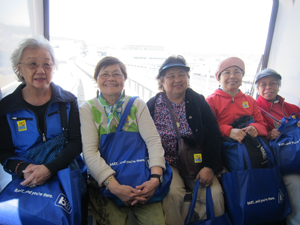 Gayle Wood, an artist who works in collage and acrylic, said she was excited to visit SFO to see the art installations there. At the airport, the seniors got off BART, used the AirTrain to go to the Terminal, received a complimentary lunch (at Subway no less!) and had free time to walk around the airport.

Hester Lu, who was making only her second BART trip in the past 50 years, said she could see the appeal of avoiding traffic jams and high parking fees. "If I had to drive in for work every day, I would definitely take BART," she said. She and her husband's favorite mode of vacation travel in retirement is cruises – they have been on 27 cruises together and have been married 55 years.
Senior citizen field trips are scheduled as staffing and other resources allow. For more information contact BART Customer Services at 510-464-7173
Seniors also receive a BART tote bag with useful materials inside, including the senior discount fare chart and the Learn to Ride BART Guide .