FY15 budget prioritizes safety, service reliability, and passenger amenities
BART's Fiscal Year '15 operating and capital budget totaling $1.56 billion that prioritizes safety, passenger needs, system reinvestment, and on-time performance took effect today.
The balanced budget represents a 2% increase from the previous year. It assumes an average weekday ridership of 405,426, up from the FY14 average of 399,146.
"The centerpiece of this budget is the increased investment in safety-related measures for both our riders and our employees," said BART Board President Joel Keller. "This budget will give passengers increased service during the peak Monday-Friday commute and weekends, cleaner and brighter stations, modern signage, better station access, and additional secure bike parking. It also continues our dedication to addressing increased capacity while reinvesting in the original aging system."
Safety
The budget includes $5.3M for 40 new positions needed to implement the District's new trackside safety program. These positions have the added benefit of providing increased maintenance to enhance reliability and passenger safety.
The new safety program will add extra layers of protection for trackside crews during both operating and non-operating hours but will impact passenger service because trains are now required to hold and proceed at reduced speeds when work crews are nearby. To help address this, $1.7M is being funded late in FY14 for a two-year project to put up fencing and barriers in key areas along the track to protect employees from moving trains as they walk near the track to access equipment, train control rooms, or substations. This fencing will allow trains to continue to run at 70 mph near the fenced off areas and prevent passenger delays. The FY15 budget includes other safety-related projects such as a safety culture program, software, and another two-year capital project for $1.8M to protect crews working in track areas.
The budget also allocates money for multi-year projects to improve safety such as subway lighting retrofits, emergency lighting and security projects. As part of BART's federally funded capital reinvestment program, about $25 million will go toward direct safety-related renovation and repair projects including trackway fall protection, third-rail cover replacement, emergency power and fire safety system renovation, emergency communications, and safety improvements for sidewalks, escalators, elevators, and stairs.
Long trains for longer commute periods and weekends
Another $700,000 is dedicated to a 1.7% increase in service by running more long trains during the "shoulders" of the commute period and on the weekends. This basically extends the period of time we keep trains as long as possible during the commute period before trains are shortened for off peak service and sent to the shops for preventative maintenance. This new service plan calls for five additional long train round trips Monday-Friday. Weekend riders, who have been asking for longer trains, will also get some relief with 21 additional long train round trips on Saturdays and six additional on Sundays.
"The Big Three"
This budget continues the District's commitment to set aside money to fund its top three capital projects: a new fleet of train cars ($51M in capital funds and another $45M for the MTC reserve account), a new train control system ($9M in capital funds) that will allow BART to run more trains more frequently and will improve reliability systemwide, and the Hayward Maintenance Complex ($115M in capital funds) to service the new fleet. An estimated $18.8M in dedicated revenue collected from the January 2014 fare increase is allocated to these three priority projects as promised by the Board to the riders when the inflation-based fare increase program was adopted.
Improvements for Passengers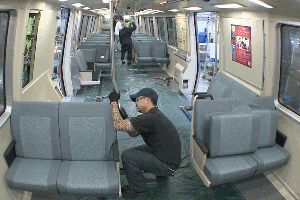 The end of wool seats and carpet floors
BART continues to replace the old wool seats with easier-to-clean, wipeable vinyl covers and all seats will be converted by the end of the year, marking the end of wool seats systemwide. BART crews also continue to rip out old carpets and replace them with new easier-to-clean flooring.
Flooring is scheduled to be replaced on all cars by next summer.
Better Stations
The budget includes modern signage for stations, new energy-efficient and brighter lighting, helpful transit information displays, pedestrian access improvements, extra staffing and equipment for deep cleaning of stations and platforms. The budget funds a canopy to be built later this year at the street level entrance of the 19th Street/Oakland Station (see rendering below) to protect the escalator from a variety of elements and to increase the safety of riders and station agents who open and close the station.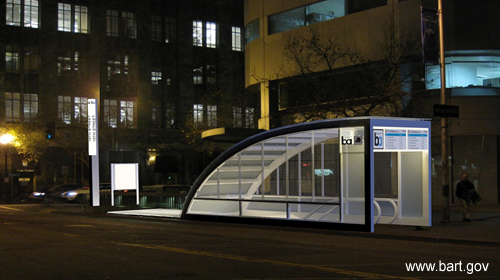 Improvements for those parking at stations include increased BART Police presence in parking lots and garages with additional dedicated parking enforcement officers, additional "garage full" electronic signs at four East Bay stations to be determined, and improved "parking is full" communication to be shared with our riders.
Improvements for bike riders include a new bike station at Pleasant Hill, more bike lockers at Lafayette, and more double-decker, space-saving racks at multiple stations.
Quicker, More Reliable Bus Bridge Response
The budget includes funding to develop on-call contracts with private bus operators to help quickly set up and operate bus bridges during service disruptions. This will help augment service provided by available partner transit agencies.
The Challenge Ahead
Despite the continued focus on meeting reinvestment needs of our 41-year-old system there remains a substantial and growing capital deficit. BART has a 10-year renovation need of at least $6.5B to maintain our current state of reliability. Major components of our aging infrastructure such as trackways, facilities, stations, and equipment need to be replaced. BART will need to continue to find additional sources of revenue to meet these growing needs.