BART Police host National Night Out events
BART invites you to meet its Police Officers and learn more about crime prevention on Tuesday, Aug. 5, as the BART Police Department hosts National Night Out events at six BART stations from 4 pm to 7 pm. Each event will have a special focus on bicycle and electronic device theft prevention.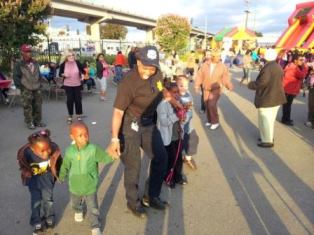 BART Board of Directors, General Manager Grace Crunican, and Police Chief Kenton Rainey will be on hand at one or more stations to meet riders. Additionally, representatives from Clipper Card and National Alliance of Mental Illness (NAMI) will be participating alongside BART Police staff at each of the six stations.
BART stations hosting National Night Out events are: Fruitvale, Richmond, Pittsburg/Bay Point, Bay Fair, 16th St./Mission and Daly City.
National Night Out is a family friendly event geared towards educating our riders about public safety, heighten crime prevention awareness, and strengthen community and law enforcement partnerships. This year, festivities will include safety and crime prevention demonstrations, raffles, kids' activities and much more.
We invite you to take part in National Night Out 2014 to show our community that partnerships can foster a safer BART.