Back to business as usual after Transbay Tube shutdown for maintenance
It's back to business as usual for Bay Area commuters now that the Transbay Tube has reopened following a Labor Day weekend that was labor-intensive for BART's Track, Structures, Power, Train Control, Traction Power Engineering and Train Control Engineering teams.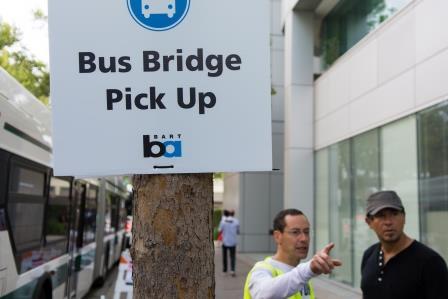 It was a huge undertaking and the crews gave up their holiday weekend and worked tirelessly to complete what seemed to be an impossible feat.
Among the work done during the Labor Day weekend closure:
12,000 total feet of rail replaced in the Transbay Tube and on the aerial section between West Oakland Station and the downtown Oakland tunnel, surpassing the 6,500 feet of rail replaced Aug. 1 and 2 as the largest-ever single track replacement job at BART;
All rail in the tube on both tracks was ground down for a quieter ride;
300 third-rail insulators cleaned to prevent arcing, a potential fire hazard;
25 ties installed and track bed ballast replaced at the west transition structure of the Transbay Tube for a smoother ride into Oakland;
292 ties replaced at the interlocking located between West Oakland Station and the tube;
Continued overhaul at West Oakland Station including painting, tile repair, installation of pigeon abatement, and tree trimming;
Ridership over the weekend trended 38% - 50% fewer riders (depending on the day), compared to last Labor Day with Saturday ridership being the highest at 122,000 trips. Typically half of all trips are transbay.
The closure was truly a regional effort and could not have been a success without our partner agencies. AC Transit, SFMTA, Golden Gate Transit and SamTrans all provided buses and drivers. SF Bay Ferry provided additional ferry service all weekend and CalTrans kept freeways and BART traffic moving.
BART Police and other local law enforcement helped keep everyone safe. The bus bridge trip was quick (about 20 minutes), key to making the weekend a success and the experience as painless as possible. We want to thank not just the crews working on the track and at West Oakland Station this weekend, but also the station agents, train operators and the cleaners who worked during the closure and the volunteers who worked almost 600 shifts totalling 3,000 volunteer hours.
The work completed this weekend will help keep BART safe and reliable for years to come, which means fewer cars on the roads.