How BART Works: A Day in BART's Richmond train maintenance shop
Fred Ga works on a train at the Richmond shop.
By MELISSA JORDAN
BART Senior Web Producer

Fred Ga's job history prepared him well for the challenges of being a BART TVM, or transit vehicle mechanic.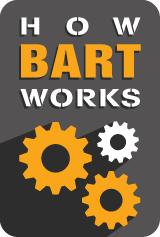 Ga had been a diesel mechanic, an electrician, a heating and air conditioning technician, and, in what was maybe most like the pressure-cooker environment of repairing train cars, served in the U.S. Navy on a nuclear submarine. "I like the challenges of troubleshooting" when something goes wrong with the systems on a train, Ga says.
And given that BART's trains are on average the oldest in the nation, straining under the load of record ridership until a new fleet arrives, fixing the trains requires ingenuity along with some elbow grease.
JOBS ARE NOW OPEN

The Richmond, California, maintenance shop where Ga works, when fully staffed, would have 112 positions such as mechanics, electronics technicians, foreworkers and others who keep the trains rolling. Several positions are currently open (apply at www.bart.gov/jobs) and more will come open as a wave of Baby Boomers prepares to retire. "I'll be part of that wave," says Ga, who has worked at BART for 20 years.

One day last week, Ga was partnered with transit vehicle electronic technician (TVET) John Paul Van Artsdalen II, who's coming up on 26 years with BART, and whose father was also a BART train repairman. They teamed up to troubleshoot the air conditioning system on a train car that had no obvious indicators of a problem.
"We start with gathering as much information as we possibly can on the car and its history," Van Artsdalen said. "This one came in as a 'hot car;' it's not cooling like it should; but all the parts appear to be functioning normally. You keep trying things until you find out what's wrong."

Given the age of these car systems, some of the parts are no longer manufactured, and the mechanics work with managers and shop engineers to modify the system or specify replacement parts that meet safety and functionality requirements. "Safety is always the top priority," Ga said.
MORE TRAINS THAN EVER BEING USED

The Richmond crews maintain 291 train cars out of BART's fleet of 669 total cars. On a typical day, BART has 579 of those cars in service during the peak commute, with remaining cars on standby for operational spares or out of service for routine maintenance or unscheduled repairs. That's a utilization rate of more than 86% -- one of the highest, if not the highest, of any major rail agency.
The Richmond shop alone averages a minimum of 25 cars shopped for preventive maintenance (PM's) each week. Additional cars are brought into the shop to address defects found and reported during operation, typically referred to as "unscheduled maintenance." The day prior to this visit, which was one of the Bay Area's late September scorchers, 34 cars had come in for such fixes. Other shops in Concord, Daly City and Hayward also work on train car maintenance, and they're all working non-stop.
BART mechanics have even taken cars so badly damaged they were initially headed for the scrapyard and found a way to rebuild them; reverse-engineering and hand-building parts that work as well, or better, than the originals. Like the garage hackers who innovated in Silicon Valley, these mechanics have accomplished so much through creativity and one-of-a-kind craftsmanship you might even call them artisanal train fixers.

CREATIVE WAYS TO KEEP TRAINS MOVING
"We are constantly doing modifications to improve reliability," says Bruce McDonald, the shop superintendent. "With all the wear and tear these cars get, it requires a lot of troubleshooting."

"You've got to take pride in your work, because it is hard work," he says. "It's physical work."

Both McDonald and assistant shop superintendent Michael Hung were transit vehicle mechanics earlier in their careers, so they know the ups and downs of the job, and encourage applicants to consider it as a great career path.

"Our base of applicants comes from backgrounds in automotive, aviation, military," Hung says. "Some of those skill sets are different, but many are transferrable."
THE JOB COMES WITH THE TOOLS

One perk, he says, is that at BART all the tools are provided -- while a mechanic working for, say, an automotive shop might have to bring his or her own tools. And what tools they are! Imagine the shiny red tool box somewhere in your garage, and blow it up to the size of a home freezer. The pull-out drawers are neatly labeled with the size of each screwdriver, vise grip, drills and bits. Propped to the side is a wrench that looks built for Paul Bunyan.

Hung says BART is looking for candidates who blend theoretical and technical knowledge (systems are getting more and more complicated and computerized, just like under the hood of your car) with practical hands-on journey-level skills. With a seniority system, newer workers can expect to work all shifts in the 24-7 operation.
TAKING PRIDE IN THE WORK

McDonald exemplifies the "pride in your work" ethos by insisting on a bright, clean, cheery workplace -- not always the norm in industrial settings. Even down in the pit where crews work underneath trains to change oil and access the undercarriage, natural light streams in and a cool breeze blows through the open ends of the facility. A large United States flag hangs overhead in one area, reflecting a culture where many veterans are employed (and receive veterans preference in hiring).
NEW FLEET ON THE WAY
Over the next several years, BART maintenance crews will have even more reason to take pride in their jobs. They'll be working on state-of-the-art new trains that eventually will completely replace the current fleet. The first of those cars is scheduled to arrive this winter, to begin a rigorous testing process before they go into service carrying passengers.

"We have a really great team here," Hung says. "The work takes finesse and a real care in what you are doing. Our crews know the customers are depending on us and we do everything we can to keep things running smoothly."
This is the latest article in the How BART Works series, looking at different aspects of our transit system and the people who make it work. A previous story looked at a day in the life of a station agent. If you're interested in a career at BART, visit www.bart.gov/jobs.