Formerly homeless vet counts blessings, including BART outreach
By MELISSA JORDAN
BART Senior Web Producer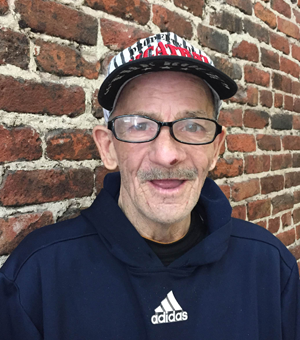 This Veterans' Day, Wednesday, Nov. 11, marks almost a year since Vietnam veteran Jack Hanna's life changed in a dramatic and positive way.
Last year at this time Hanna was spending a lot of time huddled in a cardboard box in BART stations, homeless, hard for caseworkers to find, and seriously ill.
Thanks to BART's homeless outreach coordinator and outreach from nonprofit Swords to Plowshares and other partners, Hanna moved into permanent supportive housing soon after that. With nearly a year to reflect, we visited him again to catch up.
"It saved my life" to get off the streets and into housing and services, Hanna said. "I will be forever grateful." Hanna is pictured at right on Nov. 6.
Hanna said he's been clean and sober for the past year, staying on his medications, and going down into stations to tell his story to his veteran friends who remain homeless and seek shelter at BART, especially as the weather gets more rainy and cold.
"I've been on their case," he said. "I tell them, here you are in a major metropolitian area with some of the most expensive real estate in the world, and you can get your own room in the Financial District. You can have your own bathroom and shower and hot meals and have people visit you. I tell them, 'I did it, and you can,
too.' "
Not everyone gets the message. But Armando Sandoval, BART's crisis intervention and homeless outreach coordinator, says Hanna's case is just one of the ways he's seen major progress in the past year.
"We have expanded and increased our collaboration with groups like Swords to Plowshares, the San Francisco Vet Center, SF HOT, and Homeless Connect," he said.
Now, every Tuesday morning, three outreach workers from Swords come to the BART Police substation at Powell and meet with Sandoval to go over cases of homeless veterans. They are Dennis Johnson, Ben Bencomo and Manny Sosa.
"It's become a systemwide effort to provide direct outreach and service coordination," Sandoval said.
Another three homeless veterans have been moved into supportive housing like Hanna's in the past year, he said, and 12 others are in coordination with ongoing outreach services.Sometimes it requires multiple contacts with individuals to persuade them to access services, and BART Police have stepped up efforts to intervene when people appear to be sleeping in stations. They encourage the public to call BART PD at 510-464-7000 if there is a person who needs to be checked on, or download the BARTWatch app for reporting incidents for follow-up. (For emergencies call 911).
Sometimes those people, if they have multiple previous contacts for blocking free movement and refuse to sit or stand up and stay alert, can be taken to jail. Two such instances happened this past weekend, on Nov. 8. It is something of a revolving door system, however, and a more effective long-term approach is to move people into services.
BART Police Chief Kenton Rainey is very clear that he wants officers focusing on the safety of customers using the BART system along with balancing the interests of those people who might be seeking shelter and in need of assistance.

"They have to be sitting or standing up and alert in case of an emergency," Chief Rainey said. "If they do that, they are in a public space, and they can remain. They can't be lying down, sleeping; that's not safe for anyone. We are concerned for their welfare and we will check on them. It's ultimately about safety for everyone in the event we have to evacuate the station."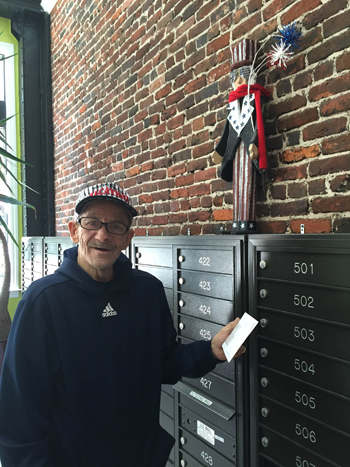 Jack Hanna credits BART Police and Swords to Plowshares with saving his life. He gets joy now from being in a clean, warm building for vets on Kearny Street in San Francisco where his daughter and grandchildren can visit; he has a permanent address and mailbox. With access to the full benefits he earned as a veteran, he has enough spare money for better hygiene and occasional treats, though he doesn't have much appetite and is still quite thin. He pursues his hobby of drawing and sketching.
Last Friday, he showed off a small portable beard trimmer he had purchased, to keep his face shaved. In the two-block walk down Kearny to get some lunch, multiple people told him hi, by name. Outgoing and loquatious, he collected a fist bump, handshake, and hugs from people in business suits to sweat pants. He said he was happy and finally felt appreciated for his service. "When I first came back people threw rotten eggs at us, spit on us, and that hurt."
On Veterans' Day, he said, he might connect with some buddies from Veterans for Peace, an organization in which he believes strongly. Asked why, he looked as if that was a ridiculously simple question. He is anything but simple, keeping up on current events, such as the situation in Syria, and current presidential politics.
"I've always been a patriotic person," he said. "I grew up watching John Wayne movies. I volunteered for service. But I've seen war and I don't want anyone else to have to go through it," he said. "I still have nightmares. That's why I am for peace."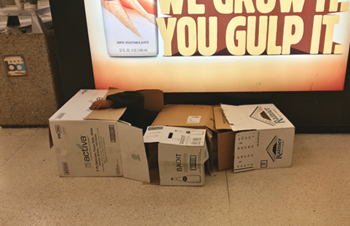 Walking back to his home, Hanna found irony in his move, just blocks from the cardboard box (see photo at right from last year), to a space that would rent for thousands on the open market. "I still live in the same neighborhood," he said. "I just have better housing."
He said goodbye with a hug and his standard send-off, on phone calls or in person, to all that he meets: "God Bless You."
Read the original story about Jack Hanna and watch a video here
RESOURCES TO HELP
Veterans Administration: Know that one phone call can be the difference in the life of a Veteran who is homeless or at imminent risk of becoming homeless. Make the call to 877-4AID-VET (424-3838) to be connected 24/7 with VA's services to overcome or prevent homelessness for yourself or a Veteran you know. Read more at:
http://www.va.gov/homeless/
Swords to Plowshares: There are many ways to get involved, from volunteering, to tax-deductible financial donations or donations of items in-kind, like business clothing for male and female veterans going on job interviews. Read more at: http://www.swords-to-plowshares.org/
BART Police Department: To report a person who may need help to BART Police, you can call 510-464-7000, or use the BART Watch app downloadable from bart.gov/police
The San Francisco Vet Center located at 505 Polk Street provides one on one free unlimited counseling service for vets who served in war zones and those who are survivors of Military Sexual Trauma. It also provides limited counseling sessions for Humanitarian Vets (HVET).
Hours of operation are:
Monday – Friday 7 am – 5 pm
Saturdays 7 am – 3 pm
Sundays and All federal holidays closed
The last counseling session is scheduled one hour before closing.
Other Vet Centers are:
Eureka Vet Center 707-444-8271 or 877-927-8387
Oakland Vet Center 510-763-3904 or 877-927-8387
Concord Vet Center 925-680-4526 or 877-927-8387
Menlo Park (Peninsula Vet Center) 650-617-4300 or 877-927-8387
San Jose Vet Center 408-993-0729 or 877-927-8387
Rohnert Park (Northbay Vet Center) 707-586-3295 or 877-927-8387