In the community: BART PD Sgt. teaches life lessons with school program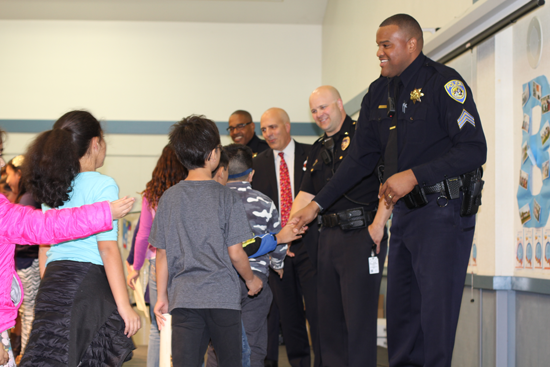 Sgt. Ja'Son Scott and others from BART Police hand out graduation certificates.
By MELISSA JORDAN
BART Senior Web Producer

Before he even steps into the classroom on a sunny Monday morning, BART Police Sgt. Ja'Son Scott is swarmed by children giving him hugs, telling him about their weekend, waving in greeting or giving a fist-bump hello.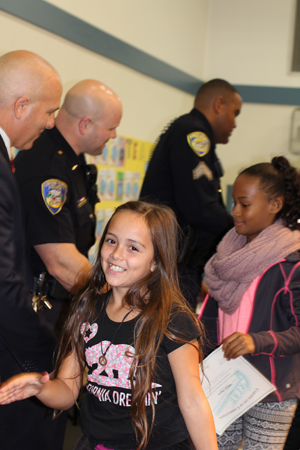 These are fourth- and fifth-graders at Tom Kitayama Elementary School in Union City, and Scott is there as part of the G.R.E.A.T program -- Gang Resistance Education and Training.
The program has an important goal: to prevent youth violence like bullying and gang activity through positive interactions with law enforcement personnel at an early stage of children's educational development.

"Sergeant Scott, Sergeant Scott!" they call out, clamoring around him.
The bell rings and he begins his first lesson of the day, to a class of fifth-graders.
Every hand pops up into the air when he asks someone to read the scenario from the training book. A friend wants you to cut school with them and go buy candy at a nearby store. He personalizes the lesson to their area by making it a 7-11 across the busy Alvarado-Niles road.
"What are the decisions you could make in that situation?" Scott asks. A youngster replies quickly: "You could go to the store or stay at school." Scott continues: "If you went to buy candy, what are some of the possible outcomes?"
"You could get in trouble," says another. "You could get hurt." "You could get kidnapped." "You could lose your money." "You or your friend could get hit by a car."

Scott asks them to think hard about other possibe outcomes, and finally, one child raises her hand and says, almost as a question with her voice rising at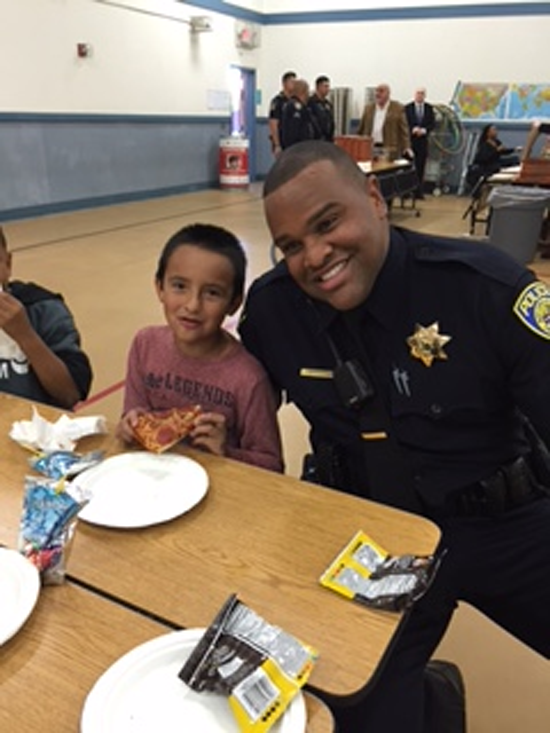 the end, "You could get candy?" "That's right," Scott says.
"You might not get caught. But how would you feel knowing you had lied and taken a dangerous risk? Would that candy be worth it?" The room is extra quiet as Scott repeats his mantra: "You never have to worry about going wrong when you do the right thing."

School Assistant Principal Allison Sayavong said the program fits into Kitayama's overall values and mission to encourage good character traits such as respect and honesty.
"We are very involved with community," she said. "We want the children to see community leaders like police, firefighters, and others who are out there protecting our cities and our homes."
Sgt. Scott came to speak at one assembly, and from there, it was a natural progression to incorporate the G.R.E.A.T. program, she said. Other partners, such as officers from the Union City Police Department, also help out.

"He talked about his profession, about how the children can be whoever they aspire to be with good behaviors, and about how we all have to have each other's backs," she said. "Sgt. Scott is so animated, so passionate, his humanness is something the children can relate to. They see a police officer whose message is not just about catching bad guys, but about starting with good decisions and being a good role model for each other."
Some 180 children at Kitayama will go through the program. "Children would rarely get to have this kind of experience without this program," she said. "It goes so far to create a positive relationship between our law enforcement and our youth."

Scott taught the G.R.E.A.T. program for two years on a completely volunteer basis, previously at schools in Oakland and San Leandro. This year, BART Police Chief Kenton Rainey sees G.R.E.A.T. as a natural fit with his department's community-oriented policing philosophy and has cleared the way Scott to fit the weekly teaching into part of his regular duties.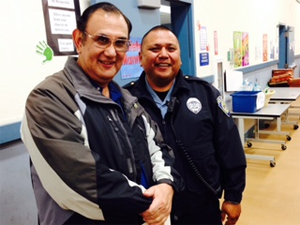 "Anytime that we can get out and partner with the community and assist them in furthering their goals, and also help further our own mission, it's a win-win," Rainey said. "We need to be reaching out to youth at all ages."
Jamie Wu, one of the teachers whose classes Scott is working with, said she was a little skeptical at first, in part because some speakers who say they're coming to a class may not show up, leaving the teacher with a room full of antsy kids and no lesson prepared.
"He is incredibly consistent," she said. "When we are having Veterans Day off as a holiday, and that's his regular day, he schedules a makeup because he's given his word to the kids that he will be there for that lesson. They remember knowing a police officer who was friendly and kind. They look up to him, literally and figuratively." (Scott is 6 feet, four inches tall).
And many need the presence in their lives of a role model like Scott, said Ed Munoz, another teacher whose class is taking part in G.R.E.A.T. "They learn that their decisions affect others, so they believe they can make a difference," said Munoz, who has taught grade school for 40 years. At the graduation ceremony for the G.R.E.A.T kids recently, he reunited with one of his former fourth-graders, Javier Fregoso -- now a BART Police Community Service officer, pictured above with Munoz as they reunited at the graduation.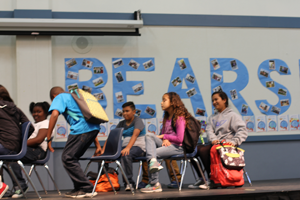 Kitayama is a diverse school with about 39% Spanish speakers, 5% African Americans and 20% Asian Americans. About 40% of the students receive free or reduced lunches.Munoz said the program helps reach children at an age before they may be more susceptible to the influences of older siblings and others in their neighborhoods who might be involved in gang activity. At right, Students perform a skit, "Bully on the Bus."
The program, funded by the Department of Justice, work with children nationwide and has trained about 2,200 officers, including Scott, to teach the curriculum. Ron Doyle, a senior manager of the national program, said it is evidence-based.
"Gang research shows that the average age kids get involved with gangs is 14 to 15," he said. "We're trying to influence them before that happens and teach them good decision-making skills that they can use in other aspects of their lives as well." Doyle said officers applying to teach through the program go through extensive training, as well as screening to be sure they are a good fit for working with kids.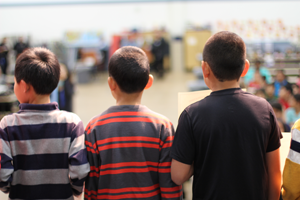 Sgt. Scott is a natural. He may appear an imposing figure with his booming voice and stature, yet he knows how to relate to youngsters.
At the graduation ceremony on Monday, Nov. 16, he served pizza, posed for silly pictures, gave out hugs all around and danced the nae-nae. Why does he do it?
"My parents taught me to always give back," Scott said. BART, the schools where Scott volunteers and the children he mentors, are better for it
For more information on the G.R.E.A.T. program, visit: https://www.great-online.org/GREAT-Home The website also has a version in Spanish accessible from the same address.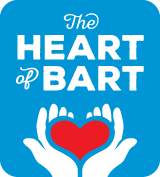 The Heart of BART is a series of stories about ordinary BART employees doing extraordinary things.
If you know someone who you think has a Heart of BART story that should be told, please contact James K. Allison at jallis1@bart.gov