Podcast: Moving oral histories of Tanforan at BART's San Bruno Station
Download mp3: tanforan
BART has launched a series of podcasts called "Hidden Tracks: Stories from BART." Listen to Episode 1. There's a transcript of the story below.
---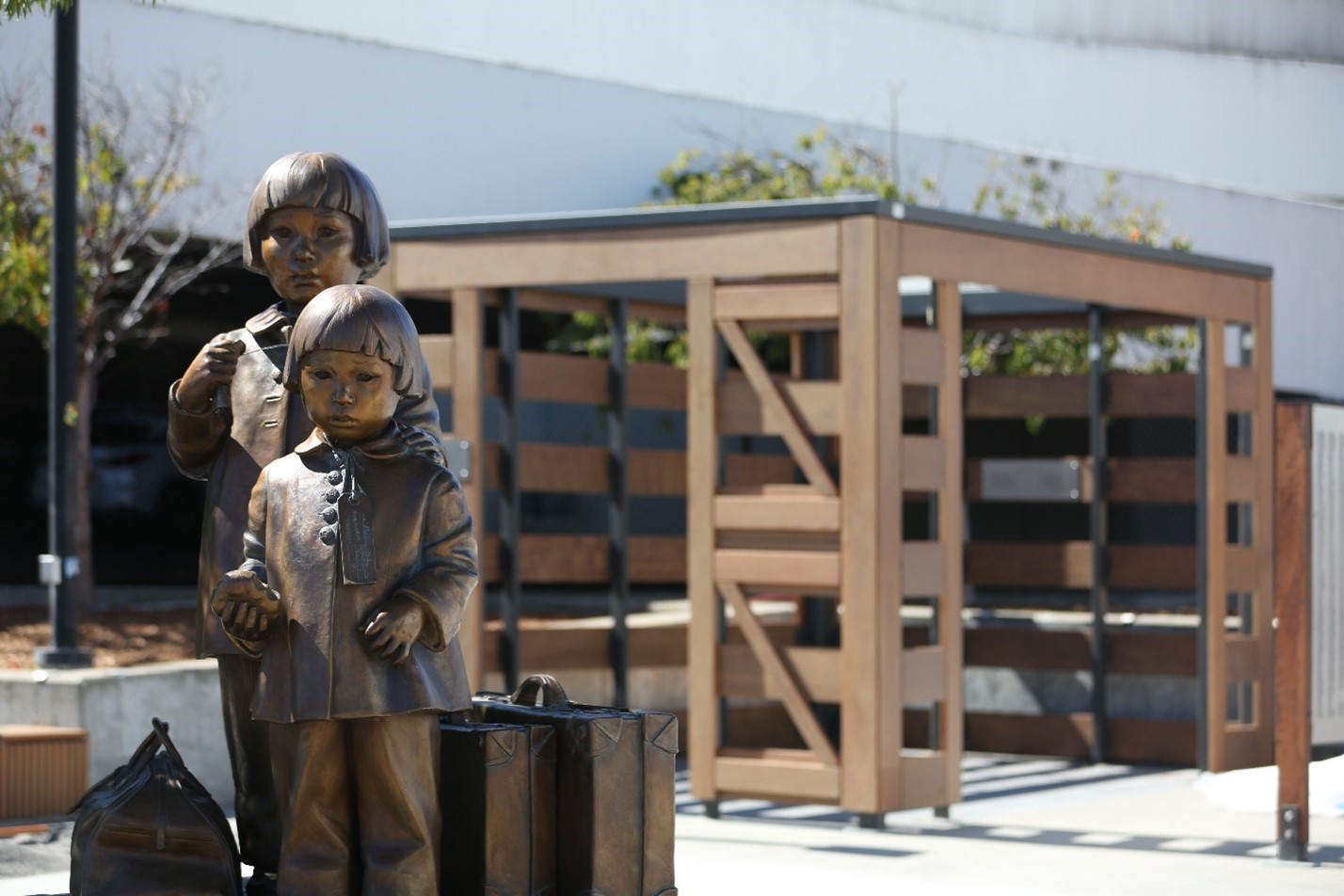 BART can take you many places around the Bay.
But in this case, it offers a trip back to the past….to one of our darkest chapters in American history.
"We knew that some among them were potentially dangerous. Most were loyal, but no one knew what would happen among this concentrated population if Japanese forces should try to invade our shores. Military authorities therefore determined that all of them, citizens and aliens alike, would have to move."
"We found it very important that people realize this happened in the United States not 100 years ago but only 70, 75 years ago."
"I still picture the grandstand when I see it, when I come here. It's just, It's a memory that's hard to erase."
The San Bruno BART station is home to the Tanforan Assembly Center Memorial, a collection of pictures and displays that shows when a horsetrack was turned into a temporary holding center for some eight thousand Japanese-Americans during World War Two.
The display is just steps away from the fare gates at the BART station.
Ben Takeshita was 11 years old when he was brought to the Tanforan Assembly Center in 1942.
Takeshita remembers the unsanitary conditions that some families had to endure.
"Horse stables were for some people like my cousins, they were a family of four so they were unfortunately assigned to a horse stable and I went there during the summer months and my golly you can smell the stench and wonder how they could have lived in that even for the few months that we were here."
This visit was a memorable experience for more than a dozen members of the Eden Japanese Senior Center who travelled from the Bay Fair Station.
The group first got a lesson about BART, including Senior Clipper cards that provide an automatic discount on BART and other transit systems.
Samson Wong is with BART's customer service department.
"Be much more independent because that's what it's all about. Trying to get out there and be independent and maximize, empower each person. Just like when they registered to vote they're empowered with that. Now they have this Clipper card and now they're that much more empowered to use BART."
The seniors were thankful for BART's help in teaching them about the transit system as well as hosting this historic memorial.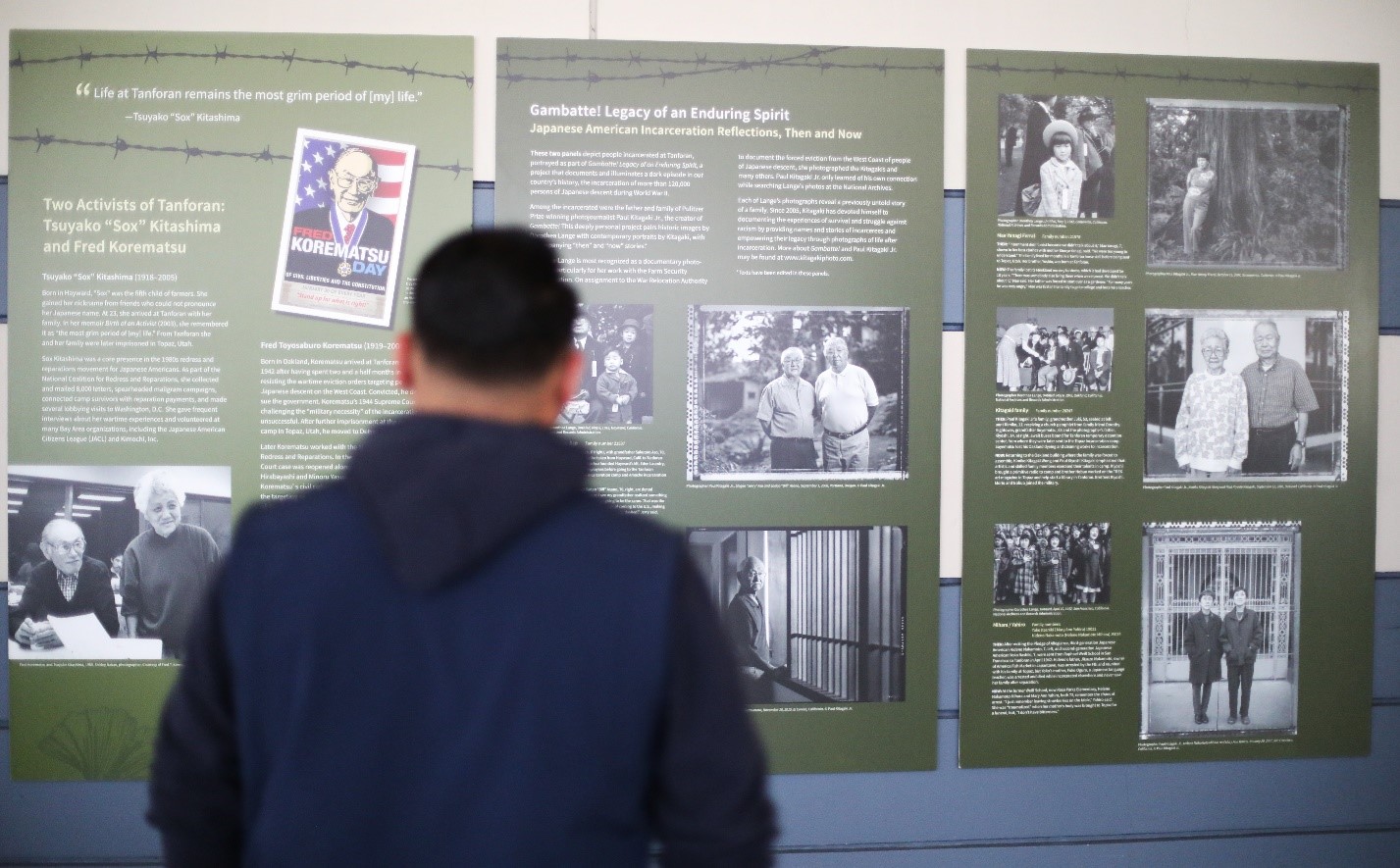 For Yo Shinoda, the display hit very close to home.
She found a picture of her husband in an internment camp classroom.
"My husband when he was, I don't know how old he was, 10, 11 years old I would imagine. And he and his best friend were taking lessons from Professor Obata because the father did not want those boys to get into trouble."
Shinoda and the other seniors say these pictures not only bring back memories, but teach lessons that are especially valuable now.
"I think it's really informational and it's good for people to see it. I don't think half the people realized what was going on with all of this."
The memorial committee still hopes to create a bronze statue and memorial plaza that would be located just outside the San Bruno Station.
---
Senior citizen field trips are scheduled as staffing and other resources allow. For more information contact BART Customer Services at 510-464-7173