Families can "Trunk or Treat" at Fruitvale and Richmond stations 10/28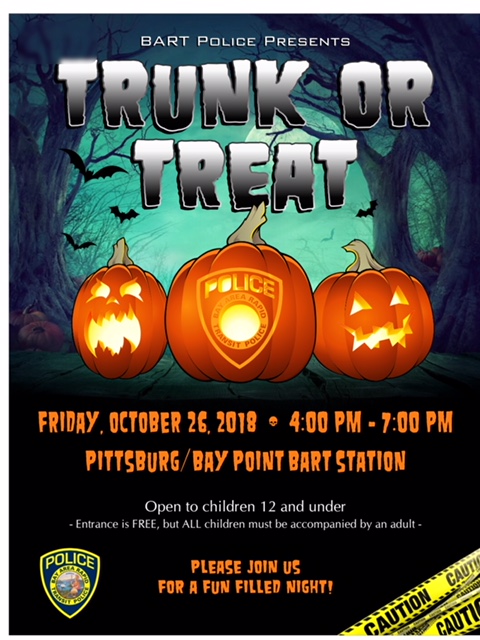 Children who visit Fruitvale and Richmond stations from 5 pm - 7 pm on Friday, October 28, 2016, will get a special treat from BART's Police Department. Officers will host BART's first Halloween "Trunk or Treat" event, a safer alternative to the house-to-house Halloween trick-or-treating tradition. Candy, games and a bike raffle will be offered.
BART Officer Sheppard presented this kid-friendly Halloween event to BART's Community Oriented Policing and Problem Solving (COPPS) Unit this year. "Officer Sheppard's suggestion received great enthusiasm from everyone," BART's COPPS Officer Michele Lazaneo said. "Truck or Treat is sure to be fun not only for the kids in our communities, but for our officers as well!"
Trunk or Treat is free and open to all children 12 years and under. All children must be accompanied by an adult.
Trunk or Treat is much like classic trick or treating. Kids still dress up in a costume and ask for candy, but instead of walking from house to house and encountering strangers or dodging traffic at night, Trunk or Treaters are in a designated area collecting candy, playing games or getting their faces painted. All of these activities take place with their parents/guardians and police officers close by.
Trunk or Treat was initially conceived by faith-based groups as an alternative to the traditional Halloween activity. Now, many organizations, communities and police departments have adopted Trunk or Treat in place of traditional neighborhood trick or treating on Halloween night.
Join BART's PD as it offers a safer family-friendly alternative this Halloween weekend.