BART PD volunteer chaplain coordinator takes on national role in black law enforcement group
By MELISSA JORDAN
BART Senior Web Producer
Long after her regular workday ended, Sgt. Tanzanika Carter switched to her volunteer role and convened a monthly meeting of BART Police volunteer chaplains.
Carter, the volunteer chaplain coordinator, collected their reports on activities such as visiting injured officers in hospitals; consoling a community service worker whose brother had recently died; being there to listen if a passenger witnesses or is a victim of crime and needs emotional support.
A GROWING NEED
More and more police departments are enlisting volunteer chaplains, who are non-denominational and don't proselytize, said John Harth, public re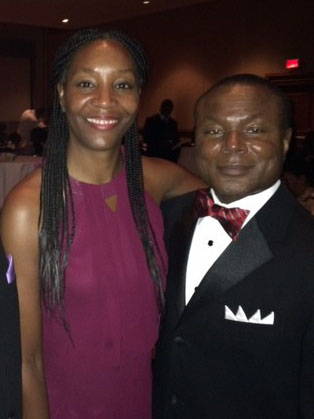 lations representative for the International Conference of Police Chaplains, and a volunteer police chaplain himself in Missouri.
"Police chaplains are like fire extinguishers," he said. "You don't necessarily notice them, but when you need them, they're mighty good help."
Sgt. Carter took on another leadership role this year as national chaplain for NOBLE, the National Organization of Black Law Enforcement Executives. NOBLE President Perry Tarrant, who is assistant chief of the Seattle Police Department, said he'd seen Carter's work over the years so she was an easy choice for national chaplain.
"She is so consistent and puts so much of her time and energy into it," Tarrant said. As a personal example of Carter's character, he noted, "A week after I was sworn in, my mother passed away. She rallied her chapter and followed up to make sure I was OK." (The two are pictured at right at the 2016 NOBLE National conference where Tarrant was inducted as president.)
"She is soft-spoken, but a strong leader" -- NOBLE President Perry Tarrant
"She is soft-spoken, but a strong leader," said Tarrant, who said strength is needed as the nation continues to wrestle with difficult issues involving race and justice. Tarrant was in Ferguson, Mo., and observed chaplains as part of the response to protests when there was a police shooting there of a black teenager by a white officer in 2014.

More recently, when the nation's largest police management organization issued a formal apology "for the actions of the past and the role that our profession has played in society's historical mistreatment of communities of color," Tarrant was part of the standing ovation to a speech by the president of the International Association of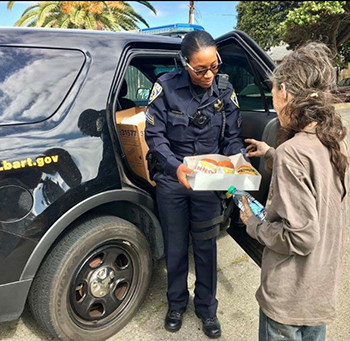 Chiefs of Police at the group's convention in October 2016.
"We are living in challenging times," Tarrant said. "Police officers have been attacked, and we have had police shootings of young men of color. Part of the dialogue is having chaplains who can help cooler heads to prevail. The intent is to be vocal and participate in dialogue with the community."
Tarrant said Carter could not have taken on the NOBLE role without the support of BART's top cop, Police Chief Kenton Rainey, who has made community-oriented policing a priority and implemented a series of NOBLE-recommended reforms when he was hired after the Jan. 1, 2009, fatal shooting of Oscar Grant at a BART station. "In a way this comes full circle," Tarrant said. "This is a retrospective on where BART and NOBLE have intersected."
ALL THE RIGHT REASONS
Chief Rainey added: "When you have a critical incident like that in your agency, it's tough," he said, about the process of rebuilding trust.
"We are fortunate to have people like Sgt. Carter who are in this profession for all the right resasons." -- BART PD Chief Kenton Rainey
"We are fortunate to have people like Sgt. Carter who are in this profession for all the right reasons. She stepped up to be the national chaplain like she steps up in any situation."
In addition to serving PD employees and victims or witnesses of crimes, police chaplains also have special training to help in situations such as natural or man-made disasters, said Harth, of the international chaplains' group.
"When there is a traumatic situation, just the presence of a chaplain can offer a calming effect," he said. Flipping an adage on its head, chaplains are urged to "Don't say something; just stand there," unless someone asks for their services.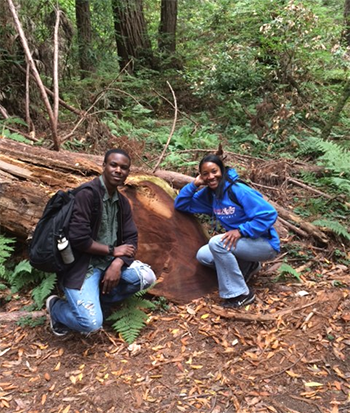 "TANZ" CAN
Carter, who is often referred to by coworkers with the nickname "Tanz," fits the model of a person who is sparing with words, but generous with actions. She is pictured above giving a meal to a homeless woman, and at right, helping lead a field trip of urban youth to experience nature at Muir Woods National Monument.
Besides serving as local chaplain coordinator and national chaplain, Carter also is pursuing her master's degree; studying to move up in rank as a lieutenant; is mother to a teenaged daughter who is active in sports; and is a Sunday school teacher and occasionally preaches at her home church, Bell Chapel Christian Methodist Episcopal in San Francisco.
A GREAT HONOR
"It was a great honor" to be named national chaplain, said Carter, who was motivated to enter law enforcement by early experiences growing up with a cousin who was in and out of juvenile hall. "I was very close to my cousin and I didn't understand why that was happening," she said, recalling that even as a youth she thought there could be better relationships between law enforcement and communities. "My mother was working two jobs, and I could see how she and my aunt were hurt by what was happening."
"I really knew it was where I was meant to be." -- Sgt. Tanzanika Carter, on working in law enforcement
She considered psychology and social work as careers, before getting a degree in criminal justice and resolving to make a difference. From her first day in law enforcement, "I really knew that it was where I was meant to be," she said.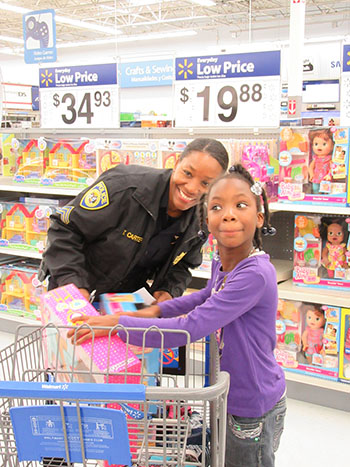 A woman of exceptional humility, Carter doesn't talk much about her own accomplishments, but her colleagues do so eagerly.
"She is so hard-working and sincere. There's no half-stepping," said Rufus Watkins, one of eight BART PD volunteer chaplains and pastor of the House of Prayer Community Church in Emeryville. "It's a true gift that she has. It's amazing how she balances so many things and how she carries herself. She will sit and she will listen. If she has to get tough, she can get tough."
Watkins said when Carter was offered the national position, she came to him for counsel.
"We prayed together about it," he said. And what did they hear? "That she can handle it."
A LOVING HEART
In another of her volunteer efforts, Carter is pictured at right at the 2015 "Shop With A Cop" event, in which BART Police raise funds and then take disadvantaged children shopping for holiday presents.
"Caring for others is embedded in her." -- The Rev. Eloise Knox, pastor of Bell Chapel Christian Methodist Episcopal in San Francisco.
The Rev. Eloise Knox is pastor of Carter's home church, which she has attended since childhood, and which serves many from the Bayview-Hunter's Point and Potrero Hill neighborhoods. "We have lots of people coming from poverty-stricken areas," Knox said. "She has experienced it, and then God called her to serve. Caring for others is embedded in her. What you see is the way she is all the time."
Knox cited Carter's "loving heart," that is manifested in countless volunteer efforts, from bringing meals to the homeless, to donating toys for disadvantaged youth during holidays, to bringing clothing and necessities if a family's home burns down. It is the measure of her character that she does so much for so many, Knox said.
A CALLING
"Nobody in their right mind would take all that on unless it was really a calling," she said. In the photo below, Carter is pictured with the past national president of NOBLE, the Rev. Barbara Harris-Williams, who is a senior chaplain in the NYC PD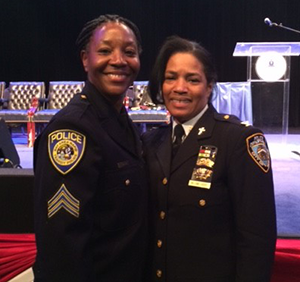 One recent Sunday, Carter was preaching the sermon at her church. She doesn't prepare a text in advance, but chooses her words based on what speaks to her at that moment. She turned to the story of Hannah, from the Old Testament book of Samuel.
Hannah has been unable to conceive and is mocked by others; in misery she prays for God to bless her and her husband with a child, and promises to commit him to the Lord's service.
"Have you ever been in a situation like that when you have been deeply troubled in your spirit?" Carter asks, beginning softly, her voice gaining in volume and fortitude. "The bitterness. The anger. The frustration. The insecurity. The hopelessness. It was abundant and it was consuming her." Churchgoers answered in a sort of call-and-response, "That's right." "Oh, yes."
Through her silent yet earnest prayer, Hannah's request is granted; she has a son, who goes on to serve God.
SINCERITY, PURPOSE AND FAITH
"Prayer requires sincerity. It requires purpose. It requires faith," Carter said -- all qualities she herself has in abundance in serving the public through the BART Police Department. Hers is a positive, uplifting faith, that can be inspirational to those of any religion, or none at all.
"The sun came out today," she told the group. "We woke up. Isn't there so much to be thankful for?"
If you should ever wish to request service from a BART Police volunteer chaplain, contact BART personnel, and ask them to call the Watch Commander on duty. BART PD Contacts are also online at: http://www.bart.gov/about/police/contact