BART Police roll out public patrol desks at two stations for higher visibility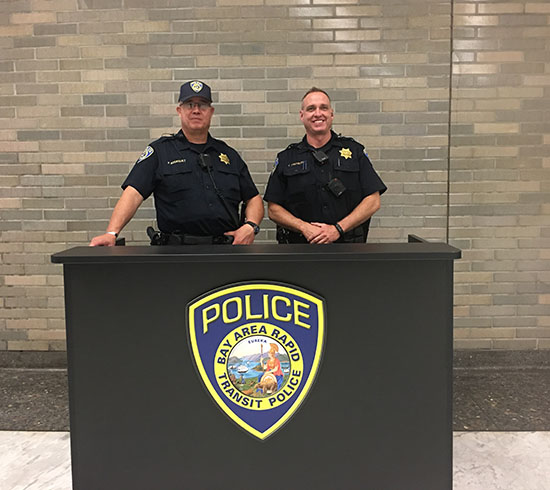 Patrol desks like this are being rolled out at Powell and Civic Center stations. Pictured here are Officer Pete Rodriguez (left) and Officer Jeff Zwetsloot.
By MELISSA JORDAN
BART Senior Web Producer
With the busy holiday shopping and travel season approaching, two of BART's highest-traffic stations are testing out a simple idea that could pay big dividends for rider satisfaction.
Powell Street and Civic Center stations now have prominently placed BART Police "patrol desks" where, at random times throughout the day and night, you will see BART Police officers or community service officers there to help with any concerns.
"There are two main goals," said Lt. Ed Alvarez, who implemented the plan in coordination with BART Police Chief Kenton Rainey. "First, it's friendly. We want people to feel like they can approach us, whether it's asking directions or just saying hello."
"It's also a visual deterrent to crime," Alvarez said. He noted that at Powell in particular, tourists from all over the world, or new riders coming in for holiday shopping or seasonal events, can be targets for aggressive panhandlers or scammers trying to sell fake tickets. (You should only buy tickets from official BART ticket machines or Clipper outlets.)
Frequent riders such as daily commuters tend to be aware of those issues and more savvy in avoiding them, but having officers visible to deter bad behavior should improve the environment for everyone, he said.
Civic Center station, the other in the soft-rollout program, also gets many new riders going to museums, theater, concerts, opera or any of the major cultural destinations in that area. Like all BART stations, Civic Center also reflects its surrounding neighborhood, sharing both the positive and the negative characteristics of high-volume areas.
"There is a lot of foot traffic through both of those stations," Alvarez said. "We wanted to try something different and see how it works."
Officers will not be at the patrol desks fulltime, but will spend time there as part of each regular patrol shift. So if you don't see them occupied at a particular time, you can rest assured they will be there later. You can always use any of the other methods for contacting BART Police, outlined here and including the BART Watch app.
"You'll see them at random times throughout their shifts," said Sgt. Brando Cruz, one of the sergeants overseeing the Zone 4 area that includes downtown San Francisco. Of course, when higher-priority calls requiring police presence come in, officers at the information desk may need to be redeployed.
"This just adds another layer to what we do," Cruz said. "We want to engage with the community. We want them to know we are there for you."
If successful and well received, the patrol desks may be implemented at other stations in the future. If you have feedback to share, you can use the contact us form at: www.bart.gov/contact