BART builds pipeline for escalator-elevator techs to keep system moving safely

By MELISSA JORDAN
BART Senior Web Producer
From street to concourse, from concourse to platform, a system of exquisitely complex people-moving machines chugs away each day at BART.
If trains are the face of BART, these machines -- escalators and elevators – are its circulatory system, propelling passengers who welcome their assistance, and those who require it. Elevators, because of their importance under the Americans with Disabilities Act, are always top priority; people who use wheelchairs have no other option. Escalators, used by vastly more people, have backups (stairs and elevators), yet can require very long repair jobs and get more wear and tear. In this article we aim to explain why.
Like arteries of some humans, escalators can get clogged, pump unevenly, and sometimes stop functioning altogether. Their myriad parts take a beating from thousands of pounds of force per day -- and that's from people using them properly. Others unwittingly hasten their breakdowns with improper and unsafe use (coins falling out of pockets can break a step; a child sitting down on a moving step could require an emergency stop to prevent injury). And some vandalize and abuse them.
The story of their upkeep is a fascinating one, and at the center of that story are the men and women whose job it is to keep them running.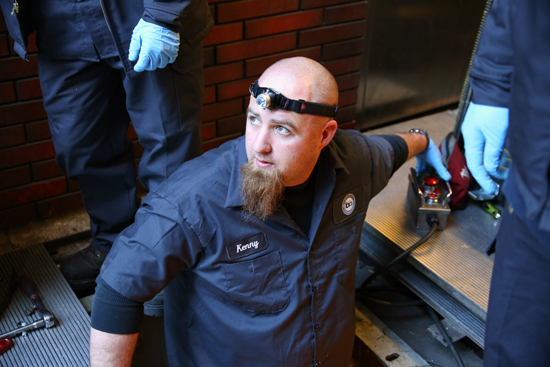 Kenny Edgecombe focuses intently as he moves escalator steps into place for repair.
Visit this page for a full photo gallery showing one escalator repair job.
In California, elevator and escalator repairs require a highly skilled, specially trained qualification for the person in charge of a job site: That person must have a Certified Competent Conveyance Mechanic (CCCM) license. Certified workers are hard to attract from private industry; that's why BART has pioneered programs to "grow your own" CCCMs; formal apprenticeships that give internal employees from other backgrounds a path to upward mobility in skilled careers; trainee regimens that take external candidates with mechanical experience and put them through a rigorous program to learn BART-specific skills; and, in general, an intensive focus on supporting and expanding the force of workers capable of doing these difficult, demanding jobs.
CHAPTER I: THE MACHINES
BART's escalator/elevator system includes 310 "assets" -- 175 escalators, 132 elevators and three wheelchair lifts. Among escalators alone, there are seven different manufacturers, some of which have gone out of business and no longer provide parts.
The framework or trusses for many of the units date back four-plus decades. They are the original ones installed when BART went into service in 1972. They have been doctored over the years, from quick patch-ups to big rehabs, but the bottom line is they are old. And you don't MacGyver an escalator: Safety is always the top priority, because these machines, in the diplomatic wording of George Younger, escalator/elevator apprenticeship training program manager, are "unforgiving."
The longest BART system escalator is Montgomery Street Station's Platform Escalator 3, with 145 steps. The average weight of a BART escalator step is about 57 pounds. Escalators move at two speeds: 120 feet a minute for the longer ones, and 90 feet a minute for the shorter ones. Each unit consists of thousands of individual parts (counting down to the nuts and bolts) and maintaining them is a never-ending challenge, requiring three shifts of workers, 24 hours a day, 7 days a week.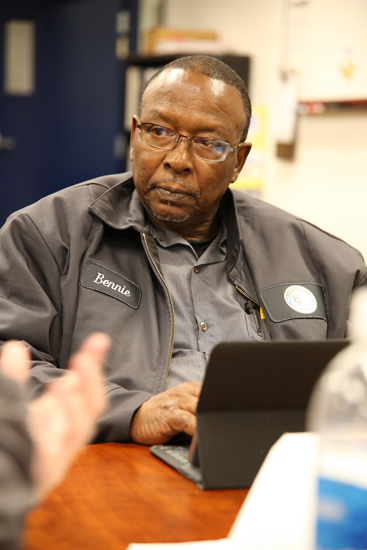 Foreworker Bennie Gilmore monitors maintenance requests.
The triage begins at shift start when a foreworker assesses current status (what is newly broken and needs immediate attention, what is being handed over from previous shift, what requires sourcing of parts, what could most efficiently be combined with another job to maximize the resources, what is due for essential preventive maintenance.) Like a game of Tetris with the clock ticking and the blocks dropping down quicker and quicker, it is a pressure-cooker environment, and the results are transparent for all the public (and all of BART to know): See real-time Escalator/Elevator status pages, www.bart.gov/escalators and www.bart.gov/elevators
"We are always trying to improve," says Younger, who used to work on the machines himself, before he moved up the ranks to become a manager. He knows the escalators and elevators like the back of his hand, and is often in the field checking over the work of those in on-the-job-training. He'll challenge: Have you thought through all the things that could be going on? What are the options for getting this in safe working order? Is it better to have a quicker fix now or keep it out of service for a deeper repair that will last longer? Are we going to a location where we can accomplish two things in one swoop?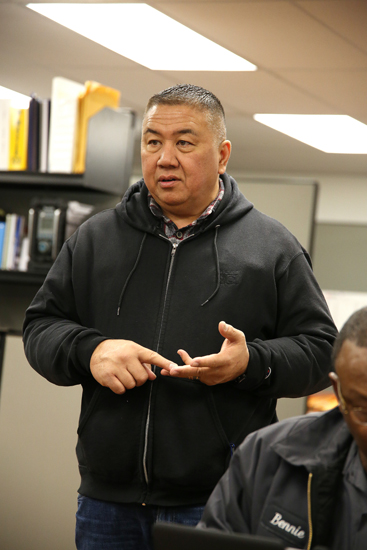 George Younger gives marching orders for the start of a shift.
If the public finds an escalator out of order without a sign or barricade or anyone working on it, they're asked to let a station agent know, who will call in a Request for Maintenance or RFM. It is one of a station agent's duties to check throughout the shift if escalators and elevators are working; however, a customer may notice it faster. Let us know if you see anything out of order.
Once the RFM is in the online ticketing system, the scramble begins.
CHAPTER II: THE TECHNICIANS AND THE TRAINERS
A staff of around 40 escalator/elevator workers are the "boots on the ground" fixing and maintaining this old equipment 'round the clock. About 55% of those are already Certified Competent Conveyance Mechanics (CCCMs), which is important logistically, because one of them must always be on the team when sending a crew out to work on an escalator or elevator. And these are generally not one-person jobs, for important safety reasons.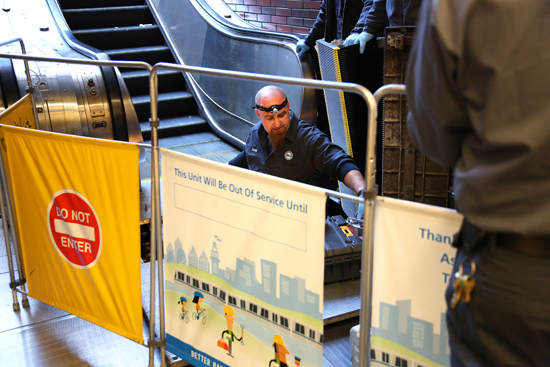 A barricade is set up for safety to keep the public out of the work area.
One recent day, amid a series of January rainstorms that pounded the Bay Area, an early-morning crew got a 5:23 am Request for Maintenance at 12th St./Oakland City Center for a street-to-concourse escalator. The station agent called in that the escalator had shut down, for an unknown reason. A crew hurried over to check it out and began the fascinating combination of low-tech/high-tech work that mingles muscle-power and feel with computer codes and knowledge of extremely intricate processes. The station agent had put up a barrier letting the public know the escalator was out of service. A tech walked gingerly up and down the length of the machine, his feet trained for the feel of an errant step. And there it was: one where the chain had become too loose, causing the escalator to automatically stop for safety. Movement with a lax chain could wreak havoc.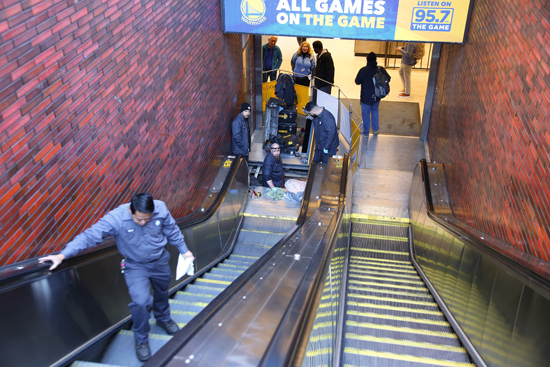 CCCM Eric Planas walks the escalator getting a feel for the steps with his feet.
Then the escalator was turned on manually so the bad step could move down toward the deck at the bottom of the escalator for troubleshooting and establishing the severity of the chain issue. Trainee Kenny Edgecombe, with supervision from CCCM Eric Planas and educational development specialists (trainers) Sam Whang and Phillip Collins, set about removing the step. It was a bear, not coming out with the usual tools, even as Edgecombe heaved and pulled. Proving more stubborn than the average step, this one ended up requiring the whole bottom deck to be removed. A crowbar-type device was used for torque. No luck. Out came the cutting wheel, and sparks flew, as Edgecombe had to cut the bolt off.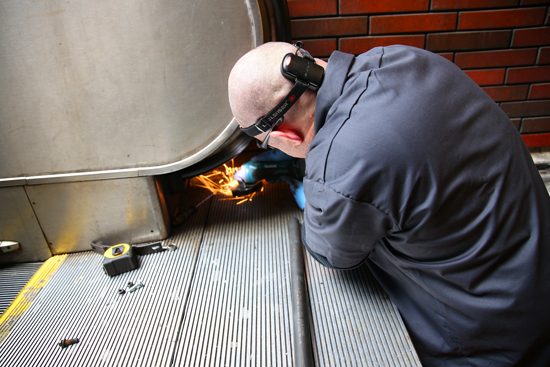 Kenny Edgecombe uses a cutting wheel to cut off a stubborn bolt.
With the deck opened up, he stretched down on the flattened steps and reached inside, to feel the chain, then measure it. Could he tighten it enough to buy time? If not, the escalator would have to be put out of commission for a week or more for the extensive job of a chain replacement.
With his arm immersed in the pit like a farm vet helping deliver a calf, he tightened the chain tensioner, fraction of an inch by fraction of an inch. Measured. Checked. Checked again.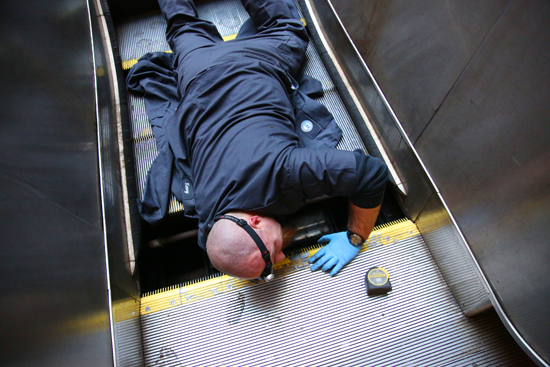 Kenny Edgecombe lies down on the deck and feels for the components inside.
Then trainer Whang went behind him, making sure it was just right. "When I am out in the field for on-the-job training, I always want to check their work, and help them learn if there are any areas where they can improve," said Whang.
"The learning in the classroom is important also but getting into the field and doing the job gives them a chance to prove what they have learned," said Whang, who, like Younger and the rest of this crew, runs a tight ship.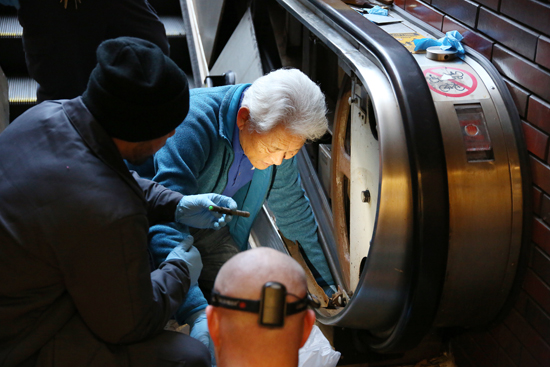 Instructor Sam Whang (blue sweater) checks trainee Edgecombe's work.
Satisfied Edgecombe's work was solid, Whang and Planas OK'd the escalator to go back into service, ending up with a couple-of-hours-long-job that bought time, before the inevitable full-chain removal that would take the escalator out even longer. "It's challenging to do the troubleshooting," said Edgecombe, a true grow-your-own example. A Concord High School and Los Medanos College local guy, he spent time as a dry dock worker, a heavy equipment mechanic, and worked at Thermo King refrigeration before the BART opportunity came along.
"It's a lot of heavy lifting, and we focus on safety to make sure we don't get hurt," said Edgecombe, who contributes to his community as part of the Ygnacio Valley High School baseball coaching staff in his spare time.
Thomas Li, another trainee, emigrated from China where he had done mechanic work, then made his permanent home here and first worked in motor shops. He was a contractor for BART before he had the chance to be an employee, "and I got to see the good side of the company," he said. "I am proud of the work that we do, especially when I see families with children on the escalators and know that we are keeping them safe."
Trainer Phillip Collins empathizes personally with those who must use BART elevators in particular, since one of his children, a son, used a wheelchair for 14 years until his passing. "It is levels of magnitude more difficult to get around, and people who have not experienced it do not really understand it," Collins said.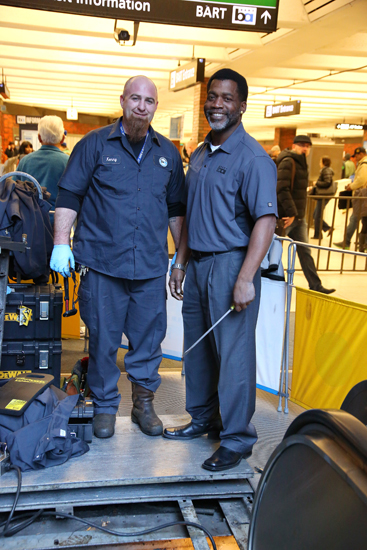 Kenny Edgecomb and Phillip Collins pause at a job site.
Formal apprenticeships target in-house BART workers, who may not have any mechanical background, and set out a path -- with lots of hard work and personal commitment -- whereby they can move up as escalator/elevator technicians or eventually managers. That was the case with Helen Stone, who originally joined BART as a car cleaner, but entered an apprentice program in 1996 and now works as an escalator/elevator maintenance foreworker.
"I wanted to find a new challenge and also to have upward mobility in my career," Stone said. "And it was very challenging; you have to start learning so much right from the very beginning." She said that her career wouldn't be where it is today without the apprenticeship.
While in the field earlier in her career as an escalator/elevator worker, she said the strong apprentice training and support network helped her be successful and learn how to safely do the hard, physical labor required. "Boy, did I ever develop some guns!," she said, recalling the upper arm workout of removing heavy chains. "We have always been a small department, close-knit, and people look out for another," she said.
Andrew Lee, Apprenticeship Consultant with the state's Division of Apprenticeship Standards, said the importance of training has never been greater. In 2005 a national escalator/elevator training standards committee formed to create a dialogue about where the future was heading, he said. "The escalator and elevator industries were incorporating digital control technologies into their designs faster than the workplace could keep up with them and learn them," he said. A Transportation Learning Center consortium also formed with the blessing of the U.S. Department of Labor to provide national guidelines.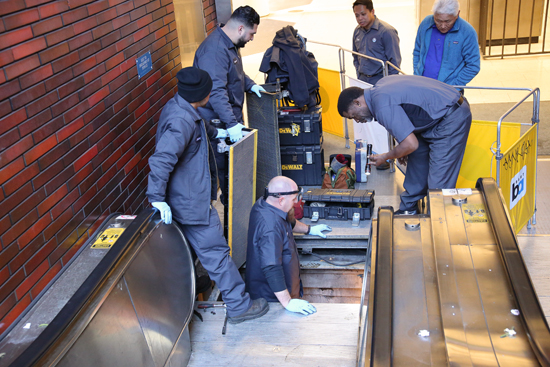 On-the-job training with journeymen and instructors keeping watch increases learning.
"There are so many things that you need to do to stay in compliance," Lee said. "Each apprentice needs to be exposed to all of the different duties and have classroom instruction as well as many hours of on-the-job training. There is a shortage of transportation workers, absolutely, and the apprenticeship program seeks to fill that void. Across many different industries, businesses are having a hard time finding skilled workers. The best way is to train them in-house so that you are investing in them, and then you reap the rewards. It really helps in terms of loyalty to the organization," he said.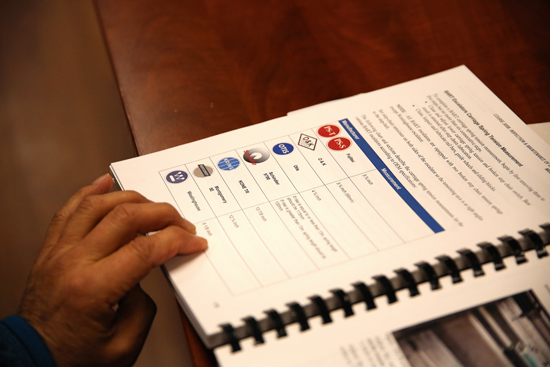 In addition to on-the-job training, there are many classroom hours of study.
Kathy Farwell is Director of Martinez Adult Education, BART's Local Educational Agency or LEA, which must approve and give oversight to apprenticeship curriculum.
"The transportation industry sector has been identified by the State of California and the Workforce Development Board as one of the high-growth industries," she said. "Certainly, in the Bay Area, transportation is one of our major concerns. With the advent of retiring baby-boomers who are now in the skilled labor force, we are in need of a newly skilled workforce."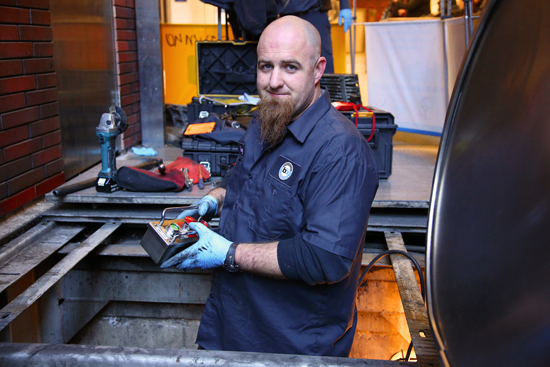 Edgecomb holds a controller that moves steps up and down. Microprocesser based technology is overtaking older circuitry, requiring more advanced skills.
"With the expansion of the local transportation industry comes the need for highly-trained master technicians for whom safety in their work and safety as a result of their work for the public are the priorities," she said. There is only one standard of excellence and that is the highest standard of excellence in training and technical mastery. There is no 'good enough'."
Farwell echoed Lee's comments on the changing nature of trade skills.
"The trades have traditionally been viewed as the work for 'non-academic' folks … That perspective is changing. Technical manuals demand strong literacy levels and access to training is often a hybrid of classroom and computer – in person and online. With the increased complexity of skills and knowledge demanded of our master craftsman, the distinctions between academic and vocational are dissolving."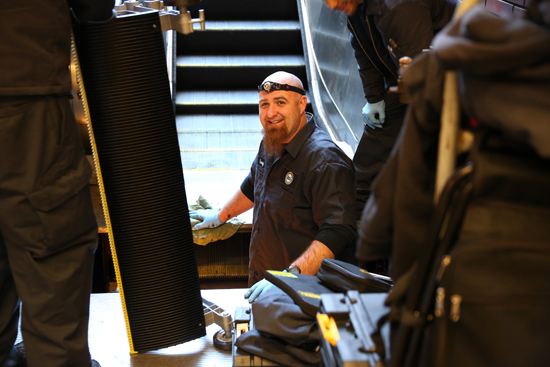 Kenny Edgecomb smiles as he prepares to put a new step in a broken escalator.
CHAPTER III: THE FUTURE
Though it may be little solace for those experiencing broken escalators and elevators right now, there is good news on the horizon. The flexibility to send different crews on repairs, enabling faster responses, will be one benefit of the training pipeline that gives more workers their CCCM certification.
In addition, part of Measure RR bond money is dedicated to escalator improvements.
BART will soon award a contract to replace 20 units in Downtown San Francisco with work beginning later this year through 2020. The bond passage allows us to pay for 12 of these 20. Each of the downtown SF stations will get some units replaced. Plans to replace units at 16th and 24th and 12th and 19th in Oakland are in the works but are subject to funding.
Rendering of what a canopy over escalator on Market Street could look like.
The BART Board recently awarded the contract to install new street entry canopies at Powell Street and Civic Center stations. These initial canopies are part of a partnership between BART and the city of San Francisco and will include a glass enclosure, light fixtures and real time departure information displays. The canopies are key to protecting escalators from the elements and provide the ability to lock off the entrance at the street level. The long-term goal is to install additional canopies along Market Street that incorporate lessons learned from these first projects. The contract includes an option for a third canopy that would be installed at Powell Street Station. Work on the new canopies would begin later this year and continue into 2018. Downtown Berkeley is getting a new canopy as part of the plaza redesign, and any new street escalator would get a canopy.
Improvements were on the mind of crews that dispatched to Embarcadero Station and Montgomery Station in San Francisco recently, two of the busiest -- and most outage-troubled -- stations.
At Embarcadero, one team began what's known as a "chain job" -- replacing a chain that has become too lax and can't be tightened any more. Imagine a bicycle chain for Paul Bunyan and that's about the size of these. The first part of the job is backbreaking and monotonous -- every step in the entire escalator must be removed by hand.
As steps are removed and the "pit" beneath the escalator is revealed, it becomes excruciatingly important that the public not attempt to go into these work areas. Escalator/elevator workers must have a special series of immunizations, training in biowaste and hazardous material protocol, wear thick coveralls, protective eyewear and gloves -- some even duct-tape their gloves to their sleeves to further reduce chance of exposure.
During a service problem in January that caused crowding on the 24th St./Mission platform, where an escalator was barricaded off but with a total open pit, some people tried climbing up the handrail to avoid the backlog on the stairs. A video went viral, and BART reinforced the message that you should never go onto an escalator that is marked off as broken; even if it seems convenient at the time. You could endanger your own safety and that of others.
At Embarcadero, the workers carefully lifted the heavy steps, placed them onto rolling carts and moved them to a storage area. Depending on the number of steps, this can take hours or days. Workers must be careful to avoid injury -- imagine a basketball team of five that loses one player, trainer Collins suggested. That's what it's like running elevator/escalator repairs if someone on this streamlined staff is sidelined for injury. Next, the "pan" or bed would be cleaned thoroughly, removing dangerous grease that could cause slips.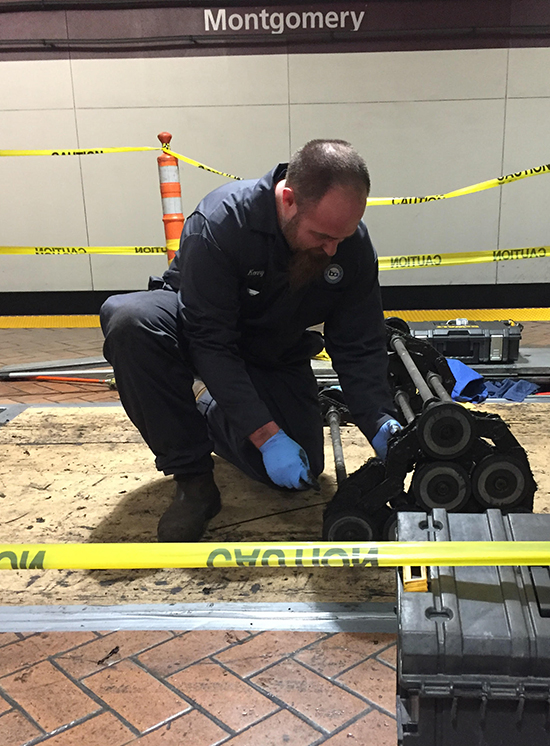 Edgecombe works on a chain job at a Montgomery Station escalator.
One stop further at Montgomery Station's southernmost platform escalator, a different crew was doing another part of the chain job "pulling chain," or removing the old chain from the escalator so it could be replaced with a new one. Three men using utmost caution used a motor and their body strength to pull a segment of the chain off the escalator and lay it flat on the floor, on a surface that had been covered in cardboard to soak up grease. The motor helps pull the very heavy load, but the manual hands guide the segment in where to go, delicately -- a slip, and the chain could snap back with disastrous consequences. Each segment must then be pounded into smaller sections, literally using a giant hammer and screwdriver-like wedge. Bam! Bam! Bam! goes each side as workers hammer the master link, which joins each smaller section as part of the whole, break it apart, roll it up, secure it with a zip-tie, and move these weighty sections into storage.
"I'm leaking out of my skin," Edgecombe quipped, the sweat pouring from his brow. This crew would extend hours to try to get the job done faster -- usually a chain job can take a week or more; with this one, they were aiming for three days. Their labor and intensity was clearly obvious to those walking down the steps to the platform, due to the out-of-service escalator. (An elevator was available but people with a choice will often choose stairs over elevators). Sometimes, the workers said, they get sworn at, or even spat upon. Today, there was respect.
One woman waiting on her train asked about what they were doing and remarked, "I had no idea it involved so much work to repair an escalator!" She said she understood the system was showing its age with broken escalators and delayed trains, but that she hoped improvements would be seen soon from the bond's passage. The current goal for station elevator 98.5% availability – an extremely high bar because of their critical role for riders with disabilities. In the second quarter of Fiscal Year 2017, the most recent period for which data have been released, station elevator availability met this goal. In FY17, Q2, the street escalator availability goal was 95% and actual availability was 92%, with short-outs from rainy weather being a common cause of street escalator problems. The platform escalator availability goal was met.
BART takes the numbers seriously, because they affect customers directly.
An elderly gentleman, formally dressed in a suit with old-fashioned hat, tie pin and using a cane, made a slow walk, that appeared quite difficult, down the stairs. A crew member asked him, "How's your day going, sir?"
"I made it down," he replied, breathing heavily, but smiling. "So I guess alright!"
As he walked to the edge of the platform to wait for his train, he said, to no one in particular, "I appreciate what you do. I appreciate BART and I have since the day it was built."
CHAPTER IV: SAFETY TIPS FOR RIDERS
Safety tips for riding escalators, courtesy of Schindler Group, one of the major suppliers in the industry:
Watch the direction of the moving step and step on and off with extra care.
Take care if you are wearing bifocals or similar eyewear.
Hold children firmly with one arm or hold child's free hand.
Hold small packages firmly in one hand, but always leave one hand available to hold the handrail.
Do not go in the opposite direction of the escalator.
Do not take wheelchairs, electric scooters, strollers, hand carts, luggage carts or similar items on the escalator (or, at BART, bicycles)
When riding escalators: Keep loose clothing clear of steps and sides.
Wear closed-toed and hard-soled shoes, and avoid wearing footwear made of soft-resin or other rubbery materials.
Stand clear of the sides of the escalator.
Face forward and keep firm grip on the handrail. Reposition your hand slowly if the handrail moves ahead or behind the steps.
Don't climb onto or ride the handrail.
Do not let children sit on steps or stand too close to sides.
When exiting escalators: Don't hesitate and step off promptly.
Make sure to step over the comb fingers; don't let your feet slide off the end of the escalator.
Immediately move clear of the escalator exit area; don't stop to talk or look around since other passengers may be behind you.
If you have questions about escalator issues or any comments or concerns you would like to pass along, please use our Contact Us form.