BART to offer customized station-by-station elevator alerts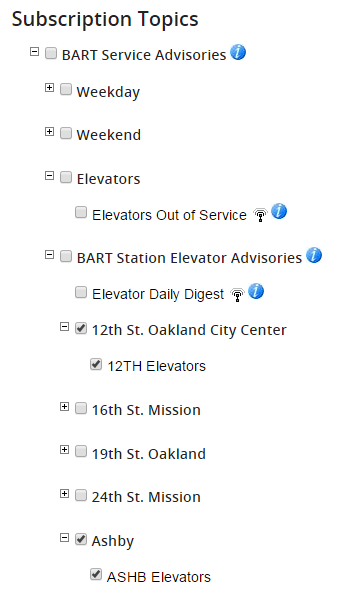 Starting later this month, BART will roll out an improved elevator alert system that is customizable to include only the stations riders care about.

Riders already are able to sign up for different kinds of advisories to be sent to them via email or text; however, there was no way to sign up for info about the elevators at only specific stations (such as one's departure and arrival station). That meant getting a lot more elevator messages than most people needed or wanted.

These new customized alerts will start June 30th but you can sign up for the stations you want now. If you receive the current elevator alerts, you MUST sign up for the new station specific alerts by July 31, 2017, when the legacy system will be discontinued. If you would still like to receive alerts for all stations, you can select every station.
In addition to the individual station alerts, starting June 30, 2017, BART will also offer a new daily digest of elevator outages at 6 am each day via email.
The system that feeds the information about elevator outages is also being streamlined to improve accuracy and timeliness of when an elevator is out of service and put back into service. The new system will be pulling status updates from the system BART uses for work-order tracking
How to Sign Up
You can sign up for the alerts at www.bart.gov/alerts.
Click on "Sign Up Now," if you don't have an account to receive BART alerts. If you already receive alerts, choose "Manage Your Account"
Open "BART Service Advisories"
Go to "Station Elevator Advisories" and open it up and select the stations you want elevator alerts for
The Elevator Daily Digest is also available here
Other ways to get Elevator status
For elevator status, you can call: 510-834-5438 (LIFT) or 888-235-3828 (888-2-ELEVAT)
Elevator or escalator status, reason for being down and estimated return to service date can be found on our website at www.bart.gov/elevators and www.bart.gov/escalators. You can also access these pages from the Service Advisory section of our mobile site and website.
PA announcements are made frequently
Outages are also listed on digital signs at Station Agent booths
The information is also scrolled on our platform digital signs