Innovative training program helps prepare trainees for jobs as BART track workers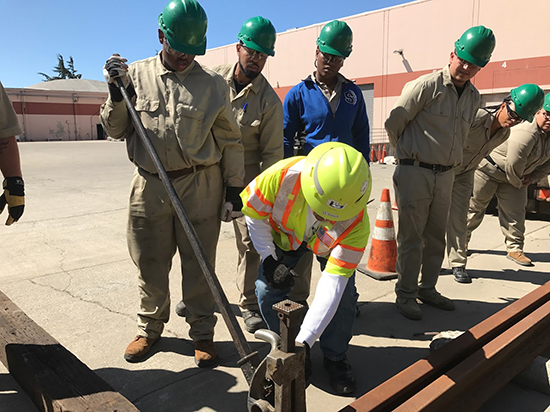 An instructor demonstrates a track jack at Cypress Mandela Training Center.
By MELISSA JORDAN
BART Senior Web Producer
One tends bar, one digs swimming pools, another has a temp gig at a seasonal pop-up store. They are eager-to-learn hard workers, seeking careers and not just side hustles. The students, selected this past fall after interviews with 42 applicants, made up the first class of the Cypress Mandela Training Center in Oakland to have railroad-specific content provided by BART. And five of them have already been hired.
First they spend at least 16 weeks in Cypress Mandela's nationally renowned training program, which emphasizes discipline and life skills along with job readiness. Then they get five days of railroad-specific training to help them prepare to apply for entry-level Track Worker jobs: the Track Workers who will be needed to rebuild and maintain the BART system for decades to come.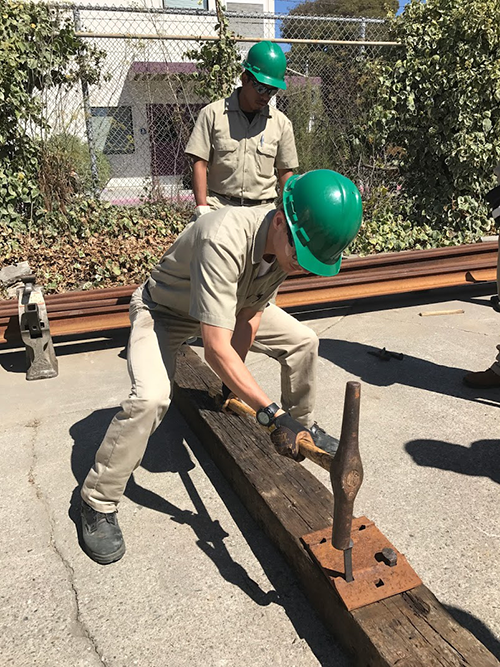 A trainee swings a spike maul tool to pound a spike into a rail tie.
Andrew Hudspeth, 19, of Union City, used to work at an Amazon center stacking boxes. He heard about the Cypress Mandela and BART-sponsored program and was immediately interested.
"My generation, millennials, people think we only care about the short term," he said, on a break from class during his training. "That's not true. I'm thinking long term and I know I can't rely on Social Security. That's why I came here. I want a solid job for the long term."
Aaron Hardy, 19, of Oakland, added, "These will be good jobs for the people of the Bay Area. I'm excited about it."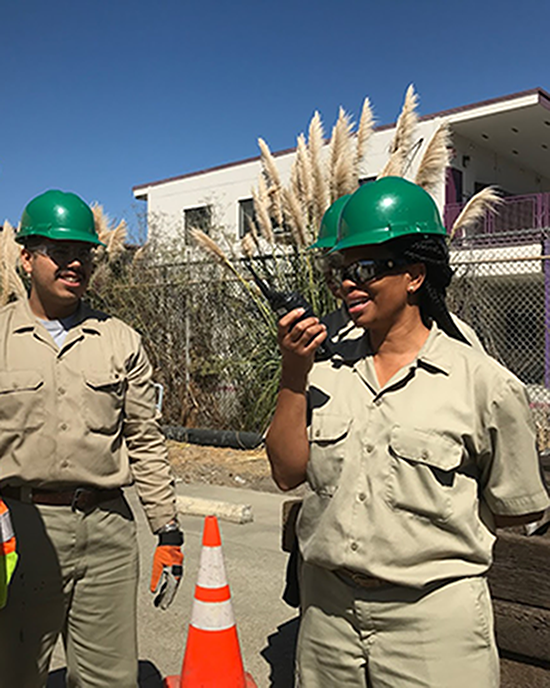 A trainee practices using a trunk radio to communicate with Central Control.
Julissa Martinez, 27, of Brentwood, completed her Cypress Mandela training and also a similar pre-apprentice program that PG&E sponsors with Cypress on called Power Pathway. But -- having learned the job-hunting mantra to cover all the bases -- she took on the railroad training, too.
"I'm taking every opportunity to give myself the best chance" of finding a good, stable job with room for advancement, she said.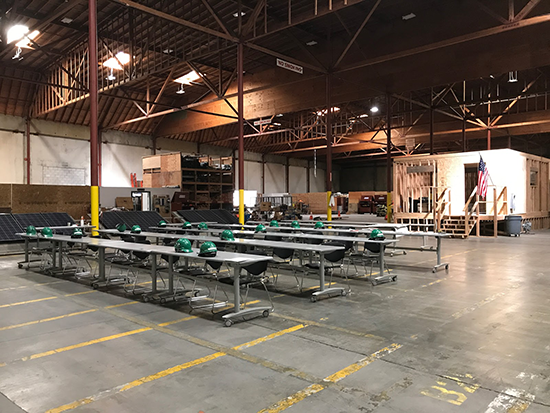 A large training room at CMTC, complete with mock-up for building construction.
A visit to Cypress Mandela's 80,000-square-foot training facility on 66th Avenue in Oakland gives a glimpse into how the program is so successful. Students wear khaki-colored work uniforms; are responsible for bringing their safety gear each day; and commit to following all the many rules. There are lockers but no locks, instilling an honor system of respecting one another's belongings.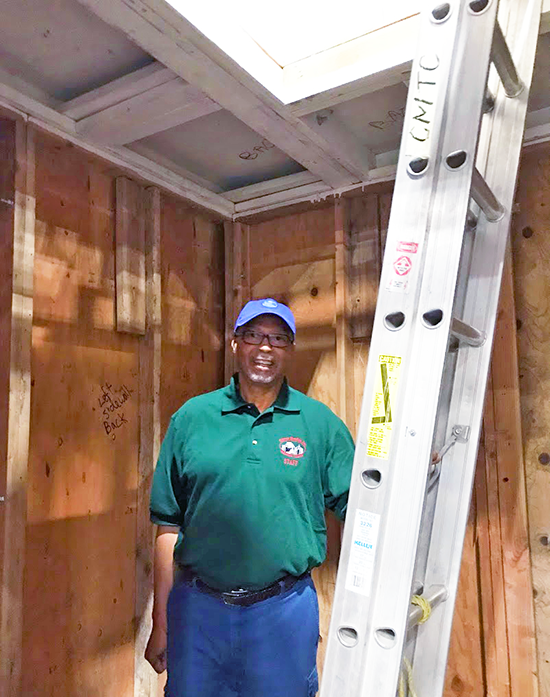 The program has been around for 25 years; it was founded by Art Shanks in West Oakland after the Loma Prieta earthquake in 1989 based partly on Shanks' insight that workers would be needed to rebuild the Bay Area's infrastructure.
"Our program creates opportunities for the disadvantaged, unemployed and underemployed," said Shanks, pictured by the ladder in one of the center's training stations, where trainees learn about ladder safety and other issues for enclosed spaces. He added that some of the center's students came from families with parents ravaged by drugs, and were left behind by failing schools, so they need to "gain the basic skills to transcend that and be successful."
You notice it immediately when these students participate in class; raising hands to ask detailed questions; responding when called upon with correct answers. When you meet them, they give you a firm handshake, look you in the eye, answer questions thoughtfully.
One class day, the instructor was going over some of the problems that can arise with tracks. "What happens to rail when the temperature changes?" he asked.
A student raised her hand and was called upon. "It expands and contracts." "Correct!," the instructor affirms. He moves on to the safe use of various tools.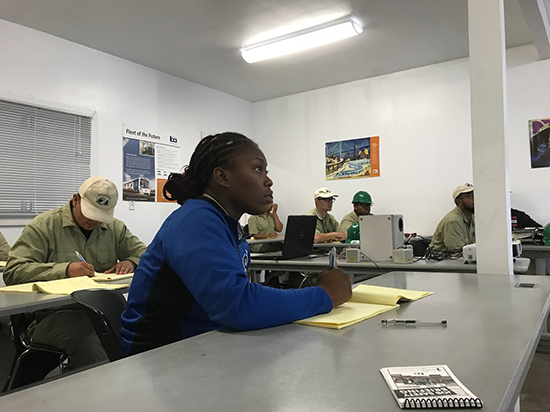 A trainee takes notes in class as the instructor goes over material.
The head-start from Cypress's 16-week program is a huge benefit. The students already have been through a rotation introducing them to various trades, from construction (there is a mock-up structure in progress inside the vast building); to electrical and plumbing (one space is a simulation of a tight, enclosed space where the student has to go down a ladder into the dark work area). There is a gravel pit, a simulated hazmat spill area, every tool imaginable.
"From the very start, all these students have shown a sense of urgency to be on time, take lots of notes and ask very interesting and engaging questions," Almanza said. "The experiences and training they have acquired from CMTC gives them a readiness to put their knowledge into action."
With their work ethic and training, he said, "BART looks to be in good hands for the next generation of Track Workers."
Trainees lift a rail tie in a practice exercise in assembling track segments.
As another example of that work ethic, consider David Cruz, 19, of Ceres, south of Modesto and about 80 miles from Oakland. He has to start his commute so early to get to class on time (punctuality is a core value here) that he leaves in the wee hours of the night and catches a catnap before class.
"This is a great opportunity and I will do whatever it takes," he said. "There are so many ways you can go for a career at BART once you get a foot in the door."
They want challenges. They want stable jobs. And, already, five trainees already have been hired into entry-level Track Worker positions.
"The Cypress program was a big help," said Hudspeth. Being new to the formal job application process, he found the waiting to be a tough part. "We did all the tests, we did all the interviews, and we just had to wait and find out if there were job offers. Then they called with the offer!"
In late December, after completing even more training such as the Roadworker Protection class that is required of all Track Workers, Hudspeth and classmates were settling in under the guidance of others on day shift for the first few weeks.
"We're still learning a lot," he said. "Some days we do general cleanup-type stuff and other days we are moving around to different sites to do different kinds of projects."
He's even ready to tackle the overnight shift where there are longer periods with no trains running so that more complex track work can be conducted.
"I'm excited for it," he said.
For more about the Cypress Mandela Training Center, visit: http://www.cypressmandela.org/
The orientation date for the next Cypress Mandela general training cycle will be in March 2018 at the Caltrans Auditorium at 111 Grand Ave. Oakland, CA. Sign-up online at the Cypress Mandela website if you are interested in attending. Mandatory assessment and interviews will be held the day after the orientation session. Please bring all the required documents to the assessment testing dates, not the orientation; originals only.