BART PD holds "Trunk or Treat" events for kids at Coliseum and South Hayward stations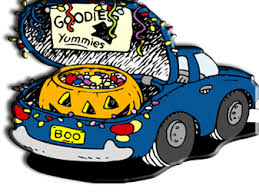 Children who visit Coliseum and South Hayward stations from 5 pm - 7 pm on Monday, October 30, 2017, will get a special treat from BART's Police Department. Officers will host BART's second annual Halloween "Trunk or Treat" event, a safer alternative to the house-to-house Halloween trick-or-treating tradition. Candy, games and special prizes will be offered.
Trunk or Treat is free and open to all children 12 years and under. All children must be accompanied by an adult.
Trunk or Treat is much like classic trick or treating. Kids still dress up in costumes and ask for candy, but instead of walking from house to house and encountering strangers or dodging traffic at night, Trunk or Treaters are in a designated area collecting candy, playing games or getting their faces painted. All of these activities take place with their parents/guardians and police officers close by.
This event is another way that our department is reaching out to the children and families in our communities to establish and maintain a positive relationship with them.
Last year the activities were held at Richmond and Fruitvale stations and were a big success. Different stations will be selected for the event each year, focusing on those stations with schools and housing nearby.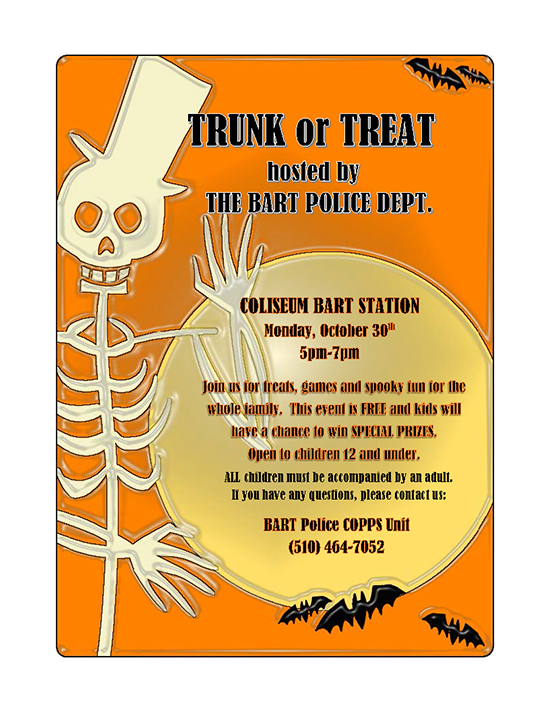 Note 2 events, at Coliseum and So. Hayward, both from 5 pm - 7 pm on Oct. 30.