BART's focused approach to addressing the homeless crisis
It is our job to help ensure the safety, security, comfort and convenience of all those who use BART.
The national homeless crisis can be visible in BART stations and on trains as homeless people use BART for shelter. Increasing rates of homelessness and related quality-of-life issues on BART present us with unique challenges as a transit system, and highlight a pressing need for action and understanding from us, our riders, and our partner agencies in the communities we serve.
BART does not have the internal resources that homeless people need. In response, we've developed a coordinated and comprehensive approach that maintains a safe and clean environment for riders—while connecting homeless people who seek shelter in our system to services and resources.
It is estimated there are 30,000 homeless individuals in the Bay Area. As a rider, you may be concerned with behavior you've witnessed while on BART, and we hear you. It could be a person experiencing a mental health crisis, aggressiveness or violence, a hygiene issue, aggressive panhandling, drug use, or perhaps sleeping across several seats during the commute. It is understandably frustrating for commuters to be crowded out of trains by persons who are there for reasons other than commuting. BART simply does not have space for people to set up short term residency. We also need to maintain clear paths in our station hallways for evacuation in the event of an emergency. Persons lying down in station corridors is a life safety issue for everyone in the station.
All riders are expected to pay the fare and follow our Passenger Code of Conduct adopted by our Board of Directors to ensure that any one person doesn't adversely affect others using or operating the system. The Passenger Code of Conduct is based on common courtesy, and most all violations of the Passenger Code of Conduct are also a criminal violation.
We are working on a variety of measures to tackle these issues and just as important help those in need. We've also launched www.bart.gov/socialresources to keep the public informed.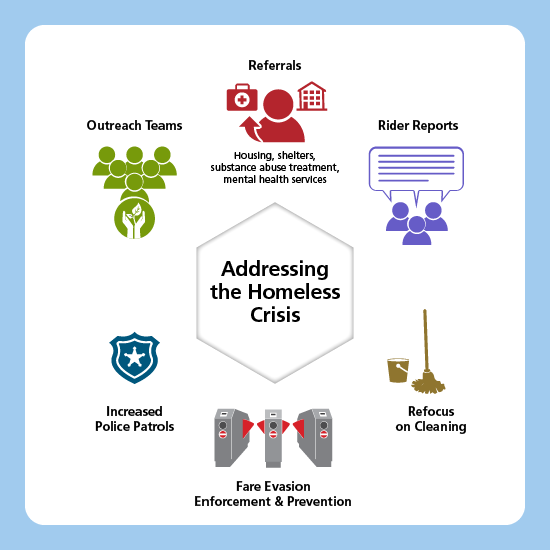 Since BART is not a suitable shelter for homeless people, we are helping connect individuals to resources by:
-Deploying our full-time Crisis Intervention Training Coordinator and Community Outreach Liaison to seek out homeless individuals with the goal of connecting people to services by providing vital referral services. This position brings expertise to BART on the complex issues related to homelessness.
-Actively making contacts with individuals to develop a relationship and needs assessment. BART Police made nearly 200 contacts in 2016 with people laying down in our station hallways. These contacts have allowed BART to successfully reunite individuals with family members willing to provide housing or other local housing resources.
-Helping fund a partnership between BART, MUNI and the City of San Francisco's Department of Homelessness to provide two full-time Homelessness Outreach Team (HOT) employees focused on the Downtown San Francisco stations. They will help move people off our concourse floors and into shelters, while also connecting them to treatment and more permanent resources.
-Participating in a Law Enforcement Assisted Diversion (LEAD) program, which diverts low-level drug offenders who may also be struggling with homelessness and mental health issues from the criminal justice system into treatment programs and hopefully recovery. These efforts will be focused on the Civic Center and 16th Street stations.
-Assisting those in crisis and transporting the individual to a mental health facility, detox, or hospital. All BART officers undergo crisis intervention training.
-Sending our outreach expert and BART Police on early morning trains headed to the end of the line to make contacts with those sleeping on the trains.
We are working to improve the station environment by:
-Increasing employee presence and cleanliness in downtown San Francisco by hiring four new station cleaners who will focus solely on keeping Civic Center and Powell Street stations clean.
-Adding four community service officers to Civic Center and Powell Street stations who will serve as trained foot patrol and work to disrupt drug injection sites.
-Hiring 38 additional officers to enforce existing laws against vandalism, littering, fare evasion, and open drug use. Additionally, new officers will increase visibility in stations and on trains, helping maintain a safe environment.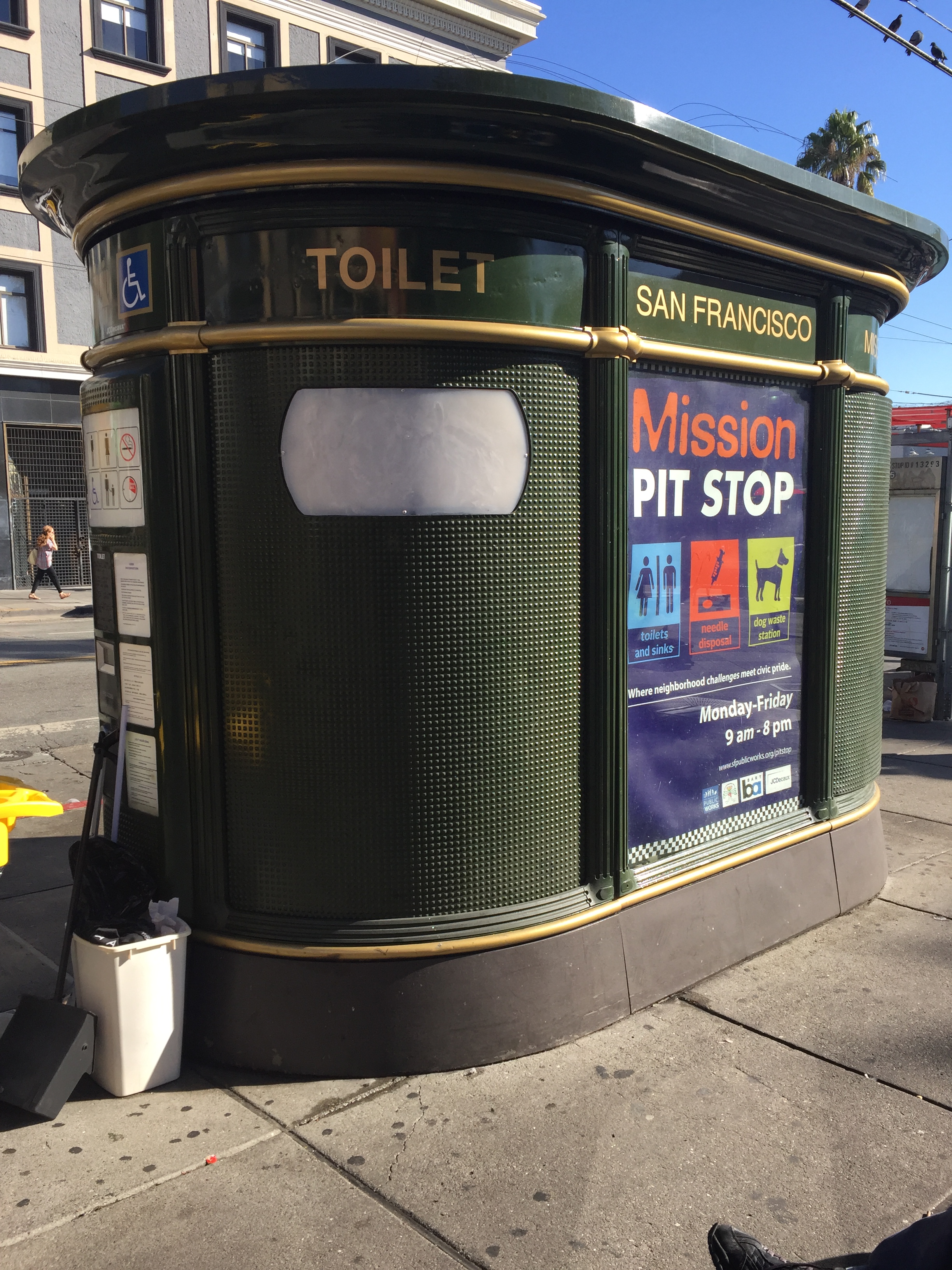 -Positioning new, fully attended Pit Stop bathrooms above ground at major station entrances and exits in Downtown San Francisco to provide safe and clean access to restrooms for the public. We helped fund the restrooms and are informing our customers and non-customers of this amenity.
-Working to protect Downtown San Francisco escalators from abuse during the overnight hours by installing trespasser gates and eventually lockable canopies at the street level.
-Ensuring hallways are not blocked with sleeping individuals through enforcement of laws and building codes that require a speedy evacuation in an emergency. This enforcement is paired with our outreach and service referrals.
-Stepping up our efforts to prevent fare evasion through infrastructure changes such as higher barriers and bringing elevators into the paid area, and more police patrols and focused enforcements at stations. The Board is currently reviewing and discussing a proof of payment ordinance.
-Blasting away grime and stench with our rotating station brightening crew power washing staircases and station entrances at Downtown San Francisco and Downtown Oakland Stations.
-Installing signage at the Downtown San Francisco stations to clearly identify disorderly conduct are not allowed.
-Issuing Prohibition Orders which is an order precluding an offender from being on any District property for a period of 30, 90, or 180 days, based on their prior behavior of battery or threats of battery, sales of illicit narcotics, or a sexual offense, defacing property or urinating in public.
What you can do:
-Call BART police at 510-464-7000 and we will dispatch an available officer if you are a victim of aggressive/frightening behavior, violence, or are observing such behavior on BART. Your safety is our priority.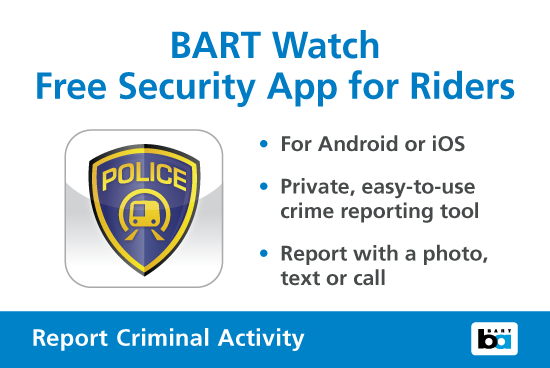 -Download and use the BARTwatch app if you're concerned that someone is unwell or in need of a welfare check. We will take the report submitted through your phone and dispatch an officer or team member to check on the person. Examples of this can include people who are visibly intoxicated, people who have soiled themselves, or people experiencing a mental health crisis. Please keep in mind, someone sleeping on a train who appears to be homeless does not violate any laws and dispatch will need more clarifying information to deploy an officer and hold a train.
-Report drug use to police by calling the above number or using the BARTwatch app. We want our system to be a welcoming place to people of all ages; open drug use is illegal and will not be tolerated.
-Notify your Train Operator using the intercom on each end of every BART car if there is car cleanliness issue that needs to be urgently addressed. Move to an adjacent car if you are concerned about making the report to the Train Operator in the incident car.
-Notify a Station Agent or BART employee if you are concerned about a patron's behavior in a station.
-Notify a Station Agent if an elevator needs cleaning. Agents check elevators once per hour and our janitors are constantly cleaning them but the abuse is rampant. We are exploring the use of elevator attendants at Downtown San Francisco Stations to help address this problem.
Resources for the unhoused
Bay Area Wide:
The United Way's 211 service connects residents in Alameda, San Francisco, San Mateo, Napa, Solano and Santa Clara counties with health and human service programs in their local community. Simply dial 2-1-1 or visit www.211bayarea.org to receive 24/7, free and confidential assistance in multiple languages.
Alameda County:
Contra Costa County:
Richmond: Anka 1115 Market Street M-F, 8 am-5 pm
Concord: Anka, next to Concord Adult Shelter 2047-A Arnold Industrial Way M-F, 8 am-5 pm
Specializing in Families and Seniors: Monument Crisis Center 1990 Market Street Walk in hours M-Th, 9 am-Noon & Tuesday, 5 pm-7 pm
Walnut Creek: Trinity Center 1924 Trinity Avenue M-F, 8 am-5 pm
City and County of San Francisco:
San Mateo County:
Resources for Veterans
Swords to Plowshares is a community-based not-for-profit 501(c)(3) organization that provides needs assessment and case management, employment and training, housing, and legal assistance to roughly 3,000 veterans in the San Francisco Bay Area each year. 415-252-4788
Veterans Administration: Make the call to 877-4AID-VET (424-3838) to be connected 24/7 with VA's services to overcome or prevent homelessness for yourself or a Veteran you know. Read more at:
San Francisco Vet Center 415-441-5051 or 877-927-8387
Oakland Vet Center 510-763-3904 or 877-927-8387
Concord Vet Center 925-680-4526 or 877-927-8387