Civil Engineering: The Visionaries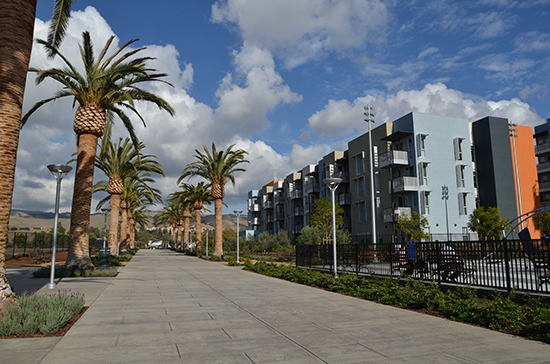 Making stations more accessible and environmentally friendly is part of the civil engineer's job. Above, a promenade lined with palm trees leads to housing within steps of the Union City BART Station
Part IV in our four-part series celebrating National Engineers Week. You're invited to join in our Twitter Q&A at the end of the week on Friday, Feb. 23, from noon - 1 pm PST.
By MELISSA JORDAN
BART Senior Web Producer
Civil Engineering at BART is a cross-functional, interdisciplinary role that is the single largest of any group of licensed engineers (a handful of people more than the Mechanical/Electrical groups combined).
"We touch everybody's day-to-day lives, whether it's improving ease of access for pedestrians, bicycles, buses, shuttles, cars, or modernizing stations to meet the needs of current-day commuters," said Mary Grace Houlihan, Group Manager of Engineering Liaisons, and a longtime civil engineer. "What we do truly impacts people's lives, and we know that."
Civil engineers at BART work closely with counterparts in areas such as sustainability, to be sure whatever building we do will stand the test of time – and of environmental friendliness. Houlihan notes the demographic changes on either end of the age spectrum that are contributing to the desire for housing access near transit. Aging Baby Boomers are downsizing their homes, desiring less maintenance and more free time to enjoy retirement; Millennials don't want the hassles of cars or parking if they can live near transit. BART is working across all its engineering groups to offer solutions.
"It comes down to creative problem-solving," Houlihan said. "We want to foster innovation and creative thinking in our engineers. We see our stations becoming mini-city-centers, that can accommodate housing, commerce, shuttles, green spaces, and more."
If you have questions about these areas of BART's engineering staff, follow our Twitter Q&A on Friday, Feb. 23, from noon - 1 pm. You can review open positions at www.bart.gov/jobs.
For easier searching, search the following Job ID numbers for jobs related to civil engineering:
Job ID 7505
Job ID 7569
Job ID 7627
Job ID 7425
Job ID 7362
Job ID 7425
And in case you missed the earlier stories in our series, you can catch up on them at:
Systems Engineering: Meet the Connectors
Mechanical/Electrical Engineering: Bringing the Power
Structural Engineering: The Building Blocks of Infrastructure