As fire season heats up, BART grounds crews are in high gear to reduce risk
By MELISSA JORDAN
BART Senior Web Producer
With the hot, dry days of fire season upon us, the work of BART's dedicated groundskeeping crews becomes more important than ever.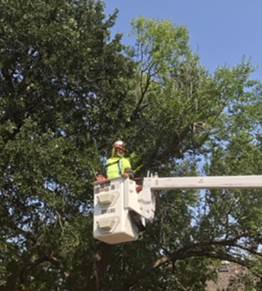 Think about the never-ending nature of pulling weeds in your home's yard, then imagine keeping up the grounds for 121 miles of trackway (on both sides of the tracks) and for 48 stations.
"Doing the work that keeps the trains running is our priority," said Roger Havens, a grounds worker and irrigation specialist, pictured at right trimming trees in a bucket truck.
He often works with a crew on the overnight shift, when trains are not running, to have trains ready to move first thing for morning service.

FIRE SEASON IS UPON US
In the first official week of summer, Havens and other grounds workers were on a day shift cutting firebreaks alongside trackway between Walnut Creek and Pleasant Hill stations on the Antioch (Yellow) Line. Their work had an urgency, as temperatures rise and the Fourth of July holiday draws near, when fireworks can start fires in dry brush.
With hand-held weed whackers that weigh some 25-30 pounds apiece, and a powered mower called a Billy Goat, the workers leveled dry, dun-colored weeds that had sprung up since the last trimming about a month ago. It was hot, physical work, walking up and down some steep inclines on either side of the tracks.

"We cut back 6 feet from the track line," Havens said, explaining that train wheels, metal on metal, and electricity mean sooner or later there will be sparks, which can grow into fires, disrupting operations, damaging property or worse.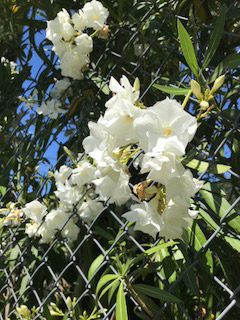 REDUCING RISK

It's all about reducing fire risk during the dry season, to prevent fires from sparking, and trimming back risky trees so that branches are less likely to snap and fall onto tracks in the windy and rainy season, impacting reliability and potentially damaging equipment. Plantings are practical and easy to maintain.
"We use a lot of oleander because it is so durable," Havens said. "We also have a lot of mature trees on BART property, trees that were probably here long before they put the BART tracks in." In image at right, oleander is growing along a fence.
BART has around 40 grounds workers and their schedules cover seven days a
week.

GROUNDSKEEPING AT BART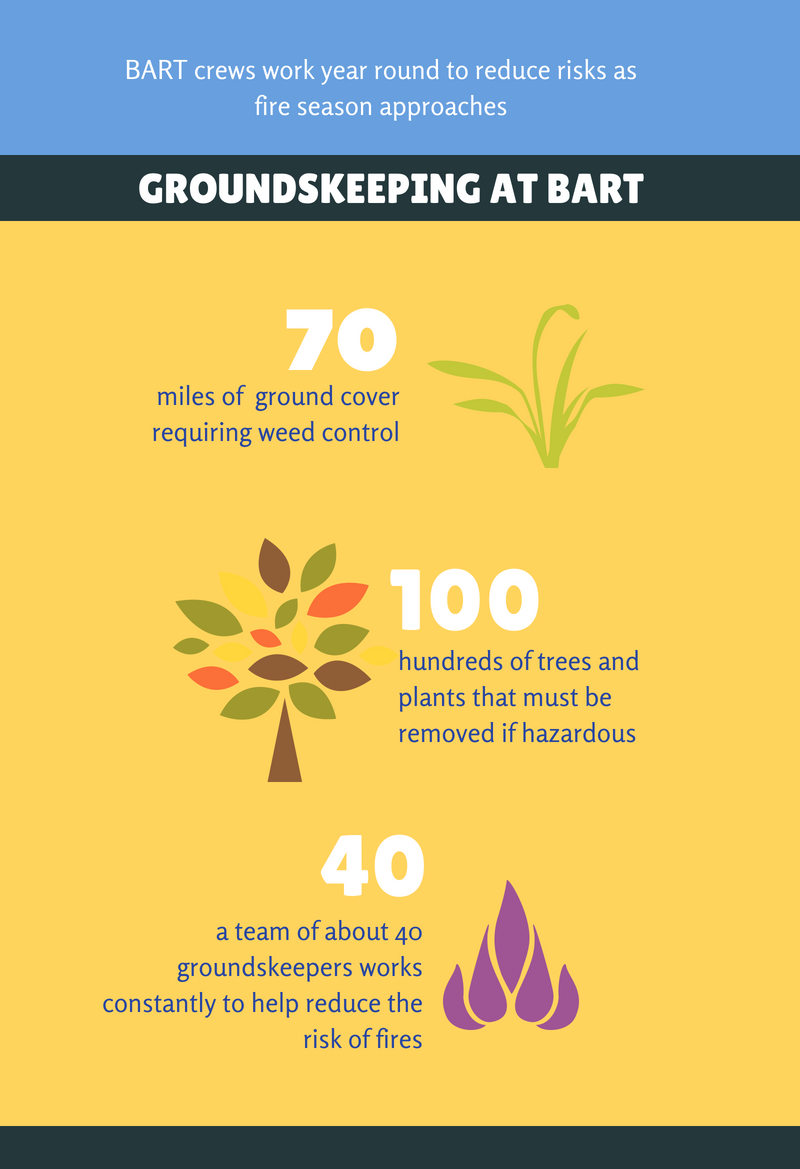 B-Roll footage for media use: https://youtu.be/S518Z-jvMTE