Future BART is an effort to begin mapping out the future of BART. BART is now more than 40 years old, and requires significant system reinvestment to continue to provide high quality service. In addition, the region will change and grow significantly over the next 40 years.
This effort will explore the tradeoffs involved in considering how BART can meet those dual challenges.
In October 2014, BART held a series of public outreach events in stations throughout the system to get rider feedback.
---
Download the Display Boards
Download the display boards from the October 2014 in-station outreach events.
announcement boards v18 - reduced size.pdf
---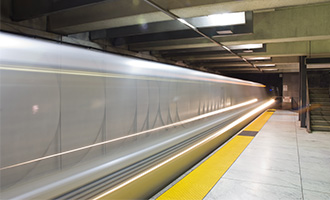 Project Description
BART began providing rapid transit service to the Bay Area in 1972. BART has grown significantly since that time, both geographically, and in ridership. As a 40-year old system, BART needs to determine how best to reinvest in the current system, to upgrade parts of the BART system that are nearing the end of their useful lives. As we reinvest, BART also needs to lay the groundwork for the future to be able to carry the larger numbers of riders expected in the region over the next 40 years. Now is the time for BART to begin planning its next 40 years.
According to the latest projections from the Association of Bay Area Governments (ABAG), the nine-county Bay Area must find a way to accommodate another 2 million residents by 2040. The region is also expected to add another million jobs over that period. If BART cannot evolve to meet this need, we will all fall further and further behind: congestion will grow worse, commutes will grow longer, open space will be lost and we will suffer from declining air quality, including increasing levels of greenhouse gases. MTC and its regional and local partners have recently put forward a plan to deal with these changes: Plan Bay Area, which for the first time has provided the region with an integrated land use and transportation planning strategy for the long term. Future BART is BART's response to that call for action.
Our effort to define Future BART raises a series of questions that must be answered:
What will the BART of the future look like?
How can BART continue providing reliable service to its customers while evolving to meet the needs of future generations?
What should the role of BART be in an economically competitive, sustainable, healthy future Bay Area?
And how does all of this happen?
Future BART is a groundbreaking effort to find answers to those questions -- with your help. At the center of our efforts to define the future of BART are two related planning efforts that will help the region understand the short, medium and long term roles for BART.
---
BART Metro
Central to the future of BART is the BART Metro concept. The BART Metro concept was first defined as part of the 2007 Regional Rail Plan developed by the Metropolitan Transportation Commission, or MTC. Under the BART Metro concept, BART would evolve to become a system that could offer two distinct categories of service: "Metro Core" service between dense urban centers, and "Metro Commute" service throughout the BART system. Metro Core service would operate on "show up and go" basis, with frequent services all day long, including the off-peak hours. Metro Commute service would provide faster trips during peak periods for the riders from the outer ends of the system, while maintaining current off-peak service frequencies.
To further define the BART Metro concept, BART conducted a study that was completed in 2013. This study is an Operational Analysis, focused on strategic improvements to BART's tracks, systems and stations that could be made in the next decade or two to provide more capacity and improved service. The study also looked at BART's service patterns that could be provided using the strategic improvements. That study can be found using the link below:
BART SCOA Final Report June 2013.pdf
---
BART Vision Plan
The second study BART is undertaking is the BART Vision Plan, focusing on BART"s longer-term future, to determine where BART should focus investments in the future. This study is looking at where BART might make significant new investments in needed capacity improvements and state-of-good-repair investments, or investments in new lines or new "infill" stations along existing lines.
Consideration of further BART expansion this must be accomplished against the backdrop of an aging system. BART has identified $15 billion in "State of Good Repair" maintenance needs over the next 30 years. To date, the region has identified only about half of the funding needed to invest in BART's "State of Good Repair" needs. Maintaining BART's record of 96% passenger on-time reliability requires prioritizing these "State of Good Repair" needs before significant expansion opportunities can be undertaken. A recent UC Berkeley/Bay Area Council study noted that if BART is not properly maintained over time, reliability will decline, and, this could cost the region between $22 and $32 billion in lost productivity over the next 30 years.
But we at BART need your help. We need you to tell us which investments you think should be prioritized in considering the trade-offs involved, how they should be funded, and how we can best meet your needs, as well as the needs of this generation's children and grandchildren.
Fifty years ago, more than 60 percent of voters in San Francisco, Alameda and Contra Costa counties committed to a bold vision. Ten years later, BART was born. The decisions we make will still be felt decades from now -- and there is no better time than today to start thinking about tomorrow.