1. Q: Why doesn't BART run 24/7 or at least later on Friday and Saturday nights?
A: The short window of time when BART isn't in operation is used for essential nightly track maintenance to help keep BART safe and reliable. There are only a few hours for maintenance crews to get their work done each night between when the last trains of the day leave and when the first trains of the day start up. There are typically just 2-3 hours available when there are no trains on the track for crews to travel to their work site and then perform the maintenance. Weekend nights are particularly important because they provide longer maintenance windows. Check out our video highlighting the work that occurs in the overnight hours.
Unlike some public transit systems with multiple sets of tracks on the same routes, BART doesn't have the duplication that would allow us to run trains on one set while performing maintenance on another. Third-rail power has to be shut down for maintenance crews to be able to operate safely and do the work that keeps the system safe and reliable. And the trains can't run when the power is down.
What about shifting service hours on weekends?
In 2011, the BART Board of Directors directed staff to study shifting service hours on weekends so that Saturday and Sunday morning train service would begin later to allow Friday and Saturday night service to end later. This would preserve the maintenance window. But the 2011 survey found that customers who ride early in the morning are predominately minority and low-income and largely riding to work. Shifting service hours would negatively impact these customers.
BART was never intended to be a 24-hour system. When cost projections were initially developed, the residents of the region who voted to approve BART supported a system that would have limited hours of operation. (In its early days, BART was even closed on weekends.)
In December 2014, BART partnered with AC Transit on apilot project to provide more late night bus options from San Francisco into the East Bay. The BART augmented service ended August 19, 2018. Learn more about transit options when BART is not operating or contact BART's Transit Information Center at 510-465-2278.
Greater need for an even longer maintenance window
Reducing or eliminating the overnight maintenance windows would result in
potentially catastrophic consequences, such as derailments. As our system ages, we are finding the current maintenance windows are rapidly becoming inadequate. Troubling indicators include current track conditions requiring slow speed zones and reductions in traction power system resiliency, requiring reduced acceleration of trains. We are also having to perform more and more scheduled track maintenance during operating hours, causing delays to passengers, because there isn't enough time to get it all done in the middle of the night.
We have reached the point where the maintenance work needed to keep our more than 40 year old system safe and reliable will require extended outages of all tracks on a particular line segment during operating hours in order to provide maintenance crews with adequate access to complete the major track work that can't be done while trains are running, even on adjacent tracks. BART will try to schedule these extended outages, some of which will require bus bridges, during non-peak travel such as weekends and evening.
This type of scheduled service disruption reflects the approach taken by every other major U.S. rail transit system needing to get big, vital maintenance jobs done. While there is great pressure to run 24 hours or later on weekends, the reality is if the BART system is to perform in the future anything like it has in the past, there will have to be longer maintenance windows and/or much more disruptive planned line segment closures. Shortening the maintenance window by staying open later on the weekends or eliminating it all together to provide 24-hour service would be at the expense of service reliability and safety.
2. Q: Why can't my train be longer? Why can't all trains be 10 car trains?
A: We understand no one wants to be packed in like sardines and there is great demand for train cars due to high ridership. But unfortunately, there are simply not enough train cars in our fleet. That's why we've ordered 775 new train cars. BART schedules all available cars to be in service during the rush hour.
The current number of vehicles in BART's fleet does not allow for all trains to operate at maximum length. If all trains were 10 car trains, there would be fewer trains out in service. Wait times would be longer and platforms would get even more crowded. Train sizes are determined by the demand or "load" on each line and how much of that route the train will carry a full load. BART officials determine the length of trains by looking at the number of riders who enter and exit the system at particular times and locations. They use this data to match train lengths with demand while taking into account car availability. We look at the data throughout the year and make adjustments to match demand trends. However, if we lengthen a train, it means shortening another train. There simply are not enough cars currently to make all trains a 10 car train while providing service at our current frequency. As the new trains continue to arrive, BART plans to run a mixed fleet. This will expand capacity and reduce overcrowding. With the new cars added we hope to have all transbay trains during commute hours to be 10-car trains by February 2020.
3. Q: I went into a station and then came right back out of the same station. I didn't ride the train, and had to pay either $5.90 or $6.40. Why?
A: We apologize for the confusion. Entering and exiting at the same location within a three hour window is seen by the fare gate software as an "excursion" and you will be charged the Excursion fare. The fare gate software does not take into account the length of time between entering and exiting. The Excursion fare is $5.90 (for a Clipper Card) or $6.40 (regular adult paper ticket)
Rider Tip:
If you need to exit a station without riding the train, please see the Station Agent first and do not go through the fare gate. The Agent will be better able to help if you have not processed your ticket or Clipper® card to exit.
A lost ticket, by policy, requires that you pay Excursion fare.
4. Q: Why doesn't BART construct more parking? Where can I find parking right now?
A: Demand for parking at many BART stations is more than the number of spaces available. Our busiest daily fee lots are filled as early as 6:30 a.m., while others don't fill up until 9:30 a.m. You can find estimated fill times (just click on your preferred station and look under the parking section -- some stations don't have fill times yet, but most popular stations do). Staff updates these estimates several times a year to reflect seasonal ridership trends.
There currently is no money to purchase real estate for parking lots or multi-level garages. Many stations are located in densely populated areas and there is no room to grow.
Rider Tips:
At some stations, Single Day Reserved parking permits are available. Learn more about Single Day permits.

Any unused permit spaces (Long-Term, Single Day or Monthly) become available to everyone at 10 am. We encourage customers to consider sharing rides to the station (learn more about Carpool Permits or take the bus, get dropped off by a family member, bike to the station, or walk).
5. Q: How can I buy discounted fares for children/disabled/senior?
A: To avoid surcharges starting Jan. 1, 2018, for trips made using paper tickets, get a Clipper card, which can also incorporate your discounts for children, teens, people with disabilities and senior citizens. To find out where and how to get the Clipper card and access the discounts, visit www.clippercard.com
6. Q: Is there a BART discount for college students?
A. BART provides discounts for seniors age 65 and older as well as people with qualified disabled identification. BART also offers a youth discount for riders ages 5 through 18. Learn more about these discounts. In addition, BART has embarked on a new program, the Higher Education Discount Program (HEDP), to offer discounts to students at colleges and universities. San Francisco State University is the first program participant. Students use a school-specific Clipper card to get the BART discount, the cost of which is reimbursed to BART through transit fees paid by the student body or the school. Learn more about the HEDP and how your school could participate.
7. Q: I failed to pay for parking earlier when I left my car in the lot. Can I pay online or by phone to avoid a citation?
A: The only way to pay for daily parking is at the station. There are currently no options for paying remotely.
8. Q: What time does BART stop running? I have a flight arriving at or near midnight.
A: BART stops operating each night after the final trains leave their origin station, usually at or just prior to midnight -- the final trains will make all stops until they reach the end of their line and then go out of service. For instance, at SFO, the final train is scheduled to leave the San Francisco International Airport Station 11:54 pm but won't go out of service until it arrives at the end of the line at Antioch at approximately 1:35 am. View BART schedules by station and by line. You can use our mobile site m.bart.gov to get real-time train departure times while on the go.
9. Q: Does BART have/why doesn't BART have a monthly pass?
A: BART fares are calculated on the distance traveled, and there are no "time-based" passes for BART. Shorter-distance riders would unfairly bear the burden of the trips taken by daily, long-distance riders using a monthly pass. In addition, certain sections of certain routes and some specific locations (such as SFO and BART to OAK) assess an additional surcharge which cannot be factored in a time-based pass. Under the current structure, everyone pays according to how far they travel.
In lieu of monthly passes, BART offers High Value Discount tickets. This provides customers a 6.25% discount overall, which is similar to the discount a monthly pass affords frequent riders.
10. Q: Why can't you run trains more frequently on midday/evenings/weekends? Why can't you run trains closer together during the commute?
A: The level of BART service is determined by the level of demand. Weekends, midday, and evenings have fewer passengers so we run less frequently with fewer trains. We don't have enough train cars to add more service during non-peak hours. This demand-based strategy helps BART maintain our top priorities: safety and reliability. It gives us time to work on the trains and perform preventative maintenance and repairs. By matching the level of service to the level of demand we avoid unneeded wear and tear. This helps keep operations costs down for everyone.
Even during the peak commute, we can't run trains any closer together than we already do because our current train control system doesn't allow for it. BART is looking at new train control systems, which coupled with our new fleet, would allow us to run more trains more frequently.
11: Q: Why are the cars so hot? Can't someone turn on the air conditioning?
A: We recognize temperatures can get uncomfortable on crowded trains. We've been upgrading the heating, ventilation and air conditioning (HVAC) systems on the most problematic cars.
Extreme weather and crowded train cars can become hot because of the outside air entering in at each station stop when the door opens. Body temperatures of passengers also increase the intensity. The trains were originally built to provide air flow for seated passengers, not crowded trains. This is why those standing have a more stuffy experience. More details about how the system works are below.
From time to time units may simply fail even though we are not experiencing any extremes. If you suspect this has happened, please note the car number located above the doors at the end of each car and alert the Train Operator using the intercom at the end of the car. The Train Operator will forward that specific info back to Maintenance and it can be noted for special check on that car's next maintenance cycle.
If you find yourself on an unbearable car, you can try moving to another car. Climate control is separate in each car.
The good news is that our Fleet of the Future will have modern HVAC systems and are designed to flow air from the ceiling, making for a much more comfortable ride for standees. Temperatures will also automatically adjust as the train travels through the various micro climates of the Bay Area.
How Air Conditioning Works on the Trains

Keep in mind, the air handling units on-board the trains are not operated by Train Operators. They also cannot be adjusted by the train vehicle shops. They are factory set and activate at certain intervals. The air supply is from units powered by electricity from the third rail and is either heated, vented, or cooled based on the temperature of the outside air. One-third of the air is pulled directly from outside ambient air. There is a limit on the heating and cooling capability when the outside temperature reaches such extremes. Doors open to board/discharge passengers. This results in an exchange of the "treated" air and outside air.

Also, BART is required by a California Public Utilities Commission order to maintain a high level of circuitry overload protection. Electronics are subject to damage when they become hot and the critical functions are propulsion and communications. When potential of overload occurs, such as when it is extremely hot or extremely cold outside, the non-essential functions (such as heat and A/C) automatically shut off to preserve the critical propulsion and communications features. The blower will continue to deliver a "flow" or "vent" but there is no heating or cooling. Also, crowded conditions reduce room for air flow will work against the effective cooling within the vehicle.
12. Q: How often are stations cleaned?
A: Providing a clean and safe system is important to BART. To demonstrate that commitment, BART is implementing a new station cleaning program that will raise standards and allow us to better utilize our resources. The new strategy is focused on deploying increased resources to our busiest stations as well as making sure that BART is conforming with industry best practices. We have crews that work at all hours of the day to help keep things clean. Stations receive full cleanings each day involving a sweeping of the platforms, concourse, escalator steps and stairs, damp mop of any spills, and cleaning of elevator floors and panels. Any mess encountered will be removed and surface sprayed with the appropriate cleaning agent.
Stations are power-washed by scrub crews on a rotating basis when the system is shut down. BART has hired additional brightening crews to clean stairwells and entrances, on a rotating basis, of the stations that need it the most. BART has also launched a program to build canopies over the entrances of our downtown San Francisco stations to help keep the entrances clean and free of debris.
Download the comprehensive presentation that outlines the new steps BART is taking to improve station cleanliness. The presentation describes how BART is establishing a robust training system for station cleaners, instituting audits to ensure better results, and taking steps to make sure our workers have access to the most effective cleaning tools available. The presentation also outlines new staffing levels for each station designed to make sure our cleaning teams are making the greatest impact.
13. Q: Do train cars get sanitized?
A. Yes. We do a top to bottom scrubbing and sanitization of our cars (watch the video of exactly what we do). This work is getting done every night of the year at our yards. To give you an idea of how thorough of a job we do- It takes a crew of two people one 8-hour shift to do a top to bottom cleaning of one car. We own 669 cars so the cycle for one car is about every 120 days. This isn't to say cars only get sanitized every 120 days. At the end of every single run, an employee walks the length of the train and picks up garbage. If they spot something that needs a wash, then the car is pulled and we sanitize it and take care of the mess. If a rider spots something that urgently needs to be cleaned up, please notify the Train Operator using the intercom button- that way the mess won't remain until the end of the run walk through. Read our story about the late night cleaning crew.
14. Q: Why doesn't direct Fremont/Daly City and direct Richmond/SF service begin earlier and end later?
A: All day direct service is not possible at this time because of relatively low demand, lack of train car availability, and maintenance requirements. Convenient, timed transfers are provided instead. The goal is to avoid costly and unneeded wear and tear on the system while providing service that matches the level of demand. In 2015, we extended Richmond-Millbrae service by one hour on weeday evenings, meaning an extra hour of direct service.
15. Q: Why don't I see more BART Police Officers on trains?
A: Currently, our patrol officers are required to make at least six train rides during each shift worked. Even so, with more than 600 train cars in service during the peak commute it is easy to understand why one may not often see many officers on trains.
While we do have officers who mostly ride trains, primarily in the urban core areas, officers in outlying areas rely more heavily on patrol vehicles to allow travel between properties while responding to calls for service and covering other officers engaged in enforcement activity. This also allows the officers to conduct security inspections of perimeter fences and other areas for security purposes. The availability of a vehicle allows this to happen faster, especially when the trains are not running at rush hour intervals and one might have to wait for up to 20 minutes for a train to arrive. Further complicating the possibility of catching a train is the fact it is faster and safer for everyone involved to hold a train at a station to wait for an officer to respond. If we didn't do this, the location of the suspect would continue to be a moving target, with the train-riding officer unable to determine when the subject left or transferred to another train.
BPD has approximately 200 sworn officers and not all sworn officers are assigned to patrol duties. Contained within the sworn ranks are supervisors (Sergeants) and command staff (Lieutenants, Deputy Chiefs, and the Chief). Further reducing the number of personnel actually available for patrol assignments are other assignments fulfilling the BPD mission. These assignments include Training, Backgrounds and Recruiting, Internal Affairs, Traffic, and Criminal Investigations. It is also important to consider the fact that the patrol function of the BPD has to be staffed 24/7, 365 days a year.
BART Police uses crime statistics to determine deployment of resources. We not only deploy officers in a manner so they are close enough to respond to each station, parking lot, platform, other BART property, and train, but also to put additional resources where they are needed based on crime statistics. This way we assign officers to areas where spikes in crime are identified.
Listen to our podcast as we follow along on patrol with an officer on a train.
16. Q: What is BART doing to provide Wi-Fi on trains?
A: BART is working to award a contract to a vendor and then will need to put into place the infrastructure needed to provide reliable Wi-Fi in our stations and on our trains. Once the contract is awarded we anticipate being able to provide Wi-Fi first inside our stations within 12-18 months and then onboard our Fleet of the Future trains, likely 3 years after the deal is signed. Wi-Fi onboard trains will take longer to implement because we need to erect poles along our tracks to relay the signal. This work can only be done during the hours we are closed. Wi-Fi will not be available on our legacy fleet.
In the meantime, we have entered into a new Advanced Wireless System (AWS) agreement with Verizon to expand 4G LTE for all major carriers within the BART underground.
17. Q: Is it viable to have dedicated bike cars in set locations on BART trains?
A: No, BART cars reverse directions at the ends of the lines, and moreover are continuously coupled and uncoupled in between runs throughout the day. For these reasons, it is not possible to keep a "bike car" in a predictable position on a train. For example, a special car at the front of a train might end up being at the back of the train later in the day. Or if two 4-car trains each had a bike car and were then joined to make an 8-car train, seating for our riders would be greatly reduced.
18. Q: Why are undergrounds restrooms closed? Are you going to keep them closed?
A:Homeland Security made the recommendation to close underground restrooms following the September 11, 2001, terrorists attack. The recommendation still stands.
We've added clean, well-maintained public bathrooms near three of our downtown San Francisco stations: Civic Center/UN Plaza, Powell Street, and 16th Street Mission. The Pit Stop Program is a partnership between BART and the City of San Francisco. They are operated by San Francisco's Public Works Department and provide clean and safe public toilets near these busy BART stations.
BART Directors, staff, and BART Police are reviewing options of reopening the closed restrooms if remodeled in a way that keeps them safe. Potential options include more transparent doors and sinks outside the restroom in public. Reopening the restrooms would cost $1 million a year for cleaning and maintenance plus the remodel costs.
We are in the process of redesigning the bathrooms in two stations — Powell Street in San Francisco and 19th Street in Oakland — to meet security concerns, then reopen them and evaluate the impacts.
We want to provide a restroom but safety is important as underground stations continue to be a threat.
Stations with closed bathrooms are Embarcadero, Montgomery, Powell (Pit Stop bathroom available), Civic Center (Pit Stop bathroom available), 16th Street (Pit Stop bathroom available) and 24th Street Mission in San Francisco and, in the East Bay, the Lake Merritt, 12th Street, 19th Street and downtown Berkeley ones.
19. Q. What is BART doing to keep escalators in service?
A: BART has 177 escalators and most are 30-40 years old. We've increased staffing and the number of certified techs to work on the units. We've also implemented new technology to better track parts and repairs while focusing on preventative maintenance to help prevent longer outages. BART plans to renovate and replace some of our busiest units and to build additional protective canopies to shield the escalators from weather and damage. For an update on these efforts click here.
BART has developed an online advisory that lists out-of-service escalators, their location, the reason they're out of service and an estimated return to service date. The advisories can be found on BART's website in the "Stations" section and its mobile website (m.bart.gov) in the "Advisories" section.
The tool updates every minute using real time data generated by BART's internal maintenance system. When an escalator is taken out of service for any reason, the advisory will become active once a maintenance crew member enters the details into the system.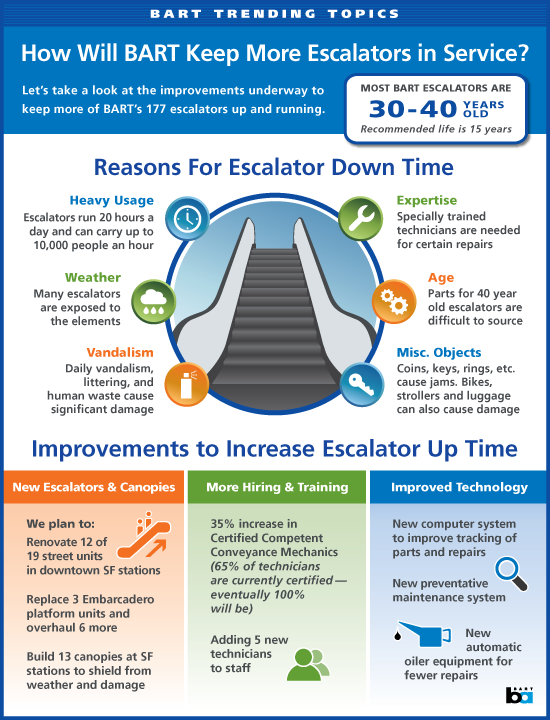 20. Q. Is there a Code of Conduct for riders?
A. In 2013, the Board of Directors approved a Customer Code of Conduct.
21. Q. I'm seeing people who look homeless on BART trains and in stations. What is BART doing about this?
A: There's a national homeless crisis that is having an impact on the entire Bay Area. By some estimates there are as many as 30,000 homeless people in our region and some of them are using the BART system for shelter. As a transit agency, BART has limited resources and our system is not a suitable shelter for homeless people. BART is committed to providing our riders with a safe and clean environment and a key part of that is developing a comprehensive strategy that includes connecting homeless people with support services.
BART is partnering with Muni and the City of San Francisco's Department of Homelessness to provide two full-time Homelessness Outreach Team (HOT) employees who are primarily focused on the Powell and Civic Center Stations. BART is also participating in the Law Enforcement Assisted Diversion (LEAD) program, which diverts low-level drug offenders who may also be struggling with being homeless from the criminal justice system to treatment programs.
The comprehensive plan also brings a renewed focus on improving the station environment. That includes hiring new station cleaners to focus on our busiest stations and increasing the visible employee presence. BART is adding more community service officers to disrupt drug injection sites as well as recruiting 36 additional police officers. BART is also positioning fully attended Pit Stop bathrooms above ground at major station entrances and exits in downtown San Francisco to provide safe and clean access to restrooms for the public.
You can learn more about BART's comprehensive approach to the issue of homelessness by visiting our social resources page.