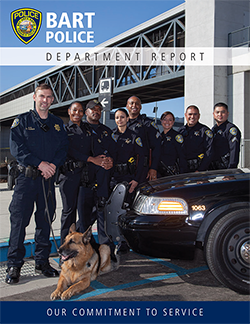 New! BART Police Department Releases Comprehensive Report
Find out lots of data about the BART PD, including crime statistics; the chain of command structure; demographic makeup of the department; and information about many of the available services.
It's all in one handy report that includes 24 pages chock-full of information.
You can learn about the history of the department; its jurisdiction; how the department is structured for geographic zoned policing; and find many examples of the community-oriented policing and problem-solving philosophy in practice.
Find out about the people of the BART PD and their commitment to protect and serve. Download the report now.

---
We're Hiring!
Check out our employment section or join us at an upcoming recruitment event (see calendar below)
---
BART Police Explorer Program
A unique oppportunity for youth
This program offers a unique opportunity for youth and young adults to volunteer with many communities within the four counties that the BART District serves. Explorers will perform a wide variety of non-enforcement duties to assist the BART Police Department, while being tutored for a career in law enforcement. Download the Explorer Interest Card (tri-fold brochure).pdf
---
Vision, Core Values and Mission
Vision Statement
To be the leader in innovative policing, establishing BART as the safest transit system in the nation.
Mission Statement
The mission of the BART Police Department is to ensure a safe environment within our transit system, reduce crime through a highly visible police presence, and proactive enforcement of the law, and to promote public confidence by working in partnership with our stakeholders and the communities we serve.
Core Values
Integrity We inspire trust and carry ourselves in a manner that demonstrates the highest levels of honesty, ethics, and moral conduct.
Service Placing service above self, we work in partnership with the community serving with pride, courage, and compassion.
Accountability We take ownership of our duties, remaining answerable to the public and accountable to the laws, rules, policies and procedures that govern and guide us.
Professionalism We are committed to conduct and performance reflective of the highest standard of personal and organizational excellence.
Diversity We acknowledge and embrace the diversity in our communities we serve and strive to ensure diversity is reflected in all levels of our organization.
---
Calendar of Events
2017
January
1/6/17 Oakland's Three Wiseman Toy Giveaway
We partner with other local community groups to donate 2000 toys to the low income children residing in the Fruitvale community.
1/28/17 Old Mans Park Homeless BBQ in Oakland
This event is a BBQ with free food, donated blankets, clothing and information on resources to the homeless and less fortunate.Thank you BPD staff for donating winter gloves, warm hats, and food for the event.
February
Valentine's Day Delivery to local Domestic Violence Shelters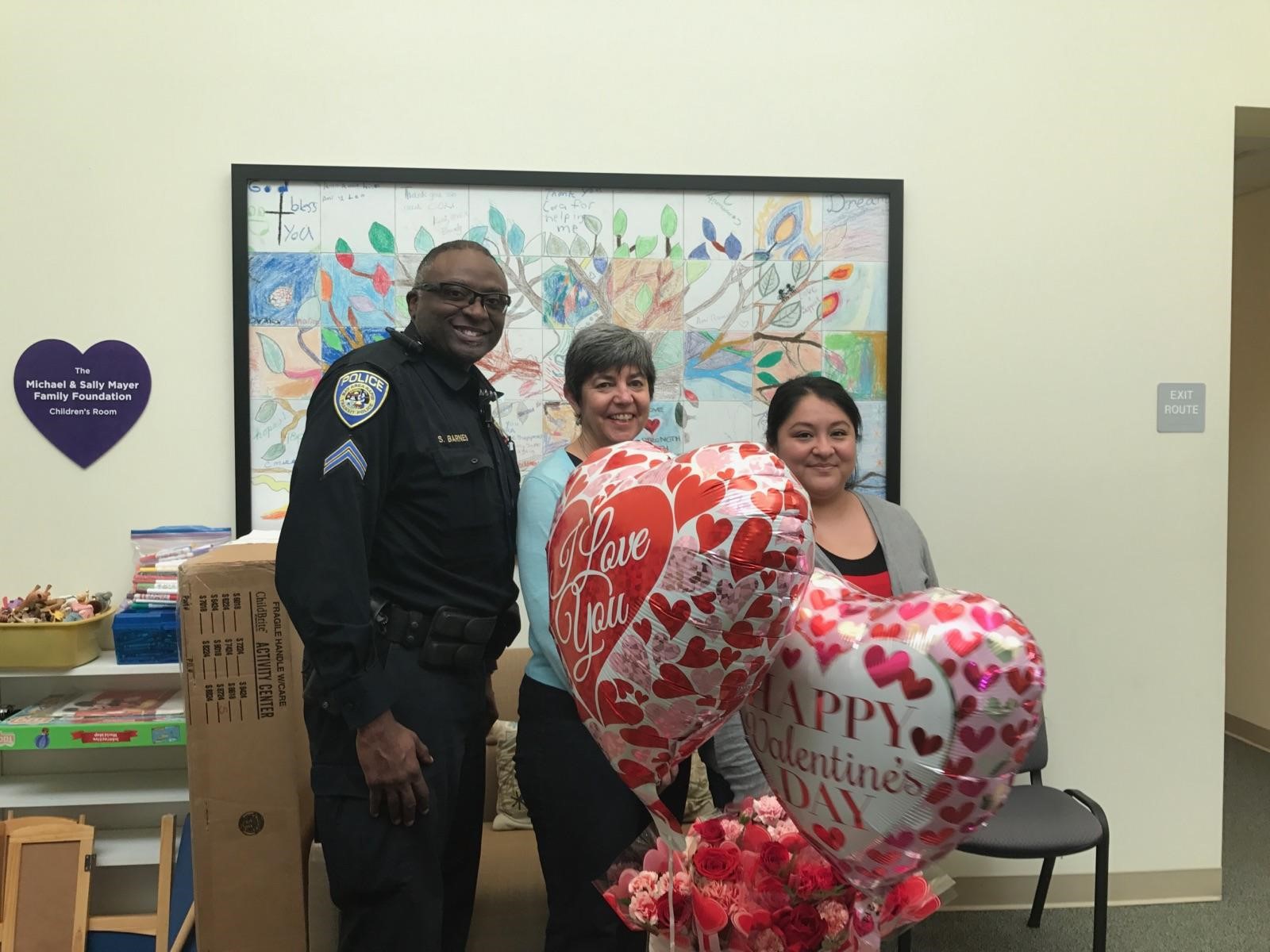 BART Police staff delivered baskets with personalized cards and gifts to local domestic violence programs in each of the different BART Police Zones. These shelters are currently helping 147 women and children.
Domestic violence occurs everywhere, even on the BART system. A high percentage of the prohibition orders we issue are related to domestic battery.
Zone 1: A Safe Place-Oakland www.asafeplacedvs.org
Zone 2: STAND! For Families Free of Violence www.standffov.org
Zone 3: Ruby's Place www.rubysplace.org/wp
Zone 4: La Casa de Las Madres www.lacasa.org
Zone 5: CORA Community Overcoming Relationship Abuse www.corasupport.org
Recruiting Event: 2/18/17 Black College Expo –Laney College
Recruiting Event: 2/22/17 Butte College Police Academy
March
Recruiting Event: 3/1/17 Sonoma State Career Fair – 11am-4pm
Recruiting Event: 3/3/17 UCSF Jobchella – 11:30am-2:30pm
Recruiting Event: 3/8/17 San Jose State 12:00pm-4pm
Recruiting Event: 3/16/17 CSU Bakersfield – 10am-2pm
Recruiting Event: 3/22/17 29 Palms Base – 9:30-1pm
Recruiting Event: 3/24/17 Women in Law Enforcement, Merritt College 9am-2pm
April
Recruiting Event: 4/5/17 Folsom Lake College Career Fair – Folsom
Recruiting Event: 4/26/17 Veterans Career Fair – SF Vet Memorial Bldg (tentative day) 10am-2pm
Recruiting Event: 4/28/17 Travis AFB Job Fair
May
Recruiting Event: 5/27/17 Rugged Maniac – Pleasanton
June
July
August
September
October
Trunk or Treat (Date and BART locations TBD)
This is a free event held at desiganted BART stations and is open to all children 12 years and under. All children must be accompanied by an adult. Trunk or Treat is much like classic trick or treating. Kids still dress up in a costume and ask for candy, but instead of walking from house to house and encountering strangers or dodging traffic at night, Trunk or Treaters are in a designated area collecting candy, playing games or getting their faces painted. All of these activities take place with their parents/guardians and police officers close by.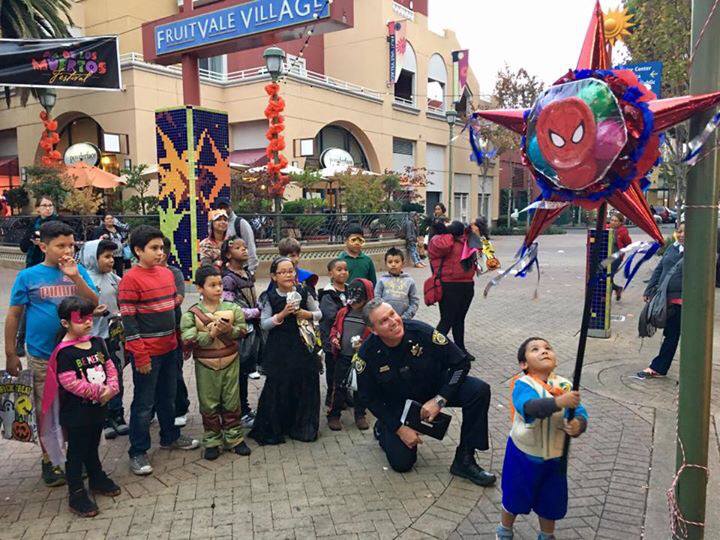 November
Black Friday Safety Awareness Events (BART stations TBD)
Tables will be set up with safety information, focusing on particular crimes that tend to increase during the holiday season, when travelers may be extra busy and distracted. Riders are reminded to stay aware of their surroundings at all times and to keep a close hold on their belongings. The stepped-up police presence will include safety escorts, with tasks such as accompanying shoppers who travel through the pedestrian walkway that connects the station to the nearby shopping center.
December
Shop with a Cop
Every year, toys and funds are donated to help kids choose toys for the holiday season with local BART police officers.