New! BART Police Department Releases Comprehensive Report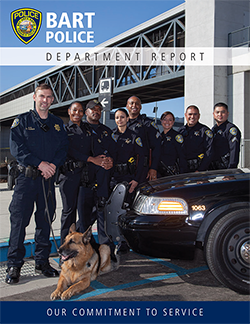 Find out lots of data about the BART PD, including crime statistics; the chain of command structure; demographic makeup of the department; and information about many of the available services.
It's all in one handy report that includes 24 pages chock-full of information.
You can learn about the history of the department; its jurisdiction; how the department is structured for geographic zoned policing; and find many examples of the community-oriented policing and problem-solving philosophy in practice.
Find out about the people of the BART PD and their commitment to protect and serve. Download the report now.

BART Police Explorer Program
A unique oppportunity for youth
This program offers a unique opportunity for youth and young adults to volunteer with many communities within the four counties that the BART District serves. Explorers will perform a wide variety of non-enforcement duties to assist the BART Police Department, while being tutored for a career in law enforcement. Download the Explorer Interest Card (tri-fold brochure).pdf
---
Vision, Core Values and Mission
Vision Statement
To be the leader in innovative policing, establishing BART as the safest transit system in the nation.
Mission Statement
The mission of the BART Police Department is to ensure a safe environment within our transit system, reduce crime through a highly visible police presence, and proactive enforcement of the law, and to promote public confidence by working in partnership with our stakeholders and the communities we serve.
Core Values
Integrity We inspire trust and carry ourselves in a manner that demonstrates the highest levels of honesty, ethics, and moral conduct.
Service Placing service above self, we work in partnership with the community serving with pride, courage, and compassion.
Accountability We take ownership of our duties, remaining answerable to the public and accountable to the laws, rules, policies and procedures that govern and guide us.
Professionalism We are committed to conduct and performance reflective of the highest standard of personal and organizational excellence.
Diversity We acknowledge and embrace the diversity in our communities we serve and strive to ensure diversity is reflected in all levels of our organization.