Also available: real time service advisories and real time elevator status.
The official BART app also offers escalator status updates www.bart.gov/apps
---
Escalators may be out of service for the following reasons:
Evaluating: The process of opening up an escalator and determining the extent of repairs needed to safely return the unit to service. After the evaluation, repair plans will be put in place factoring in needed parts, resources and impact to system.
Major Repair: Maintenance that will need immediate attention and will require significant down time is considered a major repair. This type of work is usually discovered by a significant failure or routine maintenance check.
Modernization: Replacement of escalators is required due to heavy usage over time; the parts become less reliable despite regular preventive maintenance. Escalators should be modernized every 20-25 years and replaced after 40-50 years. The modernization schedule can vary year-to-year based on the age and condition of units and available funding. Modernized escalators are typically out of service from 10-20 weeks, depending on the length of the escalator, as the old units are removed and new components installed. Modernized units are as much as 30% more energy efficient than the old units due to premium efficiency motors and adjustable frequency drives. Benefits from new technology in rehabilitated units will provide real-time data to monitor performance assisting in planning maintenance rather than reacting to outages. The end result is patrons get a more reliable escalator.
Planned Maintenance: Accomplishing identified maintenance that is required and planned at a time that will cause the least amount of impact to the system and patrons. Items have been identified and need to be corrected but will start when all parts, equipment and manpower is available to accomplish repairs with the intent to have minimal down time of the unit.
Preventative Maintenance: Monthly planned maintenance to accomplish routine tasks, items such as lubing components and servicing oil in gearboxes. Preventative Maintenance checks are accomplish during non-commute periods and unless a major issue is identified return to service the same day. These monthly tasks help the reliability of the units and identify issues in order to schedule maintenance that will limit disruption to the patrons.
Repair: Maintenance that will require out of service time to accomplish. This type of repair will normally take less time than a major repair to accomplish and return the unit back to service. Based on the scope of work, the repair work will be accomplished during non-peak hours to minimize service disruptions.
Safety Inspection: State codes mandate annual inspections accomplished on all escalators to assure that units are operating safely. If discrepancies are discovered during these inspections the units are immediately taken out service until repairs are completed. A safety inspection is conducted by a state licensed technician on any unit that is involved in a patron incident. A unit involved in such an incident will have a safety inspection and any identified repairs completed before it is returned to revenue service.
Scheduled Support: Escalator taken out of service to support other maintenance activity in the station. Examples include repairs to station lighting and platform tiles.
---
BART launches Escalator Modernization Program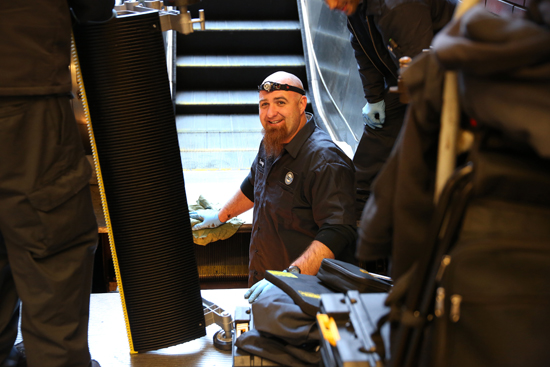 Systemwide, BART has 175 escalators, most of which have been in operation for over 40 years.
BART is in the beginning stages of the first major escalator overhaul in nearly 20 years. It involves units being renovated or replaced, beginning with the system's busiest stations.
In 2017, BART began work to overhaul 12 of the worst performing escalators in San Francisco, located at Embarcadero, Montgomery, 16th and 24th Mission stations. This extensive work involves a complete rebuild of the electrical system and takes each unit out of service for multiple months. This repair work is expected to be complete by 2020 and will result in more reliable escalators and access.
Measure RR bond funds allow us to expand our escalator modernization program, focusing on escalators between Embarcadero and Civic Center Stations as the first phase. It has an estimated cost of $164 million and is focused on 41 escalators at the four downtown stations. We anticipate replacing six escalators each year once the contract has been awarded.
Phase Two of the Measure RR funded escalator overhaul program will involve 38 escalators at downtown Oakland's 12th St. and 19th St. Stations, and at San Francisco's 16th/Mission St. and 24th/Mission St. Stations. Future phases will involve the remaining 96 escalators.
We understand the major disruption caused by our escalators being taken out of service, but please understand these units have been heavily used for decades for up to 20 hours a day year round. The wear and tear necessitates that they be upgraded and replaced.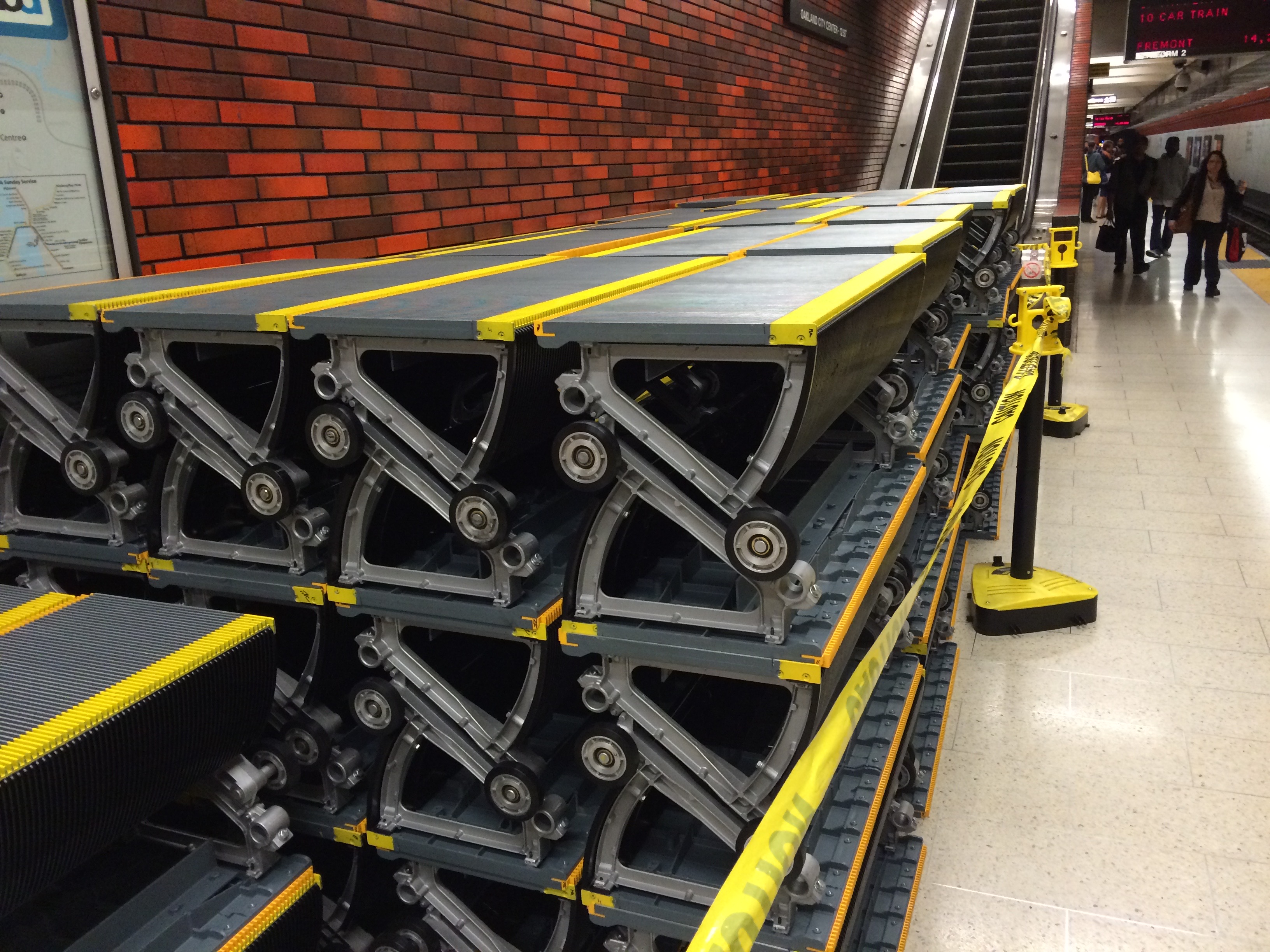 Protective Canopy Project
The Escalator Modernization Program is taking place in conjunction with the construction of 22 Measure RR funded protective canopies over street level entrances for the Embarcadero, Montgomery, Powell and Civic Center Stations. Once the contract is awarded in early 2019, we anticipate building six canopies per year.
Two pilot canopies (one at Powell Station and one at Civic Center Station) opened in Fall 2018. The canopies are a state code requirement for new escalator investments.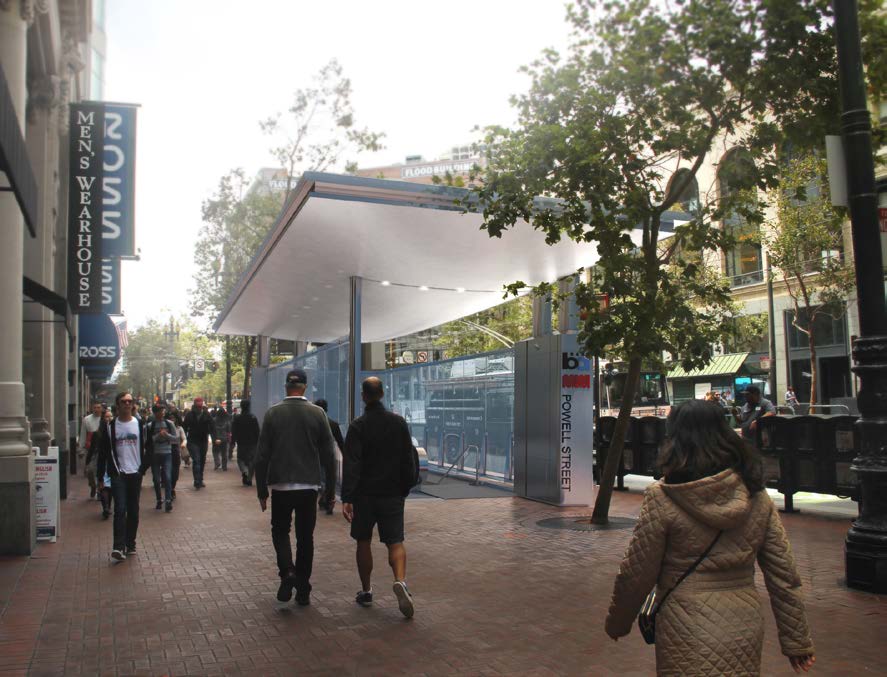 They will not only protect the new escalators from the wear-and-tear of elements like rain and wind-swept debris, but they will provide an added layer of station security and cleanliness through motorized gates that allow the entrances to be locked at street level when stations are closed.
We have learned from the 19th St. Station Canopy Project in Oakland, completed in 2015, that the added protection has reduced escalator down time by about 30%, so significant improvement is anticipated for escalator performance in downtown San Francisco when the Canopy/Escalator Replacement Project are completed. All of the canopies are scheduled to be up by 2025.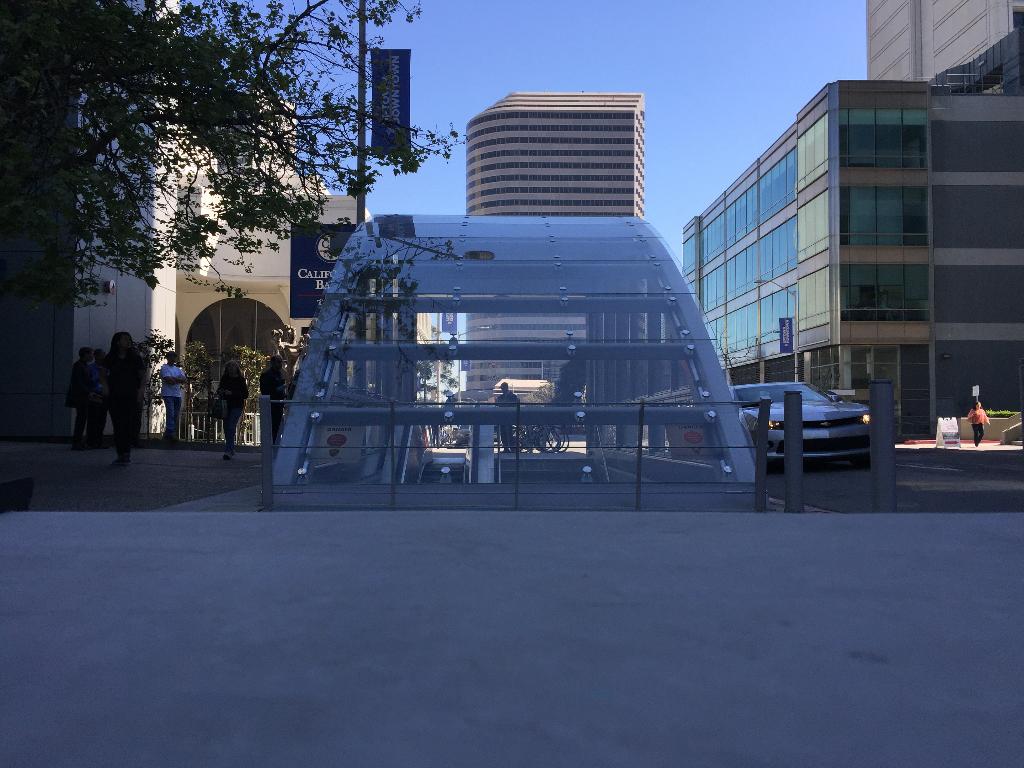 Read the detailed presentation given to the BART Board of Directors in November 2017 highlighting our escalator and canopy program.
Watch this video that shows what it takes to fix the BART escalators used by tens of thousands of people every day: