Fleet of the Future
|
New Train Cars
MEET THE FLEET: AN IN-DEPTH LOOK AT NEW CAR FEATURES
Check out recent articles on the Fleet of the Future:
New BART wheel tech shushes screeching rails
Onsite testing begins for BART's first new train car
Meet the Fleet: BART's new car arrives
Meet the Fleet: Three doors on new train cars to reduce noise, improve reliability, increase capacity
Meet the Fleet: Passenger information systems get a big upgrade on new trains
Meet the Fleet: Improved climate control highly anticipated on new trains
Meet the Fleet: Behind the scenes, BART's new train cars undergo extensive testing for safety, reliability
Meet the Fleet: New train car gets ready to head West
Meet the Fleet: All about the seats, a firsthand report
TEST TRAIN OPEN HOUSE SURVEY RESULTS
Below are preliminary rider survey results from BART's recent open house events.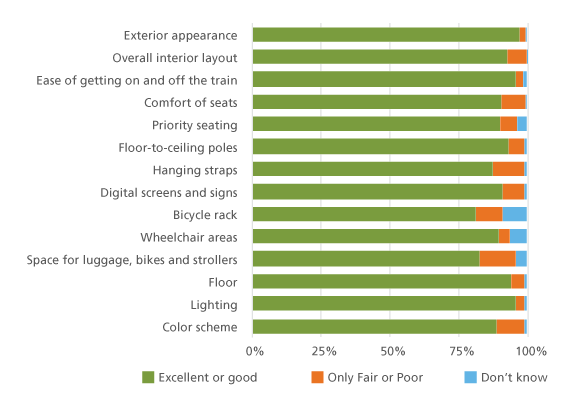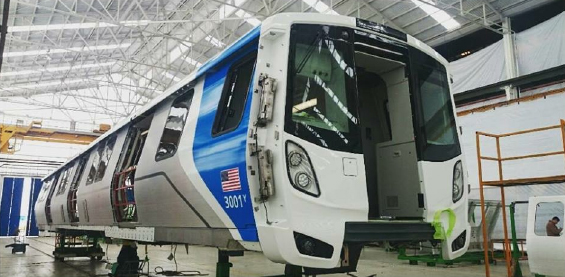 ---
BART began service over 40 years ago. The original BART cars are near the end of their useful lives and need to be replaced.
Bombardier Transit Corporation will build BART's Fleet of the Future. A complex supply chain and assembly process, followed by rigorous testing, will result in the first new train cars going into service 2017.
Over 35,000 customers participated in outreach events during the design phase. Based on their input, the new cars will be:
Quieter: micro-plug doors will help seal out noise and a new tapered wheel shape will provide a quieter ride
Cooler: cooling systems will distribute air directly from the ceilings, making it more comfortable for standees on hot days
Comfortable: padded seats will be covered with wipeable fabric for ease of cleaning
Easy to use: routes will be color coded like the BART system map, and next stop information will be readily available via automated announcements and digital screens.
BART's goal is to order 1,081 new train cars, increasing the number of seats in the fleet by 49%.
For more information, click on a topic you'd like to read more about:
Sign up for updates
on the new train car project to get the latest Fleet of the Future news and to be notified when the first new train cars arrive.