Fleet of the Future | New Train Car Model Is Coming!
Please Join Us. Over 17,000 customers have provided BART with valuable feedback on the design of the new train cars via email, surveys, and public events. We are pleased to bring you another opportunity to check out the Fleet of the Future design. New train car builder Bombardier Transportation has built a life-sized model of the interior and exterior of approximately half of a train car for public viewing. BART would like you to walk through and tell us what you think. Your observations will help define the BART experience for years to come. See the event calendar below.
PDF invitation | Sign up for project alerts
单击此处获取中文信息
한국어 안내는 여기를 클릭하십시오
Haga clic aquí para información en español
Bấm vào đây để biết chi tiết bằng tiếng Việt
---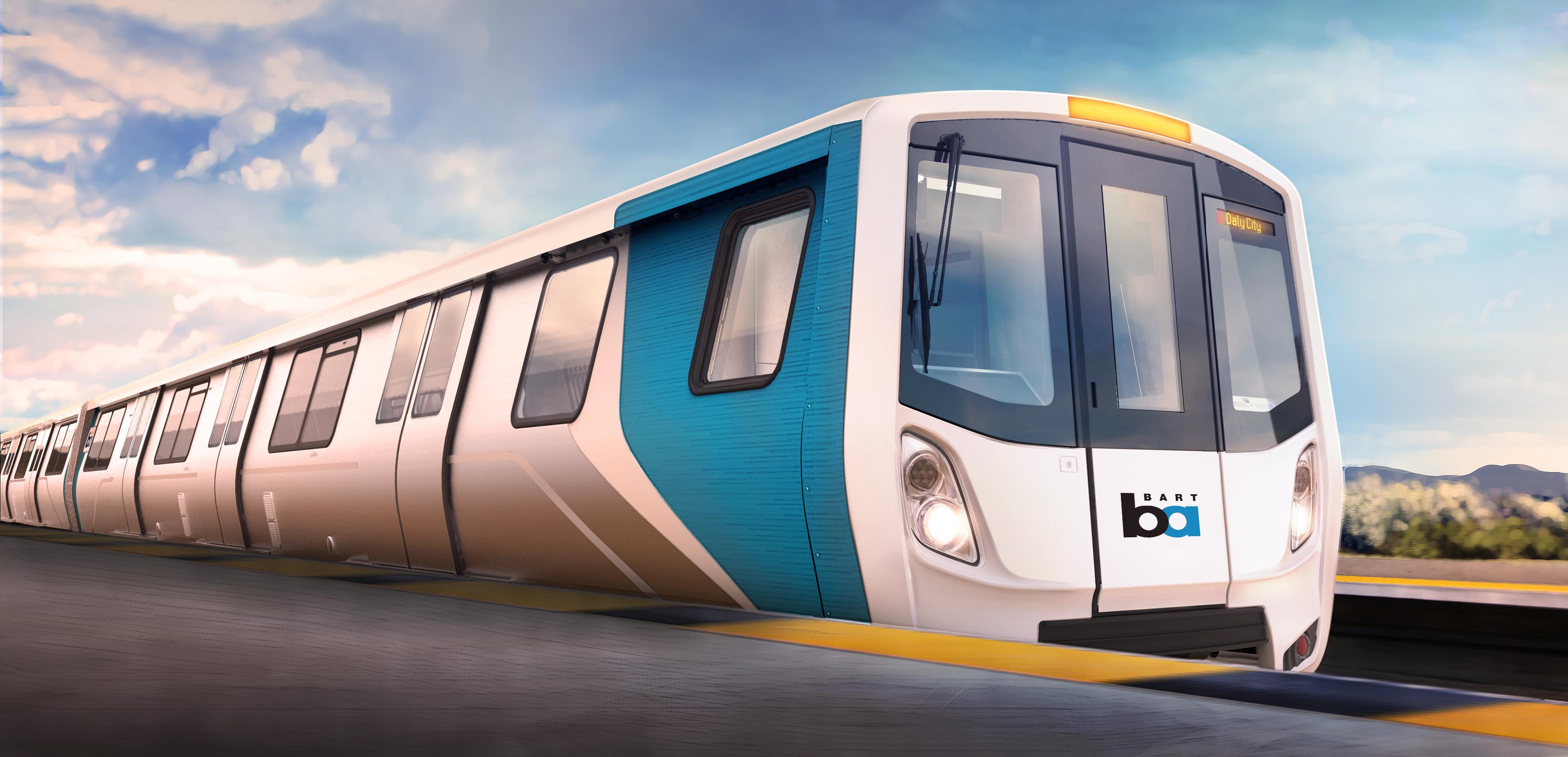 April
Monday
Tuesday
Wednesday
Thursday
Friday

14

15

16

Justin Herman Plaza @ BlueSky Festival
San Francisco
Grand Unveiling
11:00am
Open House
11:30am–7:00pm

17

18

West Oakland Station
2:00–7:00pm

21

Fremont Station
2:00–7:00pm

22

23

Pittsburg/
Bay Point Station
2:00–7:00pm

24

25

Civic Center Plaza
(Fulton Street)
San Francisco
11:00–7:00pm

28

29

North Berkeley Station
2:00–7:00pm

30

31
May
Monday
Tuesday
Wednesday
Thursday
Friday

1

2

Milpitas/San Jose
Great Mall Main Transit Center
2:00–7:00pm

5

Dublin/
Pleasanton Station
2:00–7:00pm

6

7

Fruitvale Station
2:00–7:00pm

8

9

Concord Station
2:00–7:00pm
Accessibility. All events will have a wheelchair lift (weight limit 750lbs.), except North Berkeley, which will have a ramp. If you need language assistance services, please call (510) 464-6752 at least 72 hours prior to the date of the event.
---
BART's Fleet of the Future
BART began service over 40 years ago. The original BART cars are near the end of their useful lives and need to be replaced.
Bombardier Transit Corporation will build BART's Fleet of the Future. A complex supply chain and assembly process, followed by rigorous testing, will result in the first new train cars going into service in 2017.
Over 17,000 customers provided input on the new cars during the design phase. Based on this input, the new cars will be:
Quieter: "micro-plug" doors will help seal out noise
Cooler: cooling systems will distribute air directly to the ceilings, making it more comfortable for standees on hot days
Comfortable: padded seats will be covered with wipeable fabric for ease of cleaning
Easy to use: routes will be color coded like the BART system map, and next stop information will be readily available via automated announcements and digital screens.
BART's goal is to order 1,000 new train cars, increasing the number of seats in the fleet by approximately 40%.
For more information, click on a topic you'd like to read more about:
Sign up for updates
on the new train car project to get the latest Fleet of the Future news and to be invited to walk through the final model of a new train car.