Help Us Keep BART Safe and Secure
Safety and security are a primary focus at BART -- we work hard every day to ensure your ride is trouble-free. We constantly upgrade and improve our security measures while still delivering the fast, efficient service you expect.
Everyone agrees that it is not possible to check every person who enters the system -- imagine having to show up at a station an hour before your train.
But that doesn't mean we are not taking steps to keep you safe. Since 9/11, all BART frontline employees have received extensive training on how to react to emergencies. And new information is shared with them on a regular basis.
BART Police have increased patrols inside stations and on trains. There have been many other steps taken to secure the BART system that you can't see including things like new alarms, increased video surveillance and other intrusion prevention. In addition, BART is working with many outside agencies on security drills and the latest detection devices for various chemical or biological agents.
But we can't do it on our own. There are just a few hundred BART frontline employees and over 300,000 passengers on weekdays.
Because it's not practical for BART to check every passenger and bag entering the system, it is vital that we rely on our passengers to be our "eyes and ears."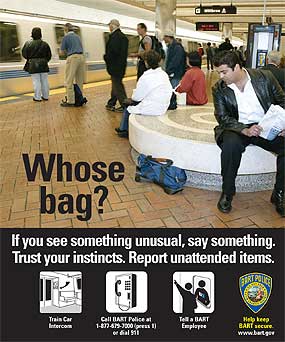 A Guide to Passenger Safety
If you commute on BART, you are probably more familiar with your particular stations and fellow commuters than anyone else, including BART employees. You are the best person to spot when something looks unusual or suspicious.
We are asking you to help keep BART safe for everyone by reporting unattended packages or suspicious behavior. What do we mean by suspicious behavior? Here are some examples:
Acting nervous, sweating inappropriately.
Taking pictures or videotaping in areas of no interest to the general public.
Attempting to get into an area that is off limits.
Leaving a package, backpack or briefcase and hurrying away from the area.
Report any unattended items to a BART employee. Here are some points to be aware of when observing a suspicious package:
Is it out of the way or hidden;
Was it abandoned by someone who quickly left;
Does it have lumps, bulges or protrusions like wires, tanks or bottles;
Is it surrounded by clouds, mists, gases, vapors or odors;
Does it have a threatening message attached to the outside?
What should you do when you observe something out of the ordinary? Report it to a BART employee.
If you are in a station:
Notify the Station Agent or a BART Police Officer or
Use a white courtesy phone located on the platform to contact a Station Agent or
Use a payphone to call BART Police at 1-877-679-7000 or dial 911.
If you use a cellphone to make your report, move away from the suspicious object or person first.
If you are on a train:
Use the intercom located at the end of the car to call the Train Operator or
Move away from the item/person and use your cell phone to call BART police at 1-877-679-7000. If you dial 911 on your cell phone, you will likely be transferred to the California Highway Patrol dispatch which may delay response to your report. Also, remember that most cell phones will not work inside BART's tunnels.
When you make your report, it will be useful for you to note the following:
Be prepared to give a description of the suspicious item or person.
Describe the exact location as best as you can. For example, each BART train car has an individual number—you can locate that number above the doors at either end of the car. In stations, the platforms have numbers as well—look at the electronic message signs that display train arrival information—the platform number is noted on the sign.
If you are able to, and it is safe, stay in the area so you can answer questions from the responding officers.
Thank you for helping to keep BART safe and secure.