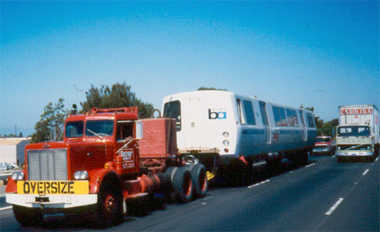 A BART train car being delivered by truck.
BART has 669 revenue vehicles comprised of 59 A2 cars, 380 B2 cars, 150 C1 cars and 80 C2 cars in the fleet.
A2 Cars
A2 cars can only operate as lead or trail cars in a train consist. A2 cars have an operator's cab, automatic train operating equipment, and two-way communications system. The A2 car seats 60 customers comfortably and can carry over 200 customers in a crush load.
B2 Cars
B2 cars can only operate in the middle of a train consist; they do not have a cab nor do they control the operation of the train. They can, however, carry the same customer load as an A2 car.
C1 Cars
C1 cars can operate as either lead, trail or in the middle of a train consist. They are equipped with an operator's compartment, automatic train control equipment and a communications system. C1 cars give BART flexibility to change train size without rerouting to a storage yard. Seating capacity is 56, but can carry over 200 customers in a crush load.
C2 Cars
C2 cars are nearly identical to C1 cars. Seating capacity is 56, but can carry over 200 customers in a crush load.


The number and kinds of cars that constitute a train varies, but an A2 or C1 or C2 car must be at each end of the train to provide the necessary automatic control equipment. The smallest BART trains are three cars long, while the longest are ten. At BART, a train is sometimes called a "consist", and the two terms are used interchangeably.
All cars receive 1000 volts of DC power from the third rail through "collector shoes". Each car has four shoes – two on each side near the front and rear wheels. The collector shoe protrudes from the car side and slides along the third rail. Since the four shoes are electrically connected, if one shoe is touching the third rail, then the other three shoes are powered too. Extreme caution around shoes is recommended.
Access to the underside of the cars is difficult because of tight clearance between the equipment and the running rails. The electrical hazard posed by the third rail and collector shoes also make entry to the underside inadvisable. Located under each car are the air conditioning equipment and ducting, motor alternator or static inverter, auxiliary electrical box, battery box, motor control box, and semiconductor box.
Exterior
Brushed aluminum finish with blue striping and BART insignia.
Floors
Floor covering is an attractive, clean and durable hard surface material. Aisles are 30-inches wide.
Seats
Seats are cantilevered to offer maximum leg and luggage space, and to provide for ease of maintenance. Seat cushions are made of fire-resistant, low-smoke neoprene with covers made of 90 percent wool and 10 percent nylon.
Windows
Windows provide a panoramic view, and are tinted and heat reflecting. The operator cab windshield is a high-impact glass similar to that used on commercial aircraft.
Propulsion, Brakes and Auxiliary Power Systems
Propulsion is provided by four 150-HP, air-cooled, electric traction motors - one per axle. Tractive energy is furnished via the third rail operating at 1000 volts DC. In brake mode, the cars are designed to regenerate energy to the third rail. Mechanical brakes operate via a hydraulic disc brake system operating on each axle and are automatically blended with the electric brake system. Each car is equipped with an auxiliary electrical system operating at 120/208 VAC 60 Hz. Battery and battery chargers provide emergency power for lights, communication, and control equipment.
Communication
VHF two-way radios located in cab cars allow communication to BART Central Control. Announcements to cars can be made by BART headquarters or the train operator. Intercoms to allow customers to call the operator are located at each end of the car and labeled "attendant call" (A2 and B2 car) or "Operator" (C1 car).