Downtown Berkeley Bike Station Relocation (short-term closure)
The Downtown Berkeley Bike Station will be moving in October from its current home at 2208 Shattuck to a new facility at 2025 Center Street. The facility was constructed by the City of Berkeley as part of the new Center Street garage and will provide a long-term home for both the Bike Station valet and self-park BikeLink facilities.
The 2208 Shattuck location will close on October 25. We hope to be open at 2025 Center Street within a week. During the closure, please use the racks on the concourse level of the Downtown Berkeley BART Station, the BikeLink Bike Station at Ashby BART or the BikeLink lockers at North Berkeley BART. Sorry for any inconvenience but this move will assure the long-term viability of the Bike Station in downtown.
Taking Bikes on BART Trains
Please observe all bike rules if you plan on taking a bike on a train. Although bikes are allowed on all trains at all times, there are some important exceptions:
Bikes are never allowed on crowded cars (there must be enough room to comfortably accommodate you and your bicycle)
Bikes are never allowed on the first car of any train
Bikes are not allowed in the first three cars during commute hours (7:00 to 9:00 AM and 4:30 to 6:30 PM)
Bikes are not allowed on escalators. Bicyclists must yield to other passengers and not block aisles or doors. If you are taking your bike on BART, it's your responsibility to know and follow all bike rules please read them.
Bikes at BART Basics
More BART riders are biking to and from stations every day. It's a healthy alternative and like walking it's easy on the environment. Almost all BART stations have bike racks, most BART stations have bike lockers and four BART stations now have Bike Stations. Details are included below and on each station page on bart.gov.
If you are leaving your bike at a BART station make sure it is locked well. Whether you're taking your bike on board or parking it at a station, make sure you record your bike's serial number along with a description of the bike. This will greatly increase your chance of recovery if it is stolen. Also check out the San Francisco Bike Coaltion's excellent video on how to lock your bike properly.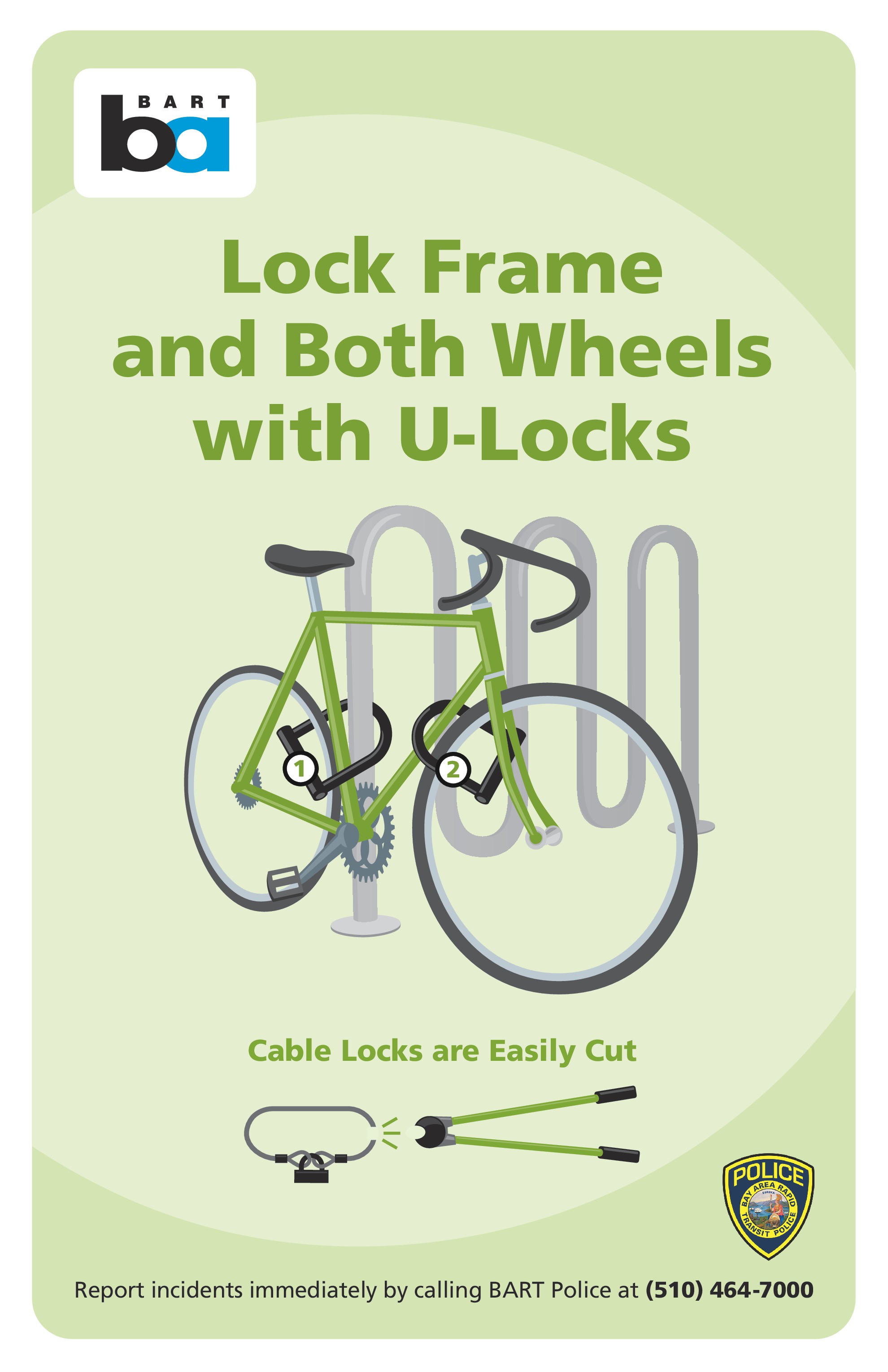 High-Security Bike Rack
BART is piloting a new high security bike rack system at two stations, 16th Street Mission and Pleasant Hill. The racks are manufactured by Bikeep and provide a significantly stronger deterrent to theft compared with traditional U locks.
Usage is free
Racks are available on a first come basis.
Continuous parking is limited to 24 hours
This is a smart rack system and will require a quick on line registration (30 seconds).
Racks are activated (i.e. locked and unlocked) by tapping your registered Clipper Card.
Here's a short video on how they work.
Bike Lockers
Two types of lockers are available to store bicycles, mopeds or wheelchairs: on-demand BikeLink lockers and single user keyed lockers.
On-demand BikeLink lockers are for shared use and are available on a first-come, first-served basis. To use an electronic locker at any BART station you'll need a BikeLink Card. Additional information on how to use the lockers can be found at bikelink.org. On-demand lockers are located at the following stations:
| | | |
| --- | --- | --- |
| 12th Street Oakland: 12 | El Cerrito Plaza: 112 | Pleasant Hill: 136 |
| 19th Street Oakland: 8 | Fremont: 88 | Richmond: 32 |
| Ashby: 40 | Fruitvale: 28 | Rockridge: 72 |
| Balboa Park: 12 | Glen Park: 12 | San Bruno: 12 |
| Bay Fair: 20 | Hayward: 32 | San Leandro: 76 |
| Castro Valley: 32 | Lafayette: 32 | South San Francisco: 8 |
| Coliseum: 16 | Lake Merritt: 84 | South Hayward: 16 |
| Colma: 8 | MacArthur: 40 | Walnut Creek: 72 |
| Concord: 40 | Millbrae: 32 | Warm Springs: 56 |
| Daly City: 24 | North Berkeley: 96 | West Dublin: 16 |
| Dublin/Pleasanton: 68 | North Concord: 16 | West Oakland: 136 |
| El Cerrito Del Norte: 44 | Orinda: 36 | Union City: 64 |
| Warm Springs: 48 | Pittsburg/Bay Point: 12 | Antioch: 12 |
The electronic bicycle lockers provide on-demand bike parking. Purchase a BikeLink smart card online or at a convenient vendor location. Ride up to an available locker and insert your smart card into the card slot. Follow on-screen directions to put time on the meter. The cost, 3 to 5 cents an hour depending on occupancy levels at the station, is automatically deducted from your smart card. Park your bike inside, close the door, and your bike remains secure. When you return to retrieve your bike, just insert your smart card into the slot to open the door. Unused time and value are automatically refunded back to the card. Learn more about how to use electronic bicycle lockers or review a list of frequently asked questions on the BikeLink website.
Single User Keyed lockers are for individual use and require a rental agreement. Note that some stations have wait lists. Please contact (510) 464-7133 for locker availability. Download the application/rental agreement (.pdf). Keyed lockers are located at the following stations:
Ashby: 24
Castro Valley: 20
Colma: 23
Concord: 11
Dublin/Pleasanton: 23
Glen Park: 12
Lafayette: 30
Millbrae: 46
North Concord: 16
Pittsburg BayPoint: 20
Pleasant Hill: 22
Richmond: 2
San Bruno: 30
San Leandro: 12
South Hayward: 28
South San Francisco: 30
Union City 20
BART Bike Stations
Store your bike in a secure area while you work, play or shop on BART. BART operates attended and self-park bike stations at the locations listed directly below. Additional operational details can be found here.
19th St. Oakland
Located at 1775 Broadway (corner of 19th and Broadway) just steps from BART. Features free attended parking and full service bike-repair shop.
Ashby
Located just outside the main entrance to the station on the lower (West) side of the station. This is a self-park facility and requires a BikeLink Card for access.
Downtown Berkeley
Located at 2208 Shattuck Avenue, just steps from the BART entrance at Allston Way and Shattuck Avenue. Downtown Berkeley includes two adjacent facilities, providing both free attended parking and 24/7 self-park BikeLInk parking in addition to a full service bike-repair shop.
Civic Center
Located on the concourse level of the Civic Center BART Station toward the 7th Street end of the station. This is a self-park facility and requires a BikeLink Card for access.
Embarcadero BART
Located on the concourse level of the Embarcadero BART Station near the Davis Street entrance. This is a self-park facility and requires a BikeLink Card for access.
Fruitvale
Located in Fruitvale Village, adjacent to the Fruitvale BART Station. It features free attended parking and full service bike-repair shop.
Pleasant Hill/Contra Costa Centre
Located at 7011 Sunne Ln just steps from the BART station entrance. This facility features secure self-park parking with a BikeLink Card and a full service bike-repair shop.
Bike-Space Straps Trial
Click here to provide comments on the Bike Space straps.
Haga clic aquí para hacer sus comentarios acerca de las correas para el Bike Space.
點擊此處提供您對自行車固定帶的評價。
Abandoned Bicycles—Removal Policy
The intent of the abandoned bike removal policy is to ensure that parking areas remain available for the parking of bicycles that are being actively used by BART riders. Bicycles which appear to be abandoned on BART property as evidenced by signs of disuse or neglect will be impounded.
A bicycle can appear abandoned for the following types of reasons:
Non-working condition as evidenced by uninflated tires, bent wheels, broken frame, chain off or missing essential parts
Bicycle covered with dust, rust, cobwebs, etc.
Bicycle observed as unused over prolonged period
When a bicycle appears to be abandoned, a 72 hour notice will be placed on the bicycle. If the bicycle is not removed within 72 hours, it will be impounded.
Impounded bikes will be stored for only 90 days. If you believe your bike has been impounded contact BART Lost and Found (510 464-7090 or http://www.bart.gov/lostandfound) with the serial number, registration, receipt, photograph or detailed description of the bike.
2012 BART Bicycle Plan
The BART Bicycle Plan and Appendices outline specific strategies to implement over the next ten years to make it easier to use a bicycle to get to and from BART. The plan's goal is to double the percentage of passengers who access BART by bicycle from approximately 4% to 8% by 2022. The strategies within the plan are organized into five areas: cyclist circulation, plentiful parking, beyond BART boundaries, bikes on BART and persuasive programs. The plan also includes a model that can be used to predict the benefit of different types of bike access improvements. For a copy of the model, contact Steve Beroldo at sberold@bart.gov.
2017 Bike Program Capital Plan
The Bike Program Capital Plan includes conceptual plans for additional secure bike parking to meet projected 2022 demand. It also describes an effort to link BART's eLockers to the internet for operation with Clipper (among other benefits), an analysis of where bicycle stair channel are needed, and a prioritized list of fare gate arrays that would benefit from additional wide/accessible fare gates.
Questions about the plans can be directed to Steve Beroldo, sberold@bart.gov.
Caltrans Peak Period Bike Shuttle
During peak periods as an alternative to bringing your bike on BART, Caltrans operates a bike shuttle between MacArthur BART and downtown San Francisco (corner of Folsom and Main Street). For the schedule and additional information visit: http://www.dot.ca.gov/dist4/shuttle.htm
Scooters and Mopeds
BART does not permit scooters or mopeds on trains. The California Vehicle Code (under section 21113) prohibits the circulation of all vehicles on rapid transit district grounds, except where the District has given permission. Electric scooters and mopeds are classified as vehicles, not bicycles. Under Vehicle Code section 670, a "vehicle" is "any device by which any person or property may be propelled, moved, or drawn on a highway, excepting a device moved by human power."
Individuals bringing a scooter or moped on a BART train may be cited for an infraction, as violating section 21113 of the Vehicle Code.
Photo credit: Photos of bikes on this page by Thomas Hawk.