Airport Connections Guide
Whether you're arriving or departing from San Francisco International Airport (SFO) or Oakland International Airport (OAK), BART is a fast, convenient way to go. It also costs less than shuttles, taxis, rental cars or driving and parking. If you're visiting, picking up visitors or going on a trip, take BART to avoid traffic and save time. Plus, it's better for the environment. Arrive rested and ready—take BART… and you're there!
San Francisco International Airport (SFO):
My flight arrives at SFO
My flight departs from SFO
New! Buy your BART SFO Ticket Voucher in advance! (Only for arriving passengers)
Oakland International Airport (OAK):
My flight arrives at OAK
My flight departs from OAK
Kids Ride Free to Oakland Airport for the Holidays
Download your Kids Ride Free to Oakland Airport for the Holidays flash pass here.
Kids Ride Free to OAK details:
Children 12 and under
Flash passes valid December 19, 2014-January 4, 2015
Maximum of 2 children accompanied by an adult with paid BART ticket or Clipper card
Each child must have their own flash pass to enter
Entry for trip to OAK on BART can be from any station with RED flash pass. Exit is limited to the Coliseum station OAK platform only for travel to OAK
Return trip must originate from the OAK platform of Coliseum Station (Platform 3) for exit at any BART station
Return GREEN pass to be issued from the Station Agent booth at the Coliseum OAK platform (Platform 3)
Thank you for riding BART to OAK for the holidays!
New BART service to OAK—Now Open!
It's fast, it's frequent, it's convenient, and it's open. BART's new service to OAK provides an easy connection to Oakland International Airport.
Take the sleek, automated people movers from the Coliseum station or Oakland International Airport for a quick eight-minute ride that glides above traffic.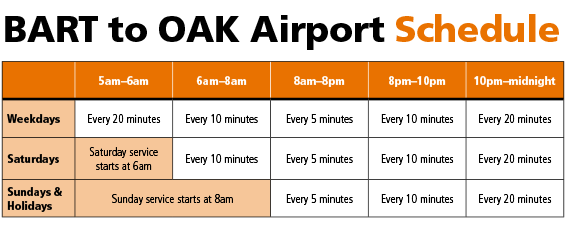 Location: The Oakland Airport BART station is located just across from the Terminal 1 baggage claim area and a short walk from Terminal 2.
Get more information about using BART to OAK here for arriving flights, and here for departing flights.
Or check out these "How-to" videos: If your flight is arriving at OAK or if you're departing from OAK.
Note: with BART service to OAK now open, AirBART bus service has been discontinued.