Sustainability Policy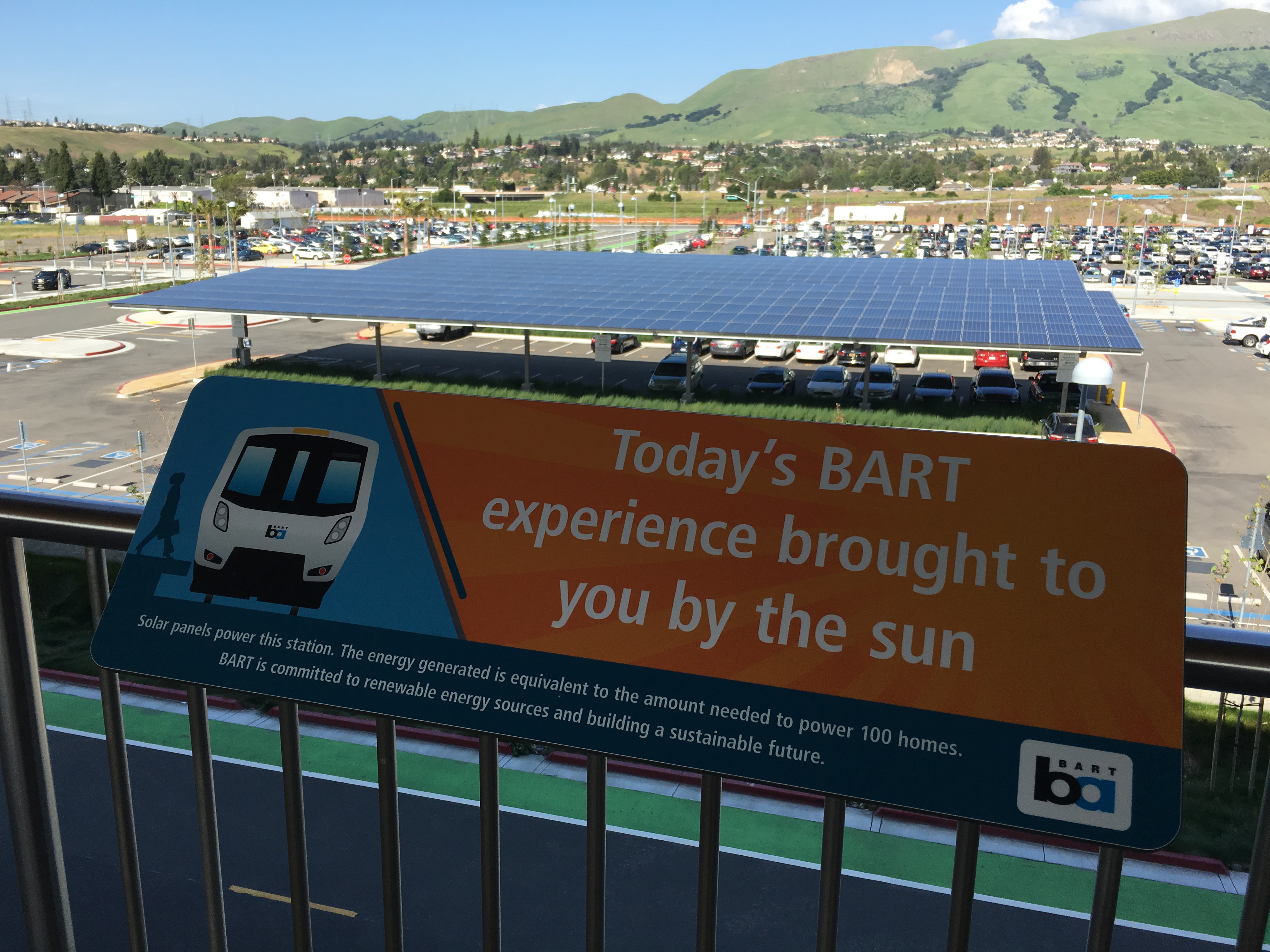 BART's 2015 Strategic Plan (pdf) identifies several key goals of the District. One of these goals is to advance regional sustainability and public health outcomes. In April 2017, BART's Board of Directors adopted a revised Sustainability Policy.
Vision: BART is committed to advancing regional sustainability by providing safe, affordable, equitable, and environmentally-friendly transit to move people to jobs, recreation and services. BART incorporates cost-effective sustainability through fulfillment of the following goals:
Advance smart land use, livable neighborhoods and sustainable access to transit.
Choose sustainable materials, construction methods, and operations practices.
Use energy, water, and other resources efficiently.
Reduce harmful emissions and waste generation.
Respond to risks from extreme weather, earthquakes, and other potential disruptions.
Improve patron and employee health and experience.
Serve as a leader in sustainability for transit agencies and the communities that BART serves.
More details on the goals and strategies can be found in the BART Sustainability Policy (pdf).
---
Wholesale Electricity Portfolio Policy
BART is one of the largest consumers of electric power in Northern California, using about 400,000 megawatt hours of electricity annually. This is about as much as the City of Alameda uses each year. The composition of BART's power portfolio impacts the greenhouse gas ("GHG") footprint of everyone who relies upon BART. By adopting the Wholesale Electricity Portfolio Policy, BART is strengthening the region's commitment to sustainability.
Vision: BART plays a critical role in affecting the environmental footprint of the Bay Area's overall transportation sector, by providing an alternative to driving that is affordable, accessible, convenient and environmentally-friendly. BART has wide latitude in designing its wholesale electricity portfolio, and has a responsibility to manage its electricity purchases to advance sustainability goals while supporting low and stable operating costs. This BART Wholesale Electricity Portfolio Policy is designed to guide BART's electric portfolio design activities to support these goals and maintain BART's role as a transit leader.
Highlights of the policy include performance measures to maintain low and stable BART operating costs, and to achieve a wholesale electric portfolio that:
Has an average emission factor no greater than 100 lbs-CO2e/MWh during the period 2017 through 2024 (inclusive).
Is from at least 50% Eligible Renewable sources and from at least 90% low and zero carbon sources by 2025.
Is 100% from zero carbon sources by 2035.
Is 100% from Eligible Renewable sources by 2045.
More details on the goals and performance measures can be found in the BART Wholesale Electricity Portfolio Policy (pdf).
To support the Wholesale Electricity Portfolio Policy, on May 8, 2017, BART launched a Renewable Energy Request for Proposals ("RFP"). Additional information can be found on the 2017 Renewable Energy RFP page.