Mission Statement
It is OIPA's mission to provide all members of the public with effective and independent oversight of the BART Police Department by conducting unbiased and thorough independent investigations and reviews of police department investigations, making policy recommendations to improve the performance of the police department, and maintaining continual communication with members of the public in the BART service area.

Duties
As defined by the BART Citizen Oversight Model (available below) adopted by the BART Board of Directors, OIPA is charged with a number of specific duties. Among them are the following:
Accept complaints of misconduct against BART police officers
Investigate complaints filed with this office that involve allegations of unnecessary or excessive use of force, racial profiling, sexual orientation bias, sexual harassment, the use of deadly force, and suspicious and wrongful deaths
Review Internal Affairs investigations conducted by the BART Police Department, including those cases where the complainant has sought to appeal the findings issued by Internal Affairs
Develop an alternative dispute resolution process for resolving some complaints
Respond to the scene of officer-involved shooting incidents and monitor the ensuing BART Police Department investigation
Develop recommendations to improve BART Police Department policies
Maintain a regular program of community outreach
Prepare annual reports for the public and the BART Board of Directors

How to File a Complaint
If you are a victim of, or a witness to, misconduct by the BART Police Department and would like to file a complaint with OIPA, you can do so by mailing, calling, faxing, emailing, or visiting the office. Contact information is listed below, and you can also download the OIPA Complaint Form. Although this form is not required to initiate a complaint, a completed form will contain much of the information that is needed to conduct a thorough investigation.

Also available for download is the OIPA Informational Brochure, which contains information about what happens after you file a complaint with OIPA.

You may also file a complaint with the BART Citizen Review Board by making a public comment at one of their meetings. Or you can file a complaint with the BART Police Department's Office of Internal Affairs by calling (877) 679-7000 ext. 7029 or emailing ia@bart.gov.
More Information
To watch a short video with some additional information about OIPA, click here: OIPA Informational Video
---
Interaction with the Bay Area Community
Outreach
OIPA continuously seeks opportunities to meet with the countless civic groups, neighborhood councils, social clubs, and other community based organizations that help make the Bay Area such a vibrant place. We want to make sure that all parts of the Bay Area are aware that they have access to our office in case they feel the need to get in touch with us.
One of OIPA's most recent outreach events was a presentation to the Centerforce Youth Court (CYC) in Oakland. CYC engages all youth, especially those at risk of entering the juvenile justice system, in empowering experiences related to law and justice. We had a very informative question and answer session with the youth attorneys, bailiffs, and clerks after telling them a bit about what our office does, and we were impressed by their commitment to educating themselves through studying the law. OIPA will continue holding outreach events like this one throughout the Bay Area, and we encourage any organization that might like to hear from us to give us a call so we can schedule a presentation for your group.
Below are a couple of photos from our visit to CYC: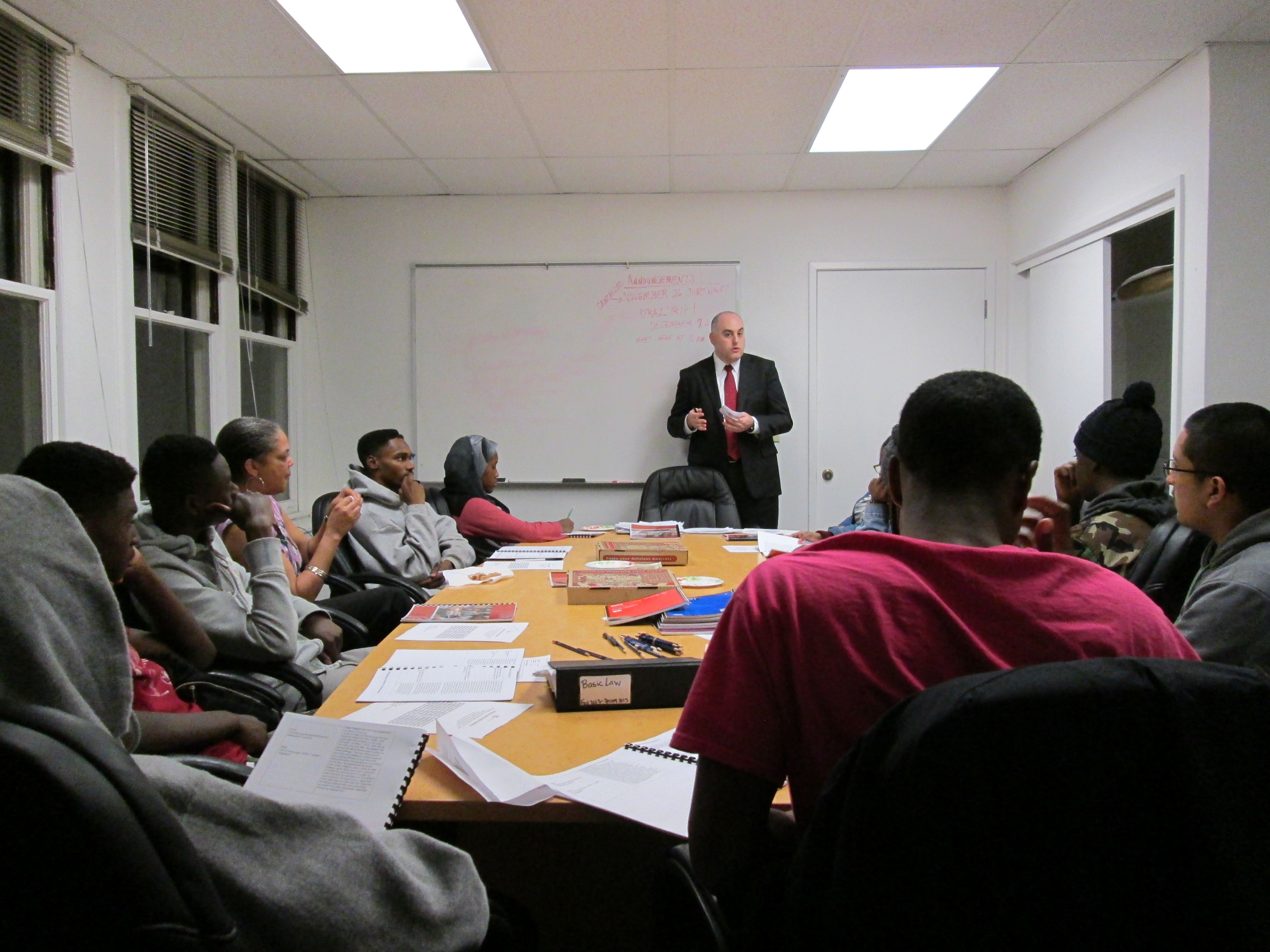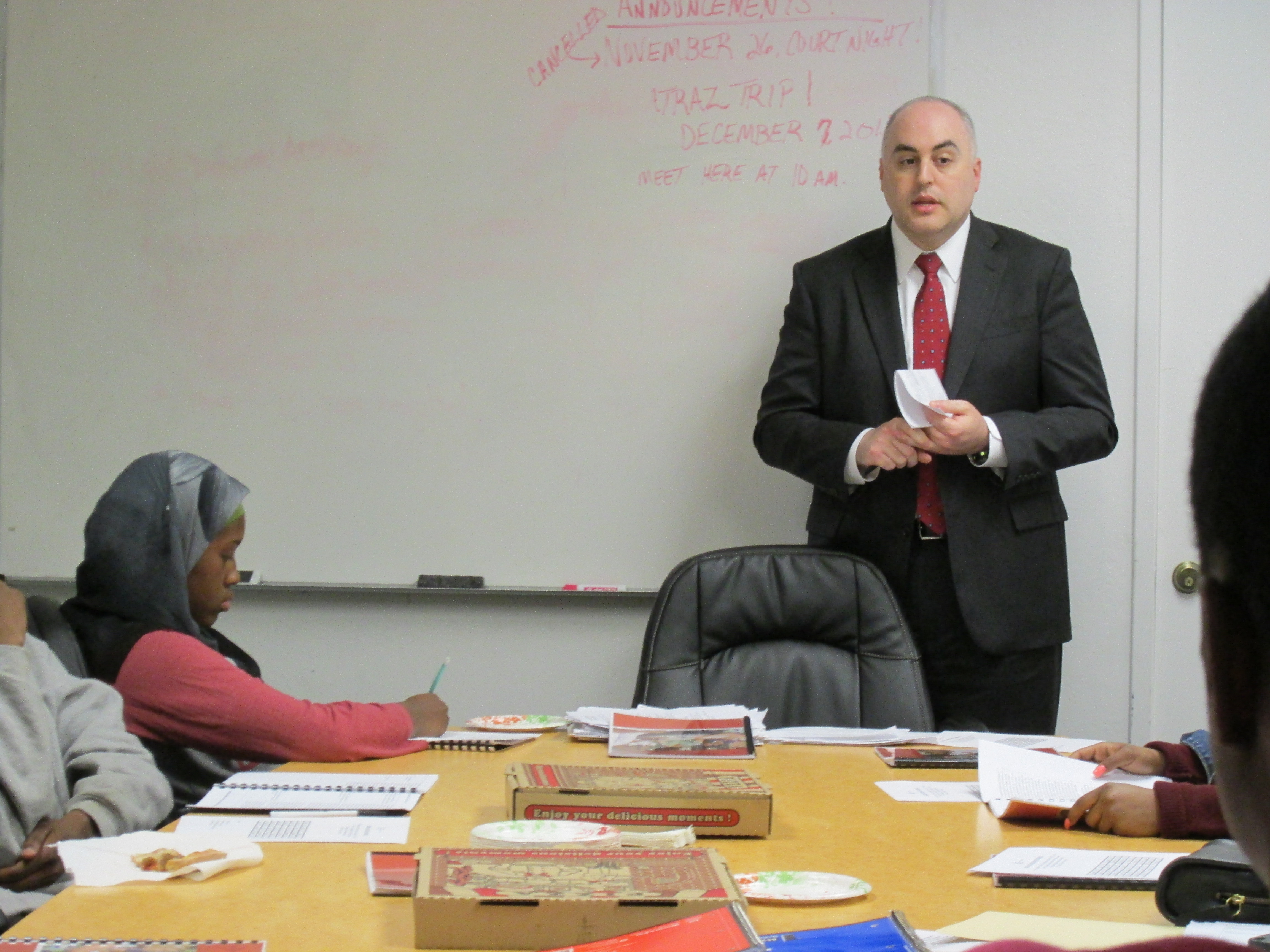 Community Forum in the San Francisco Mission District
One of the cornerstones of effective oversight of law enforcement is active community input and engagement. OIPA and the BART Citizen Review Board have hosted a series of community forums around the Bay Area, and we would like to invite the public to our next forum in that series. We have found great value in the dialogue that has taken place at each of our previous events, and we look forward to the questions and discussions that will arise at our next one. Everyone is welcome to attend, and we have posted the details about the event below: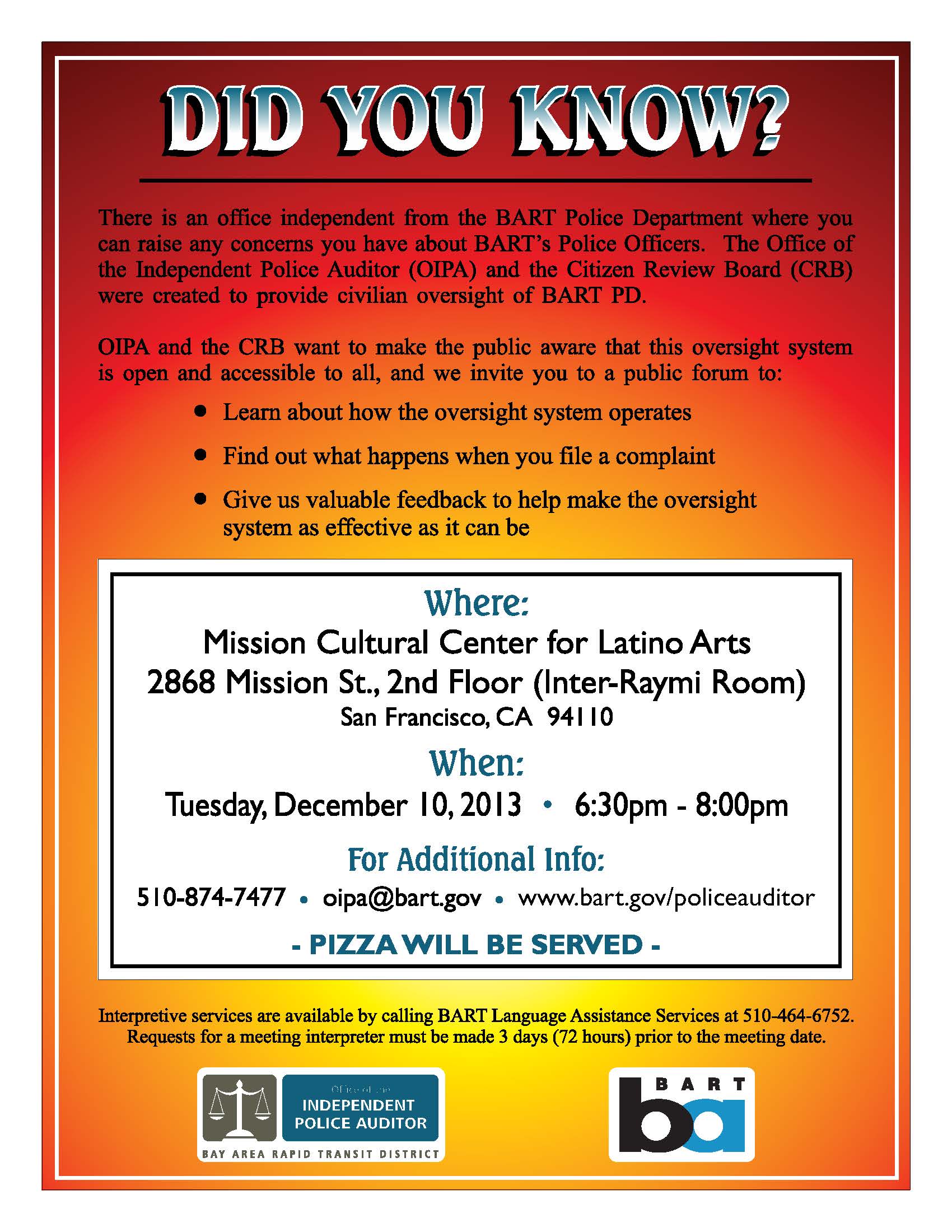 The Mission Cultural Center is one block from the 24th Street Mission BART Station. You can view a map here: http://goo.gl/maps/mJhxa
Please download our flyer and circulate it to anyone who might be interested in attending: Community Forum Flyer
---
Recommendations on Procedures, Practices, and Training
One of OIPA's important responsibilities is to develop specific recommendations concerning General Orders and Directives, procedures, practices, and training of the BART Police Department. These recommendations have as their goal improved professionalism, safety, effectiveness, and accountability of BART Police Department employees. OIPA's recommendations are reviewed with the Chief of Police and presented to the Citizen Review Board for review and comment.
On May 13, 2013, OIPA presented the following recommendation to the Citizen Review Board:
OIPA Policy Recommendation for BPD Policy 450 - Use of Video and Audio Recorders
---
Office Staff
Independent Police Auditor: Mark P. Smith
Independent Police Investigator: Kobia D. West
Senior Administrative Analyst: Anita Grayson
Contact Information
San Francisco Bay Area Rapid Transit District (BART)
Office of the Independent Police Auditor
300 Lakeside Drive, 14th Floor
Oakland, CA 94612
mail: P.O. Box 12688, Oakland, CA 94604-2688
phone: (510) 874-7477
fax: (510) 874-7475
email: oipa@bart.gov
web: www.bart.gov/policeauditor
Interpretive services are available by calling BART Language Assistance Services at (510) 464-6752.
---
Monthly Reports

January 2013 Monthly Report

February 2013 Monthly Report

March 2013 Monthly Report

April 2013 Monthly Report

May 2013 Monthly Report

June 2013 Monthly Report

July 2013 Monthly Report

August 2013 Monthly Report

September 2013 Monthly Report

October 2013 Monthly Report

November 2013 Monthly Report
2011 Combined Monthly Reports

2012 Combined Monthly Reports
---
Annual Reports
---
Resources

Download the BART Citizen Oversight Model

Download the Office of the Independent Police Auditor's Complaint Form

Download the Office of the Independent Police Auditor's Informational Brochure