The new Downtown Berkeley BART Station Plaza opened to the public on October 18, 2018, featuring enhanced bus and BART connectivity, pedestrian improvements and modern environmental elements.
One of the most noticeable changes is the sleek glass and steel main entrance enclosure.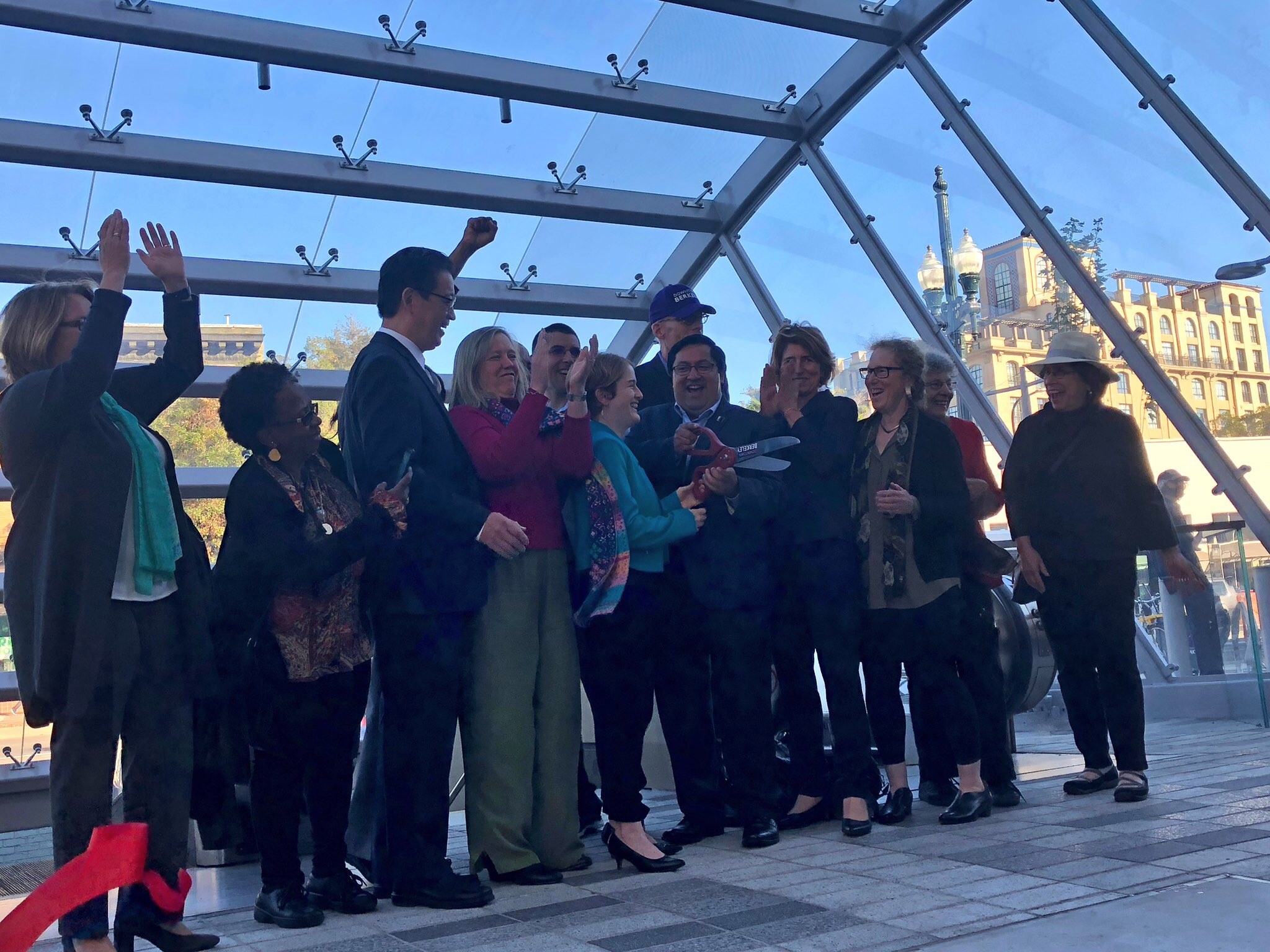 The plaza is designed to improve both safety and walkability through LED lighting, granite aggregate pavers with neutral color tones, public art and landscaping. All on-site stormwater will be treated through bio-retention planters and landscaping.
BART and the City of Berkeley first began their collaboration in 2006 with initial planning and design. Using a community-based design process, the goals were to enhance multi-modal transit access to expand ridership; increase accessibility for pedestrians and bicyclists, reorganize the public space to better accommodate transit users and, importantly, to reflect the identity of the community and history of Downtown Berkeley.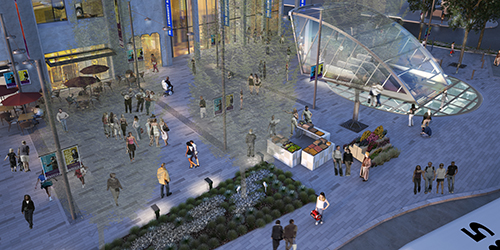 Main Entrance concept, Images provided by Office of District Architect, BART
Construction on the project began in July of 2016. It was funded by State Prop 1B and local area grants including Measure F. The overall budget was $13 million including $9.4 million for construction. The project was completed within budget.
Click on the link below for details on the new plaza's features:
---
Archive materials:
May 2018 -The main entrance at Shattuck and Center is still under construction and is estimated to open in summer 2018. Click on the link below for a map that shows station entrance closures.
July 2017- Main Entrance Closure and Clipper Fare Gates at south end. For information related to the BART Entrance Closures, click the link below
January 2017- For information related to the BART Entrance Closures, click the link below
Downtown Berkeley BART Plaza construction activities begin late August 2016
Click on the link for more information related to construction schedule and entrance closures:
For a link to the Final Construction Drawings, and additional supporting documents, click on the City of Berkeley Webpage link below:
http://www.ci.berkeley.ca.us/Public_Works/Transportation/BART_Plaza_Project.aspx
The Final IS/MND was unanimously adopted by the BART Board of Directors on August 13, 2015
Click here for the Final IS/MND
For illustrations of selected 65% design documents, click here
For previous concept render presented to City Council, click here
For previous public meeting presentations, and project information click here
For more information, contact Scott Smith at ssmith2@bart.gov