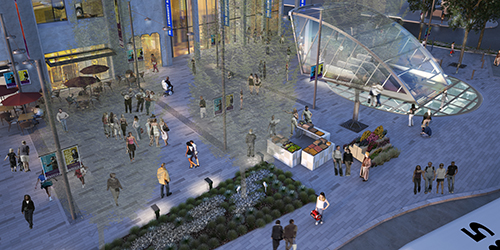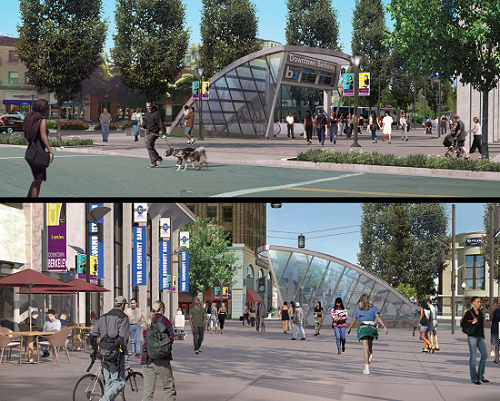 Main Entrance concept, Images provided by Office of District Architect, BART
The Final IS/MND was unanimously adopted by the BART Board of Directors on August 13, 2015
Click here for the Final IS/MND
The Downtown Berkeley BART Plaza and Transit Area Improvement Project will serve a signature place-making function for the Downtown Area and improve access for residents, employees, students and visitors.
Currently serving over 30,000 daily transit riders including BART, AC Transit, and UC Berkeley Bear Transit Shuttle, the project will improve traffic safety and enhance the transit rider experience.
Additionally, the project will redevelop and reallocate the public space surrounding the station; improve pedestrian safety; support commerce, arts, and entertainment; replace sidewalk materials and landscaping; and integrate sustainibility practices.
Finally, the project will dovetail with the Shattuck Couplet Reconfiguration Project, and serve as an invaluable capital improvement to the City of Berkeley, its residents and merchants, and transit riders of the East Bay.
For illustrations of selected 65% design documents, click here
For previous concept render presented to City Council, click here
For previous public meeting presentations, and project information click here
For more information, contact Scott Smith at ssmith2@bart.gov