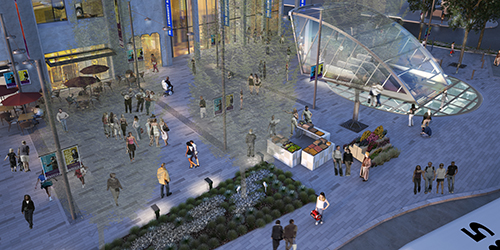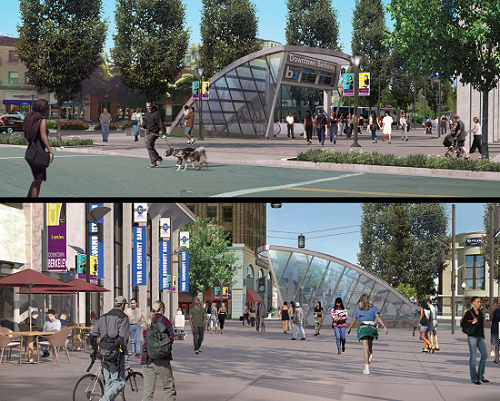 Main Entrance concept, Images provided by Office of District Architect, BART
UPDATE July 2017- Main Entrance Closure and Clipper Fare Gates at south end. For information related to the BART Entrance Closures, click the link below
January 2017- For information related to the BART Entrance Closures, click the link below
Downtown Berkeley BART Plaza construction activities begin late August 2016
Click on the link for more information related to construction schedule and entrance closures:
Downtown Berkeley Plaza Improvements Approved - April 14, 2016
The plaza above Downtown Berkeley Station will have a dramatic new look designed to improve both safety and walkability by early 2018, thanks to a project approved by the BART Board of Directors.
The Board voted to move ahead, in partnership with the City of Berkeley, with a project that includes a new main entrance enclosure, new furnishings, landscaping, paving, bus shelters and LED lighting.
In keeping with a new statewide focus on stormwater management, all on-site stormwater will be treated through bio-retention planters and landscaping.
The project will also bring changes within the station with improved signage throughout the station and plaza.
The $7.6M project authorized today is expected to begin June 2016, and be completed by early 2018.
For a link to the Final Construction Drawings, and additional supporting documents, click on the City of Berkeley Webpage link below:
http://www.ci.berkeley.ca.us/Public_Works/Transportation/BART_Plaza_Project.aspx
The Final IS/MND was unanimously adopted by the BART Board of Directors on August 13, 2015
Click here for the Final IS/MND
For illustrations of selected 65% design documents, click here
For previous concept render presented to City Council, click here
For previous public meeting presentations, and project information click here
For more information, contact Scott Smith at ssmith2@bart.gov