---

For service details click here.
The first BART to OAK vehicle has begun testing!
Watch the video.
Attention Bicyclists!
Bay Trail Restoration Complete
Click here to see Bay Trail Restoration Information
Sign up for email news and updates about BART to OAK.
BART Board sets fares for BART to Oakland International Airport service
Click here to read more
---
On This Page:
Projected Growth at Oakland International Airport
Project Stabilization Agreement
Preliminary System Operations Parameters
BART Selects Final Teams for BART to OAK
---
Project Purpose and Benefits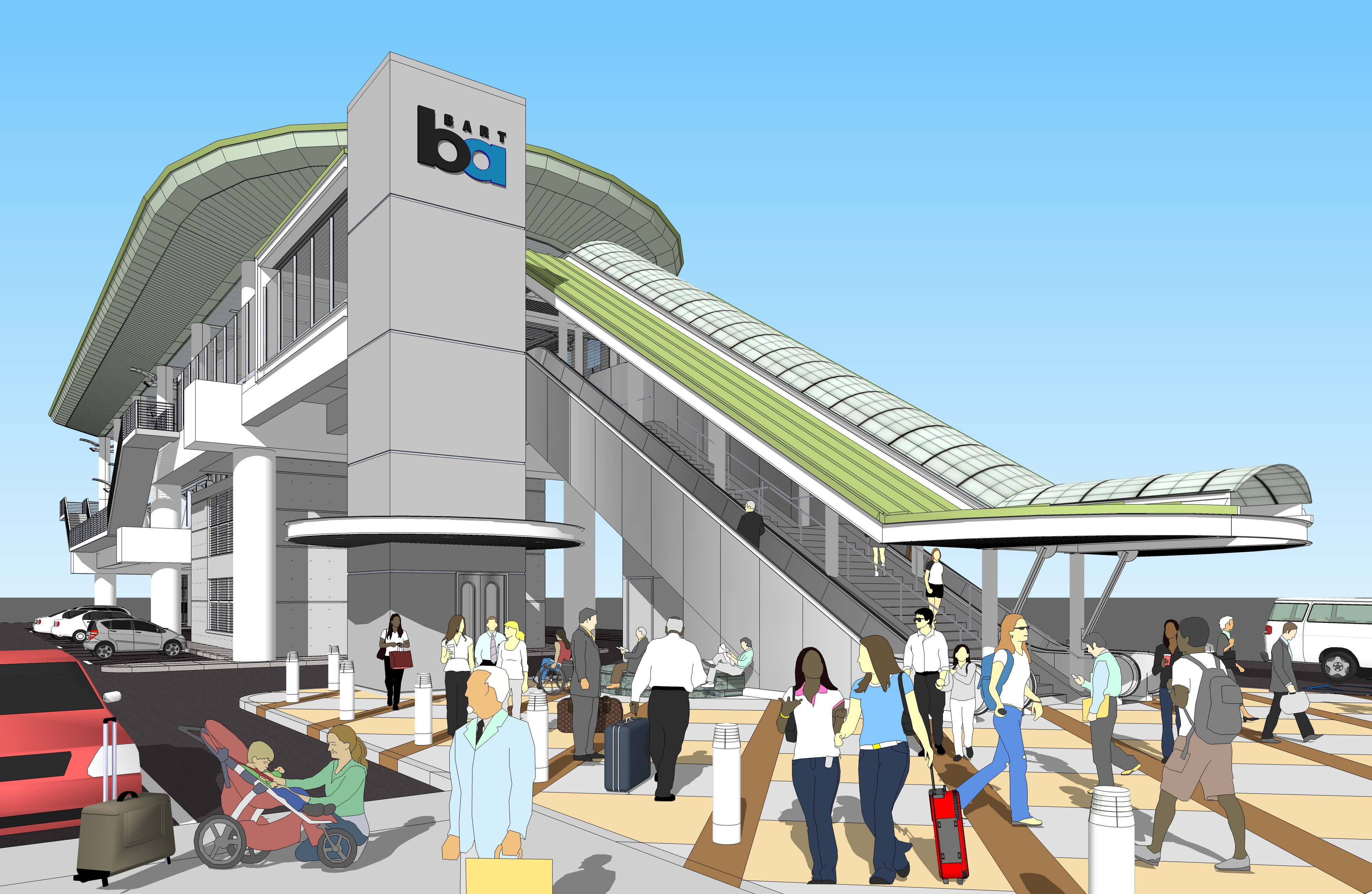 BART to OAK Airport Station (Click the image to enlarge it.)
Since the early 1970s the concept of an improved transit link between Oakland International Airport (OAK) and the BART system has been explored, and various feasibility, engineering and environmental studies have been undertaken. The need for the BART to OAK project is based on recognition of existing transportation constraints in the Bay Area, increased growth at OAK, anticipated future public and private development, and related congestion along roadways that serve the area. Improvements to the existing transit service to OAK will encourage motorists to ride transit to OAK, thereby providing some relief to the congested traffic conditions in the area.
Transit services to OAK, which include AirBART, Alameda-Contra Costa Transit District (AC Transit) buses, taxis and airport shuttles, provide various levels of service. The unpredictability of traffic congestion, the potential for stalls and the extra crowds during Oakland Coliseum events raise concerns for air passengers seeking to use these street-based methods to access OAK. Travel times for AirBART between the Coliseum/Oakland Airport BART Station and OAK are highly variable, as are the wait times for AirBART at the station and at the airport. Purchasing tickets at the Coliseum/Oakland Airport BART Station and OAK can be confusing and inconvenient for passengers, resulting in additional lost time and frustration for travelers. The 3.2-mile connector will provide a transit alternative to driving individual automobiles and the overall airport traffic situation will benefit from reducing the number of cars on the road.
Projected Growth at OAK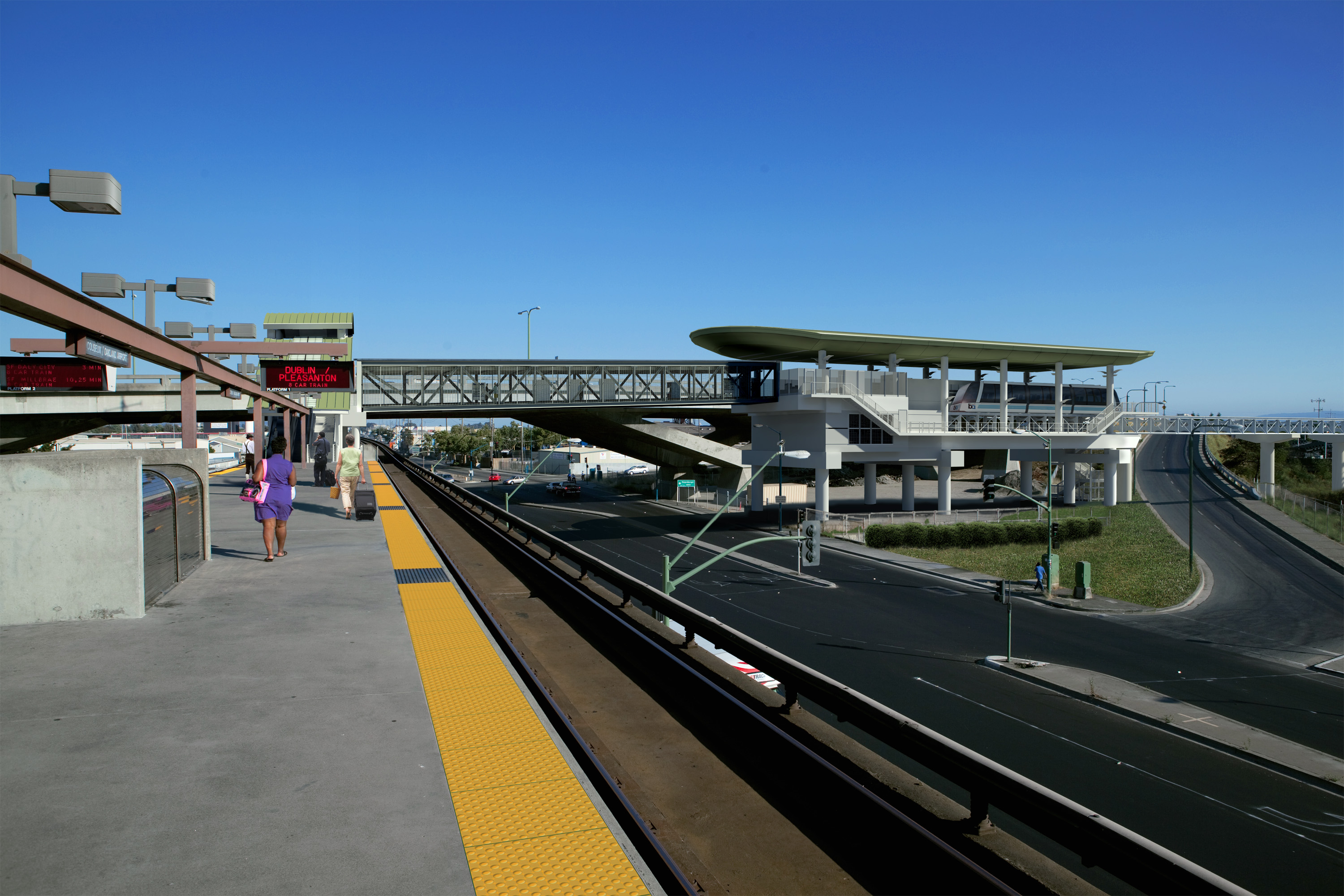 BART to OAK Coliseum Station
(Click the image to enlarge it.)
OAK's strong historical growth has been fueled by its culture of catering to low-cost airlines and its central location, making it the most convenient airport to the Bay Area's growing commerce centers and to 48 percent of Bay Area residents. OAK is planning and building for the future. The airport's two terminals were originally designed to serve about seven to eight million passengers annually but served nearly double that number in 2007. OAK served 14.6 million passengers and 740,000 tons of air cargo in 2007. The recent downturn in the economy and regional competition has reduced the number of passengers served to approximately 10 million annually-still above the original design plan's passenger numbers. The airport's ability to return to higher service levels will undoubtedly be enhanced by the addition of a direct transportation service.
OAK recently completed a $350 million Terminal Improvement Program, the largest aviation project in its 78-year history. Begun in April 2004, the program is comprised of the Terminal 2 improvement project using "green building" technology that includes a new concourse with five additional boarding gates and waiting areas; expanded ticketing, security and baggage claim facilities; new utilities; and the Terminal Roadway and Curbside project that has improved terminal access and eased congestion into and around the airport and terminals.
The Port of Oakland, owner/operator of OAK, prepared a 20-year Master Plan in cooperation with airport, government and community stakeholders. This process identified land use options for airport facilities, including: passenger terminal, cargo, and airport services, airfield and aircraft apron, and public access using expanded roadways and ground transportation alternatives, such as BART to OAK.
Job Estimates
BART staff completed a project-specific analysis of the jobs that will be created as a result of the project. These conservative projections show that the BART to OAK project will create more than 2,500 direct and indirect jobs. According to "Job Impacts of Spending on Public Transportation," a paper prepared for the American Public Transportation Association (APTA) by the Economic Development Research Group, every $1 billion in transportation capital investments supports 24,000 direct, indirect and induced jobs. Using this formula the BART to OAK project has supported more than 7,000 direct, indirect and induced jobs, given the approximately $296 million expended between the groundbreaking in October 2010 and October 2012. Regardless of the method used to calculate jobs, the BART to OAK project will create a significant number of high-quality jobs beginning immediately and peaking one to two years after the start of construction.
For information about employment opportunities, go to the Contact the Project Page.
Project Stabilization Agreement
BART has entered into a Project Stabilization Agreement (PSA) which covers all on-site construction work on the project. The PSA is a local hiring program to enhance and encourage employment opportunities for all residents of Alameda, Contra Costa, San Francisco and San Mateo counties, defined as "Local Area Residents," and specifically residents of the City of Oakland, which is defined as the "Project Local Impact Area." The PSA aims to enable an effective pathway for individuals into the construction industry and into union apprenticeship programs. Read more.
Preliminary System Operations Parameters
The AirBART express bus service operating between the Coliseum/Oakland Airport BART Station and OAK carried approximately 85,000 riders per month (or approximately 2,833 per day) in 2008, with trip times varying from 12 to more than 30 minutes. Since the inception of service in 1986 the ridership has grown from 126,500 yearly passengers to 1.3 million passengers in 2008 and equals approximately nine percent of those using the airport. Since then, the ridership has dropped to approximately 750,000 yearly passengers. With a travel time of less than 15 minutes between the Coliseum BART station and the airport, and vehicles departing every four minutes, BART to OAK will enhance schedule reliability, reduce trip times and provide a seamless connection with the BART system.
View the Final BART Oakland Airport Connector Ridership Report.
System Objectives
Specifically, the BART to OAK project has the following objectives:
Provide reliable scheduled service between BART and OAK.
Provide flexibility to increase transit vehicle frequencies during periods of increased travel demand.
Offer a competitive alternative over those who drive to OAK by providing predictable connections and travel time savings.
Provide a convenient, safe and comfortable connection between BART and OAK.
Project Concept
An Automated Guideway Transit (AGT) system was determined to be the preferred technology for the BART to OAK project. The AGT concept refers to an array of transit technologies, the common elements being that they operate within their own guideways, would have stations physically integrated with the Coliseum/Oakland Airport BART Station and the airport terminal, and do not require a vehicle operator. Performance specifications have been established for the proposed technology that will have to be satisfied, including minimum operating speeds and carrying capacities necessary to serve the ridership forecasts. Selection of the specific technology will be included as part of the design-build procurement process.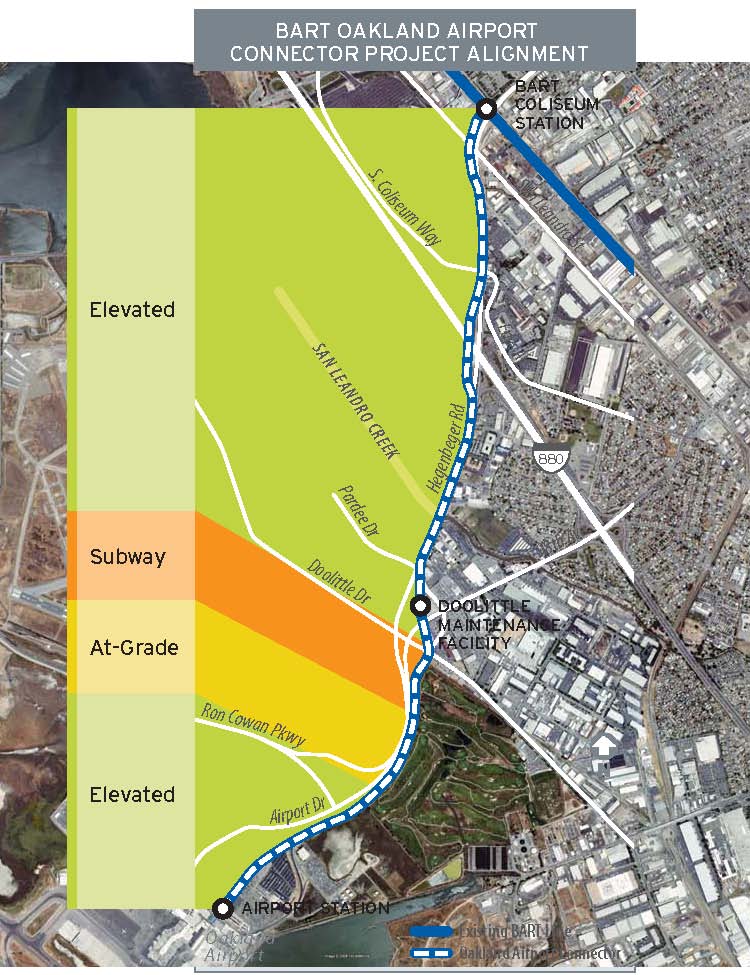 BART to OAK Alignment Map.
(Click the image to enlarge it.)
Project Route
From the Coliseum/Oakland Airport BART Station to Doolittle Drive, the alignment will proceed largely in the median of Hegenberger Road. South of Doolittle Drive on Oakland International Airport property, the alignment will run between Airport Drive to the west and the Lew F. Galbraith Municipal Golf Course to the east. Past the golf course, the alignment will proceed southwest to its terminus at the new airport terminal. The AGT vehicles will operate primarily in an elevated guideway, thus providing the AGT with its own exclusive right-of-way separate from other vehicular traffic along its route.
The AGT system includes two end terminal stations: one at the Coliseum/Oakland Airport BART Station and one at the proposed airport terminal. The AGT system will allow for future construction of one intermediate stop near the intersection of Doolittle Drive and Hegenberger Road. The City of Oakland suggested this location as a site that would support the City's efforts to revitalize the Hegenberger Road Corridor.
---
Partners and Funding
The total project budget for the BART to OAK project is approximately $484 million. The entire project has been a collaborative partnership between BART, the Federal Transit Administration, the Alameda County Transportation Improvement Authority (ACTIA), the Alameda County Congestion Management Agency (ACCMA), the Metropolitan Transportation Commission (MTC), California Department of Transportation (Caltrans), the California Transportation Commission (CTC), the City of Oakland and the Port of Oakland.
In July 2010 project funding partners developed a funding plan to address the loss of $70 million in previously anticipated federal stimulus funds, and are in the process of being considered by the various agency boards. The loss of stimulus funding is primarily offset by $35 million from new sources, better bid pricing than anticipated and increased debt financing. The funding plan is within the borrowing limits established by the BART Board of Directors in May 2009.
Sources of Funds ($ millions)
| | |
| --- | --- |
| Local | |
| Alameda County Transportation Improvement Agency (ACTIA) Measure B | 89.1 |
| Port of Oakland [1] | 29.3 |
| Regional Measure 1 (1988 Bridge Toll) | 31.0 |
| Regional Measure 2 (2004 Bridge Toll) | 115.2 |
| BART SFO Reserve Account | 10.0 |
| | |
| Total Local | 274.5 |
| | |
| State | |
| State Transportation Improvement Program (STIP) | 20.7 |
| CMIA/RTIP Funding Exchange | 10.0 |
| SHOPP/RTIP Funding Exchange | 10.0 |
| MTC/State-Local Partnership Program (SLPP) Prop 1B | 20.0 |
| PTMISEA (Prop 1B) | 12.8 |
| PTMISEA (Prop 1B FY08/09) | 5.4 |
| | |
| Total State | 78.9 |
| | |
| Federal | |
| Federal Transit Administration - Small Starts | 25.0 |
| | |
| Total Federal | 25.0 |
| | |
| Sub-total agency/public grant funding | 378.4 |
| | |
| Debt draws | 105.7 |
| | |
| Total sources of funds | 484.1 |
| | |
| [1] $16.1 million of Port of Oakland funding received during operations. Borrowing is increased to bridge this delay of funding. | |
| | |
| Note: Some figures above have been rounded. | |
---
Project History and Schedule
1970 – Phase I Transit Access Feasibility Study completed.
1975 – Phase II Oakland Airport Transit Access Project completed.
1980 – Oakland Airport Transit Connector Working Paper Preliminary Design and Engineering Phase completed.
1981 – Oakland Airport Transit Connector Draft Environmental Impact Statement (EIS) completed.
1993 – Project Update Report for the Oakland Airport Intermodal Connector Project completed.
November 7, 2000 – Alameda County voters reauthorized Alameda County's transportation sales tax (Measure B) to provide funding for a series of transportation-related projects, including BART to OAK.
March 28, 2002 – The BART Board of Directors certified the Final Environmental Impact Report (EIR) and approved the BART link to Oakland International Airport via elevated Automated Guideway Transit (AGT) system.
May 2009 – BART issued an RFP/RFQ for Design-Build Operate Maintain (DBOM) contract.
December 10, 2009 – The BART Board of Directors authorized the Notice of Intent to award the BART to OAK DBOM contract to Flatiron/Parsons, Joint Venture.
View the December 2009 Special BART Board of Directors Award Meeting Presentation.
September 16, 2010 – The BART Board of Directors reaffirmed the authorization of the contract for the project.
March 2011 – Construction began.
Fall 2014 – Revenue service begins.
---
BART Selects Final Project Teams
On December 9, 2009 the BART Board of Directors selected firms to fulfill design, build, operate and maintain contracts for the BART to OAK project. For additional information on contracting opportunities, visit our Procurement page or contact Anthony Pegram, Contract Administrator, at apegram@bart.gov.
1. Design Build Contractor: Flatiron/Parsons Joint Venture
2. System Technology and Operate and Maintain Contractor: Doppelmayr Cable Car
Last Updated: June 20, 2013