BART, FSN Bay Area & Oakland A's "Golden Ticket" Sweepstakes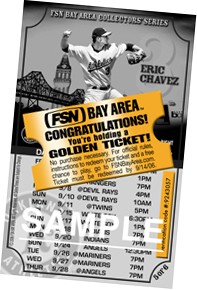 101 Prize-winning BART "Golden Ticket" ticketbacks will be distributed September 1 - 14, 2006
BART, FSN Bay Area and the Oakland Athletics are announcing the start of the "Golden Ticket" sweepstakes. From Friday, September 1st to Thursday, September 14th, 101 BART "Golden Ticket" ticketbacks will be randomly distributed systemwide to BART customers, giving lucky riders a chance to win instant prizes. Online entries for the sweepstakes will also be accepted at www.fsnbayarea.com.
GRAND PRIZE IS THE EXPERIENCE OF A LIFETIME
One "Golden Ticket" Grand Prize Winner will receive a Luxury Suite at the Wednesday, September 20th Cleveland Indians vs. Oakland Athletics game. The winner will also have the experience of a lifetime. The winner will throw out the ceremonial first pitch and watch batting practice on the field with 15 of their guests.
All 101 "Golden Ticket" winners will receive an FSN Bay Area/BART/Athletics prize pack. Eighty winners will receive a complete set of Oakland Athletics BART ticketbacks (featuring Barry Zito, Nick Swisher, Bobby Crosby, Rich Harden, Eric Chavez and Huston Street.). Ten winners will receive an autographed set of Athletics ticketbacks.
COLLECTORS' SERIES TICKETS ALREADY A HIT
"The Golden Ticket sweepstakes is only going to add to the excitement of what has already been a tremendous hit with BART riders and baseball fans, the FSN Bay Area Collectors' Series," said BART Board of Directors President Carole Ward Allen. "This is the equivalent of a grand slam for our customers."
The "Golden Ticket" promotion runs in conjunction with the FSN Bay Area Collectors' Series baseball-card-themed BART tickets. Regular fare BART ticketbacks list the baseball telecast schedule and feature key players from the Athletics and Giants.
The FSN Bay Area Collectors' Series began in July, featuring Athletics Barry Zito and Nick Swisher in July, and Bobby Crosby and Rich Harden in August. Cards with Eric Chavez and Huston Street will be issued in September. For the Giants, Mike Matheny and Jason Schmidt were featured in July, and Noah Lowry and Randy Winn in August. Barry Bonds and Omar Vizquel will be featured in September.
Winners who receive a "Golden Ticket" or are selected from online entries should go to www.fsnbayarea.com to claim their prize. Contestants must be age 18 years or above to be eligible for prizes. The sweepstakes will run only in California.
TEAMWORK LED TO "GOLDEN TICKETS"
"FSN Bay Area is pleased to announce the inaugural 'Golden Ticket' sweepstakes," said Jen Franklin, Marketing Manager, FSN Bay Area. "This is a unique incentive for BART commuters and Bay Area baseball fans to win some great prizes. We are proud to partner with BART and the A's for this special promotion."
"The Oakland A's are happy to be teaming up with FSN Bay Area and BART to bring this exciting promotion to our fans," said Ken Pries, Vice President Broadcasting & Communications, Oakland A's. "BART is one of the easiest way to come to the McAfee Coliseum and hopefully these Golden Tickets will encourage even more fans to take BART to the A's games."