Celebrate the new 16th Street Plaza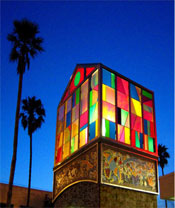 $4.2 million plaza opens early and under budget
The newly completed renovations to the northeast plaza of the 16th Street Mission BART Station is giving San Francisco's Mission District a spectacularly fresh and vibrant new look!
Today officials from BART, the Metropolitan Transportation Commission (MTC) and the San Francisco County Transportation Authority (SFCTA) marked the official opening of the plaza with a ribbon cutting ceremony.
"This is the latest investment in BART's long term commitment to improve San Francisco's Mission District for residents and visitors," said BART Director Tom Radulovich who represents the area. "The plaza renovation showcases what can happen when the neighborhood and government agencies work toward a common goal. In this case it resulted in a redesigned plaza that provides easier and safer access to the station-a plaza lined with new granite pavers, improved lighting and dazzling new artwork created by local artists, which reflect the character of the Mission District."
The artworks have been incorporated into both the functional elements, like the fencing, and sculptural elements, like the work atop the elevator. The renovated plaza also includes benches, trash collection receptacles and new palm and magnolia trees.
PROJECT FINISHED EARLY & UNDER BUDGET
Construction on the project was supposed to take one year. However, careful planning resulted in the plaza opening one month earlier than expected and under the $4.2 million budget.
Two grants funded the $4.2 million project. A MTC grant called, "Transportation for Livable Communities" paid for $1.3 million of the cost. The remaining $2.9 million came from local matching Proposition K funds, which the SFCTA manages.
PROJECT HISTORY
While construction only took 11 months, the entire process took nine years to complete. The plaza renovation was a cooperative effort between BART, MTC, SFCTA and the 16th Street Mission community.
A nine-member 16th Street Community Advisory Committee provided insight and ideas on all elements of the project renovation from paving materials to tree selection. The committee's primary goals were safety and having an enjoyable open space.
The renovated southwest plaza to the 16th St./Mission BART Station opened in 2003 and was also part of this community design process.