BART flash passes available for Martin Luther King Day events
BART trains will once again carry riders from throughout the Bay Area to Civic Center Station on Monday, January 19, for Northern California's largest celebration honoring the life and achievements of Dr. Martin Luther King, Jr.
This year's San Francisco Dr. Martin Luther King, Jr. Day Celebration will be held at the Bill Graham Civic Center. The 2009 theme is "The Realization of Hope" and events will be held from 10:45 am to 4 pm. BART riders to the event can go to the Civic Center Station and take a short walk to the Bill Graham Civic Auditorium, where multiple programs will be offered to participants wanting to learn what Dr. King stood for and how to continue his dream for all Americans in the future.
Five thousand special 2009 Dr. Martin Luther King, Jr. Day commemorative BART flash passes have been given to the MLK Organizing Committee to distribute free through various channels including churches, schools and community organizations throughout the region.
More information is available at http://www.norcalmlk.org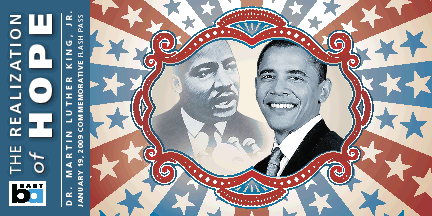 The 2009 Commemorative MLK Day Flash Pass