Survey finds strong demand for BART mobile applications
A survey of BART riders who use mobile devices has found strong demand for new and existing applications and for expansion of wifi and cellphone coverage on BART.
The survey was initiated by BART's website team to evaluate the market for new mobile services. BART was one of the first public transit agencies to open its schedule data to software developers and has been cited as an example of "how geeks are opening up government on the web" (The Atlantic, January/February 2009).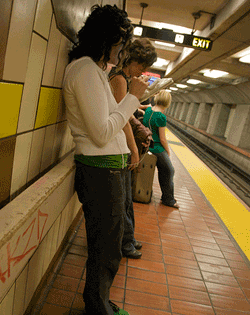 A woman uses her iPhone in a BART station. Photo by Steve Rhodes
BART plans to share survey findings with the developer community through its opt-in email network and developer resources section of bart.gov. Without in-house developers to create new applications, and in a time of extremely limited budget resources, it's a way for BART to foster the kind of innovation that ultimately will benefit customers.
"We're trying to give our developer network the information it needs to build the kind of applications that our customers want," said Timothy Moore, BART website manager.
WHAT THE SURVEY FOUND
More than 6,500 customers responded to the online survey in one week from Jan. 27 – Feb. 3. Some highlights include:
Smartphones such as the iPhone and BlackBerry were the mobile devices most frequently used by those surveyed, followed by iPods, other media players, regular cellphones and PDAs such as Palm OS. Other devices noted by survey respondents included portable video game players such as the Sony PSP and ebook readers such as the Amazon Kindle.

Existing mobile applications – both those created by BART and those from third-party developers – are not widely known and have much potential for greater use.

Most survey respondents would prefer not to pay for trip planning or other transit applications but are willing to use ad-supported free programs.

More than a third of respondents plan to purchase a new mobile device within one year.
Another strong theme that emerged is customer demand for wifi and cellular phone coverage throughout the BART system. Customers told BART they expect to be connected to get work done on their commutes, as well as for personal entertainment to pass the time. The survey did not specifically ask about wifi and cellular; however, thousands of customers mentioned them in open-ended responses.
"If BART had either wifi connectivity and/or mobile phone service signals throughout the BART line, it would greatly improve my commute," one customer wrote. "By having a mobile phone signal, we could receive BART alerts as well as be able to surf the Internet through our phones.'"

Or, as another customer put it when asked what would improve BART's mobile service: "Wifi/3G access thru the entire system. Stupid tunnels be janking up my web browsing."
BART recently finalized an agreement with a Sacramento company that will provide wifi service throughout the BART system by the end of 2010; BART also has agreements with cellular carriers to expand coverage throughout the system.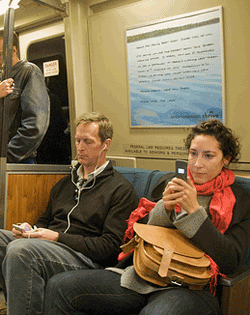 On election night 2008, many BART riders were checking their mobile devices for news updates. Photo by Steve Rhodes
HOW DO CUSTOMERS GET INFO ON THE GO?
BART wanted to look at the habits of customers using mobile/wireless devices because passengers are, by definition, mobile when they use transit. Right now passengers have several different means of getting schedule, delay or other information once they are in the system:
Printed schedules on brochures and wall signs in stations. Although BART has a better-than-94 percent on-time record (among statistics cited in BART's

Quarterly Performance Report, Q2 of Fiscal Year 09

(967k .pdf), printed brochures do not reflect real-time operating conditions.

Electronic messages on overhead platform signs and station announcements, both of which contain real-time information.

The

BART mobile website

, if customers have an Internet connection, which has real-time information.

Native applications that passengers download in advance to their devices, and which do not require an Internet connection.
"Keep offering BART mobile applications," one customer wrote. "They are much more robust than wireless since they don't depend on the quality of the transmitted signal which can vary greatly on where you are and are useless within the BART tunnels."
In the past when more resources existed for development, BART created applications for dominant devices at the time. Because strong demand remains for BART QuickPlanners on Palm and iPod, BART is likely to continue updating those with future schedules.
As other devices enter the market – iPhone, Blackberry, Android, Pre – BART has not had resources to develop its own applications, but has supported the efforts of third-party developers by opening up its data. There have been some notable successes, such as the free iBART application for iPhone developed by two college students that has received positive customer reviews. In addition, BART has partnered with Google to make its data available for applications developed around Google Maps, including Google Maps for Mobile.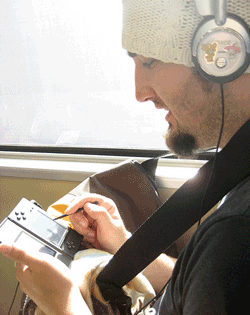 A man plays DS Lite on BART. Portable video games are a popular way to pass time in transit. Photo by Susan Magnolia
The thousands of responses to the BART survey provided a wealth of information on customer preferences, as well as many good ideas and suggestions for improvement – some of which we can act on right away, and others that reflected truly outside-the-box thinking where we will look for help from creative developers who might see a market to be served:
WHAT BART CURRENTLY OFFERS
Mobile website

that includes real-time arrival information and service advisories.

Standalone applications for iPod, Palm OS and Pocket PC.

Twitter updates at

www.twitter.com/sfbart

. Many survey respondents mentioned enjoying the Twitter feed, primarily used for building community among commuters. The feed includes service advisories during business hours but is not staffed 24/7 so is not intended as a primary channel for service advisories.
WHAT BART'S WORKING ON
Cellular coverage: BART has agreements with cellular providers for

coverage in several undergrounds stations

in San Francisco, and plans to expand coverage into downtown Oakland's underground stations and the Transbay Tube in 2009.

Expanded text messaging offerings: BART is looking at other customers needs that could be met with text messaging solutions.

Improved wireless site: BART plans to expand the functions that can be access from the

mobile website

.

Adding "number of cars in upcoming trains" to real time arrivals: Many customers requested this function, and BART is looking into adding it.
OPPORTUNITIES FOR THIRD-PARTY DEVELOPERS
Native applications on other popular platforms: This includes BlackBerry, Android and potentially the Palm Pre based on feedback regarding BART's Palm OS app;

Audible notifications on mobile devices: Several customers asked for a service that would create an audible alert on their mobile device when the train they were riding was approaching their destination.

GPS and other location-based services: Applications should be location-aware and offer additional information about station surroundings.
OTHER FREQUENTLY ASKED QUESTIONS
Q: "Why is BART devoting all its development to the iPhone when only one percent of people have iPhones?"
A: BART itself isn't currently developing ANY applications due to limited resources. We encourage developers to create applications for a variety of platforms.
Q. "Why is BART even considering charging its customers for trip planning applications?"
A. BART does not have any plans to charge customers for applications. The survey questions about willingness to pay and tolerance for ads were an effort to gauge the market to help developers. The market would decide if a particular product was something people were willing to pay for.
Q. "Which third-party applications does BART recommend or endorse?"
A. We don't have an official endorsement for any third-party application. We encourage developers to keep us posted on their work so we can facilitate information-sharing among customers of how different applications are working out for them.
ABOUT THE SURVEY

The BART mobile/wireless survey was conducted between Jan. 27 and Feb. 3, 2009. BART riders with mobile or wireless devices were invited to participate in the online survey posted on BART's website and in the www.mybart.org weekly email. In addition, an email was sent to riders who signed up for updates on mobile services. We received more than 6,500 responses to the survey. Because the survey was targeted to BART riders with mobile or wireless devices, the results may not be representative of all BART riders. However, given the large sample size, it should provide an excellent representation of riders who use these devices.
Download the survey report (240KB .pdf) to see the questions we asked and data on the results.
Question or comments about the report can be emailed to BartResearch@bart.gov.