New SFMOMA exhibits feature works of Georgia O'Keeffe, Ansel Adams and Robert Frank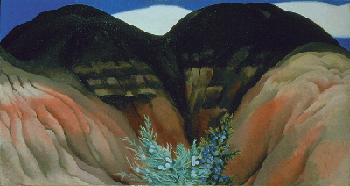 Georgia O'Keeffe, Black Hills with Cedar, 1942. Collection of the Hirshhorn Museum and Sculpture Garden, Smithsonian Institution, The Joseph H. Hirshhorn Bequest, 1981; © 2009 Georgia O'Keeffe Museum/Artists Rights Society (ARS), New York; photo: Lee Stalsworth
By Melissa Jordan
BART Senior Web Producer
With so many cultural treasures to explore in the Bay Area, it's easy to take for granted a stalwart like the San Francisco Museum of Modern Art. The patterned-brick building itself is a South of Market icon, familiar to the hordes that pour out of the nearby Montgomery Street and Powell Street BART stations every day on their way to work and play. You might have a vague sense that, of course, there is magnificent art under that roof, but you haven't found the motivation to get in for a visit.
Here's your motivation:
Two newly opened exhibits are worth the trip. "Georgia O'Keeffe and Ansel Adams: Natural Affinities" runs through Sept. 7, and "Looking in: Robert Frank's 'The Americans' " runs through Aug. 23.
Natural Affinities
May 30 - Sept. 7, 2009
O'Keeffe and Adams are two of America's best-loved artists, so widely displayed (is there a card shop anywhere that does not have her flowers or his landscapes?) that you may think there's nothing new to learn or experience about their work. Not so.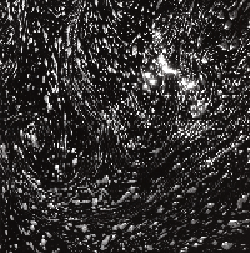 Ansel Adams, Foam, Merced River, Yosemite Valley, California,1951; gelatin silver print; Collection of the Center for Creative Photography, University of Arizona; © 2009 The Ansel Adams Publishing Rights Trust
The paintings and photographs in the exhibit, even considered alone, give fresh insight into O'Keeffe and Adams. Taken together in the context of the artists' long friendship and influence on each other, they are even more intriguing.
From O'Keeffe, we go beyond lily close-ups to expansive paintings capturing the beauty and mystery of the West. In "Black Hills with Cedar," clouds float in a serene blue sky behind imposing, striated hillsides that seem to cradle a thatch of cedar in the foreground.
From Adams, so associated with grandiose Yosemite vistas, we get meditative photographs of exquisite detail, like "Foam, Merced River," with swirls of luminous foam on jet-black water that evoke Van Gogh's "Starry Night." (But you won't be disappointed if you need a fix of sweeping Sierra Nevada vistas; there are shots of Half Dome, El Capitan and Upper Yosemite Falls, too.)
"He and O'Keeffe were together wondrously matched, both deeply engaged in the subject of nature," says Sandra S. Phillips, senior curator of photography at SFMOMA. She describes their work as "unique and genuinely American modern art."
They met when O'Keeffe was already well established and Adams was just beginning his photography career, and became lifelong friends. The exhibit juxtaposes works with similar themes by each artist, and explains their influence upon one another.
Looking In
May 16 - Aug. 23, 2009
"Looking In: Robert Frank's 'The Americans' " celebrates the 50th anniversary of a book that the museum describes as "arguably one of the single most important photography books published since World War II."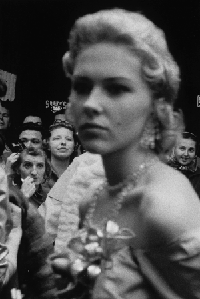 Robert Frank, Movie premiere, Hollywood, 1955; gelatin silver print; Collection The Museum of Modern Art, New York, purchase, 2002; © Robert Frank
The book documents the Swiss-born Frank's travels across America in 1955 and 1956 to delve into issues belied by the happy-go-lucky surface impressions of the decade. "The book showed Americans as a people plagued by racism, ill-served by politicians, and numbed by a rapidly rising culture of consumption," the museum notes. But Frank found beauty as well in the contrasts and conflicts of American society and hope in the spirit of everyday Americans.
In "Trolley, New Orleans," riders are framed by the windows of the streetcar. Whites look out from the windows to the front of the car, African-Americans from the windows to the rear, and in the middle, two young children. Are they oblivious?
"Movie premiere, Hollywood," anticipates today's culture of celebrity worship. The blond, bejeweled starlet is blurred in the foreground while the real focus is her fans, plain and admiring, from a distance.
You will linger over this exhibit if you appreciate not only photography but also the exploration of American history, popular culture, politics, social criticism and regional differences. In addition to all the photographs from "The Americans," "Looking In" includes earlier examples of Frank's work, vintage contact sheets and letters, an examination of the impact of the book and a film Frank made especially for the exhibition. Related programs include a series of feature-length and short films made by Frank.
For museum hours, a complete schedule of related events, ticket prices and other information, go to www.sfmoma.org, and to plan your trip to the museum on BART use the BART QuickPlanner.